Tuesday, September 13, 2016
Page 1
Former Newhall Attorney Among Three Killed in Crash at Reno Airport
From Staff and Wire Service Reports
An attorney who recently moved to Northern California from Newhall was one of three people killed in Sunday night's plane crash at the Reno-Tahoe International Airport.
Robert Drescher, 57, was killed along with Ronni Hernandez, a 34-year-old female, and Ed Mumbert, 46, the Washoe County Medical Examiner's Office said. The San Francisco Chronicle said Mumbert was a San Jose bail bondsman.
A friend of Mumbert, Rick Bernal, pastor of the Jubilee Christian Center in San Jose, told the Chronicle that the other passenger was an alleged bail-jumper, as reported on the sfgate.com website.
Valencia attorney David Barlavi posted on Facebook:
"Bob was a great man. He was a strong adversary as opposing counsel at the Drescher Law Firm. He also had a big heart and was very philanthropic. Bob and I even smoked many a nice cigar together through the years. Bob was a terrific pilot and loved to fly his piper Cherokee plane all over the country. He went out doing exactly what he loved. I will miss him greatly. May he and his passengers rest in peace."
Los Angeles Superior Court Commissioner Alan Friedenthal noted that he and Drescher both went to Taft High School in the San Fernando Valley. "Robert appeared before me many times representing family law clients and was a true professional," the commissioner said.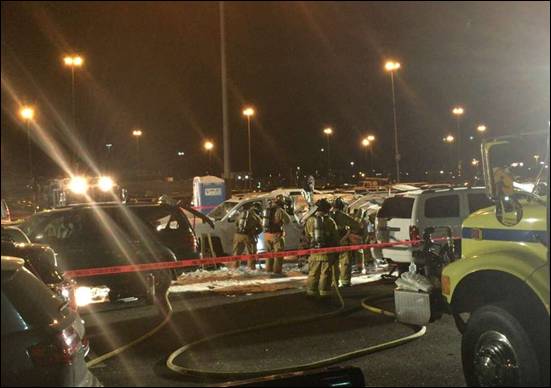 —Reno Fire Department
In this file photo, Reno firefighters respond to a small plane crash Sunday that killed three people headed to the Bay Area.
An airport spokesperson said the single-engine Piper Cherokee crashed on takeoff Sunday evening and had been bound for San Carlos in the Bay Area. State Bar records list an address for Drescher in nearby Half Moon Bay.
Several vehicles in the parking lot were damaged in the crash, but officials said no one on the ground was killed or injured and that airport operations weren't affected. The plane was registered to a corporation in New Mexico, where a telephone call for a person listed as a company officer went to a wrong number.
The cause of the crash was being investigated by the Federal Aviation Administration and the National Transportation Safety Board, agency spokespersons said. A local television reporter, Ben Margiott of KRNV, posted video online of crews removing the wreckage at about 4 p.m. yesterday.
The NTSB was briefing the media as the MetNews was going to press.
Copyright 2016, Metropolitan News Company