Friday, August 5, 2016
Page 1
Ninth Circuit Court Upholds Dismissal of 'Comfort Woman' Statute Challenge
By a MetNews Staff Writer
The Ninth U.S. Circuit Court of Appeals yesterday upheld the dismissal of an action challenging the erection of a 1,100-pound bronze statue in memory of "comfort women," girls and women, primarily Korean, who were sex slaves to Japanese soldiers during World War II.
Judge Kim Wardlaw wrote the opinion affirming the dismissal of the action by Judge Percy Anderson of the Central District of California.
While agreeing with Anderson that erection of the statue in 2013, on a 4-1 vote by the Glendale City Council, does not run afoul of the foreign affairs doctrine, Wardlaw said Anderson erred in ruling that the plaintiffs had no standing—noting that if he had been correct in that finding, he should not have proceeded to decide the case on the merits.
"Glendale's installation of the Comfort Women monument concerns an area of traditional state responsibility," Wardlaw wrote, "and does not intrude on the federal government's foreign affairs power. As a result, Plaintiffs have failed to state a claim that Glendale's actions are preempted."
Words on Plaque
Inscribed on a plaque by the statue, in Glendale's Central Park, are these words:
"In memory of more than 200,000 Asian and Dutch women who were removed from their homes in Korea, China, Taiwan, Japan, the Philippines, Thailand, Vietnam, Malaysia, East Timor and Indonesia, to be coerced into sexual slavery by the Imperial Armed Forces of Japan between 1932 and 1945.
"And in celebration of proclamation of "Comfort Women Day" by the City of Glendale on July 30, 2012, and of passing of House Resolution 121 by the United States Congress on July 30, 2007, urging the Japanese Government to accept historical responsibility for these crimes.
"It is our sincere hope that these unconscionable violations of human rights shall never recur."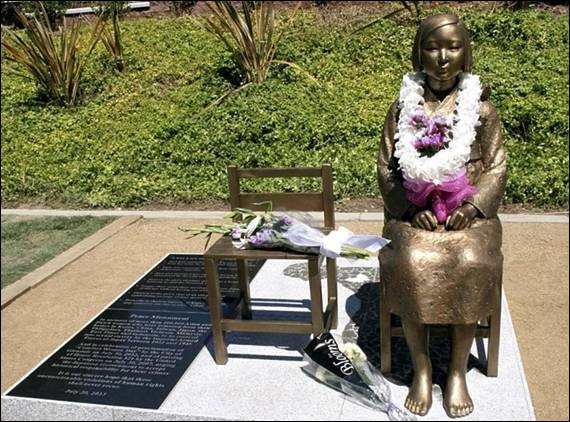 —AP
Above is a photograph of the Glendale "comfort women" memorial.
Wardlaw said the purposes recited on the plaque—"memorializing victims and expressing hope that others do not suffer a similar fate"—are "entirely consistent with a local government's traditional function of communicating its views and values to its citizenry." She added that "even if Glendale's purpose was, as one City Council member stated, to 'put the city of Glendale on the international map,' this purpose does not conflict with the role local governments have traditionally played in public discourse related to foreign affairs."
The Council member making the remark, at the July 30, 2013 meeting, was Laura Friedman, a former mayor of the city. The comment was cited by the appellants in support of their contention that "[m]embers of Glendale's City Council acknowledged the foreign affairs intrusion of Glendale's actions on numerous occasions"
Can't Invoke Doctrine
Wardlaw went on to declare that even if had acted "outside an area of traditional state responsibility," it would not alter the result because the foreign affairs doctrine cannot be invoked where U.S. relations with other nations are not significantly impacted.
"While Plaintiffs broadly assert that the monument 'threatens to negatively affect U.S. foreign relations with Japan,' the jurist said, "Plaintiffs do not support this assertion with specific allegations that Glendale's actions have had, or are likely to have, any appreciable effect on foreign affairs."
With respect to standing, Wardlaw pointed out that plaintiff Koichi Mera is a Japanese American who says he is offended by the statue and now avoids going to Central Park. She said:
"Mera's allegations parallel those of other plaintiffs, particularly in Establishment Clause and environmental cases, who have satisfied the injury-in-fact requirement by alleging that their use and enjoyment of public land has been impaired….[W]e conclude that Mera's 'inability to unreservedly use' Glendale's Central Park constitutes an injury in fact for purposes of Article III standing."
Dismisses Concurring Opinion
Edward R. Korman, a senior district judge for the Eastern District of New York, sitting by designation, wrote a concurring opinion. Wardlaw said in a footnote:
"As an alternative basis for affirming the district court, Judge Korman concludes that Plaintiffs lack a cause of action under 42 U.S.C. § 1983. In Judge Korman's view, the foreign affairs provisions of the Constitution do not create an individual right enforceable under Section 1983. He may very well be correct. However, we decline to address this issue of first impression for our Court….It was not raised by either party to the district court or before us, and the district court did not rule on this basis."
She said there was no need to address the issue.
The case is Gingery v. City of Glendale, No. 14-56440.
Last December, Japan agreed to pay $8.3 million to surviving "comfort women."
Statues such as that erected in Glendale have been installed in other cities, including Union City, N.J., and Southfield, Mich., and efforts have been mounted to have one placed in Los Angeles's Koreatown.
Copyright 2016, Metropolitan News Company