Friday, May 20, 2016
Page 1
Prosecutor Alfred Coletta Launches 2018 Campaign for Los Angeles Superior Court Judge
By a MetNews Staff Writer
Deputy District Attorney Alfred Coletta has launched his campaign for election to the Los Angeles Superior Court in 2018, his campaign consultant said yesterday.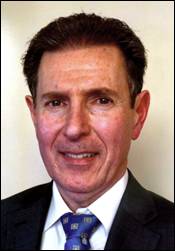 ALFRED COLETTA
Deputy District Attorney
David Gould said Coletta, who held a launch event earlier this month, is his "number one" candidate for the next election cycle.
Coletta was one of several candidates who retained Gould for potential 2016 campaigns, but who had to either drop out or seek other representation because there were only four open seats. Gould is advising Deputy District Attorneys Efrain M. Aceves, David Berger, Steven Schreiner, and Susan Townsend in those contests.
Gould also confirmed that three others who dropped plans to run this year—Deputy District Attorneys Jeffrey Stodel and Philip Marshall and municipal lawyer Sydne Michel—have retained him for 2018, but that he has not given them specific priority. The MetNews also learned yesterday that Marshall's name has gone to the State Bar Commission on Judicial Nominees Evaluation as a possible appointee to the court.
Gould said he also may end up representing another client who dropped out this year, Susan Jerich, a former federal prosecutor who now represents law enforcement officers in civil and employment-related matters. Jerich is also known to be seeking an appointment.
Coletta, a prosecutor for more than 28 years, is a former president of the Italian American Lawyers Association. A resident of Orange County, he served 12 years on the board of the Rossmoor Community Services District, which he left in 2014.
He served as the board president in 2012.
He wrote on his campaign website:
"As a criminal prosecutor, not only have I completed over 100 jury trials to verdict, but I also possess unique experience as a deputy district attorney prosecuting corporate officers and corporations for environmental and labor code violations, unfair business practices, and have litigated bankruptcy claims for fines imposed upon environmental polluters.
"My experience in prosecuting violent and serious crimes includes 42 homicides to verdict, with several including special circumstances, and other violent and serious crimes such as, attempted murder, domestic violence, assault with intent to commit rape, and kidnap for robbery. Further, I have prosecuted attorneys and police officers and have investigated officer involved shootings."
Coletta banked $287,000 before the start of this year for his nascent 2016 race. That money can be carried over to the next election.
The next reporting deadline for candidates with open campaign accounts who are not running in a current race is July 31.
Copyright 2016, Metropolitan News Company