Monday, August 29, 2016
Page 3
State Supreme Court Clerk/Administrator Frank McGuire to Retire Next Month
By a MetNews Staff Writer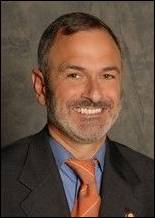 FRANK A. MCGUIRE
Supreme Court Clerk/Administrator
State Supreme Court Clerk/Administrator Frank A. McGuire is retiring at the end of next month,
Chief Justice Tani Cantil-Sakauye made the announcement at a Judicial Council meeting in San Francisco, court staff reported. It was the last meeting of McGuire's three-year term as a nonvoting advisory council member.
"Frank brought a keen legal mind to the work of the court, but also an industrial engineer's eye to the court's operations and processes," the chief justice said in a statement. "He has instituted improvements in how we handle expedited petitions, cases, and eSubmissions, and has laid the groundwork for E-Filing; he has expanded the court's outreach program—both in-house and at special oral argument sessions in law schools and the courts of appeal; and when I announced we would live webcast the court's oral argument sessions in English and Spanish, Frank made it happen.'
McGuire,55, said it had been a "great honor and privilege to have served Chief Justice Cantil-Sakauye and eight of the court's Associate Justices over the past four-plus years," and said he had "received tremendous support from the justices" and the staff. He added that he "could not have asked for a more rewarding and fulfilling career in public service."
McGuire succeeded Fritz Ohlrich in July 2012. The native Californian's undergraduate and law degrees are both from Stanford University, where he majored in both English and industrial engineering.
He was elected to the Order of the Coif prior to his 1986 graduation from law school. He clerked for Ninth U.S. Circuit Court of Appeals Judge Cynthia Holcomb Hall from 1986 to 1987, then joined Morrison & Foerster LLP as an associate.
He left there in 1991 to join the First District Court of Appeal, where he served as staff attorney to Justices Robert L. Dossee and John E. Benson until 1996.
After serving as staff attorney to state Supreme Court Justice Janice Rogers Brown from 1996 to 1999, he became of counsel to Crosby, Heafey, Roach & May in Oakland. He left there in 2002 to become managing attorney of the First District Court of Appeal, holding that position for 10 years before taking his present post.
The release said the court "is currently considering its succession plans for the position of Court Administrator and Clerk of the Supreme Court and anticipates announcing those plans in mid-September."
Copyright 2016, Metropolitan News Company