Friday, October 14, 2016
Page 1
Former State Bar President Anthony Capozzi Under Criminal Investigation
Nature of Suspicions Is Unknown, but Capozzi Says They Are Unfounded; He and His Attorney Decry Sheriff's Department's Public Statement
By a MetNews Staff Writer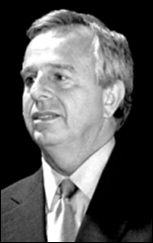 ANTHONY P. CAPOZZI
Former State Bar President
Former State Bar President Anthony P. Capozzi is under investigation by the Fresno County Sheriff's Office, but it is unknown what misdeeds he is suspected of having committed.
As to the validity of the suspicions, Capozzi told the MetNews:
"It ain't so!"
The Sheriff's Department issued a press release on Tuesday declaring that "our office initiated a criminal investigation" of Capozzi, adding:
"No details of the allegations are available at this time."
The Fresno Bee quoted department spokesperson Tony Botti as saying the investigation "is in its infancy stages."
Capozzi's attorney, Carl Faller, declared in a statement late Tuesday:
"On October 12, 2016, the Fresno County Sheriff s Office issued a public statement that Antony P. Capozzi, a former President of the State Bar of California, the Fresno County Bar Association and the Federal Bar Association, was under criminal investigation for unspecified allegations.
"It is unfortunate that the Sheriffs Office elected to make this public pronouncement before contacting Mr. Capozzi, or investigating, reviewing and evaluating all of the facts concerning the allegations, which are, at this point, still unknown.
"Mr. Capozzi who is presently in San Francisco as Chair of the state wide Commission on Judicial Performance, and having served both as a federal prosecutor and private lawyer, is an attorney known throughout California, and the country, as a leader in the legal profession. At this juncture, it is the intention of Mr. Capozzi to completely cooperate in the investigation, and to provide whatever information the Sheriffs Office requires, once the specific substance of the allegations has been revealed."
Responding to an inquiry from the MetNews, Capozzi said in an email late yesterday:
"I have been in SF at Commission on Judicial Performance hearings and was surprised to hear about this. I will meet with the DP Sheriff next week to clear this up. Trying to stay out of the press until I have my meeting and show them nothing improper by me ever occurred. They jumped the gun in releasing the press release. A simple phone call would have taken care of this."
Capozzi, 71, served as State Bar president in 2003-04. He has had his own practice in Fresno since 1979.
Capozzi graduated from State University of New York, Buffalo and the University of Toledo College of Law. He was a law clerk for the U.S. District Court for the Southern District of Illinois from 1970-73, and served the U.S. Department of Justice as an assistant U.S. attorney from 1973-79.
His practice focuses mainly on criminal law, but with some civil work. He is a fellow of the American Board of Criminal Lawyers.
Capozzi joined the State Bar in 1976, and was previously admitted to practice in Illinois and Ohio.
He has been the exclusive legal and political consultant for KFSN-TV, the ABC affiliate in Fresno.
Copyright 2016, Metropolitan News Company