Tuesday, November 1, 2016
Page 1
Ninth Circuit: Larry Klayman Cannot Represent Cliven Bundy in BLM Standoff Case
By a MetNews Staff Writer
The chief judge of the U.S. District Court for the District of Nevada did not abuse her discretion by denying activist lawyer Larry Klayman pro hac vice status in order to represent rancher Cliven Bundy in his criminal case, the Ninth U.S. Circuit Court of Appeals has ruled.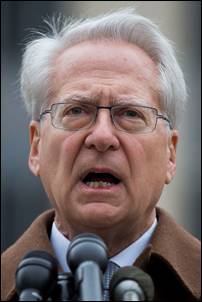 —AP
In this file photo, lawyer Larry Klayman speaks to the media during a press conference in Washington D.C.
The panel denied Klayman's petition for a writ of mandamus directing the lower court to allow him to appear. The opinion was issued late Friday, one week after the case was argued.
Bundy and 18 others are charged in the case, resulting from the 2014 standoff with the Bureau of Land Management at his ranch near Bunkerville, Nev. Bundy claims the BLM lacks the authority to charge him fees for grazing cattle on federal land.
Trial is now set for Feb. 6.
Klayman is best known as the founder of Judicial Watch and longtime legal nemesis of Bill and Hillary Clinton and President Barack Obama. He and Judicial Watch had an acrimonious parting in 2003, and he now heads another group, Freedom Watch.
He is a member of the Florida and District of Columbia bars. Navarro denied him the right to represent Bundy in her court largely because of a disciplinary proceeding in D.C., saying he was less than candid with her in his explanation of that matter.
She denied the application without prejudice. If Klayman files a new application, she said, he must present further information regarding the D.C. matter, as well as cases in which U.S. district judges Denny Chin of the Southern District of New York and William Keller of the Central District of California barred him permanently from practicing in their courts.
He must also obtain a clarification from the Florida Bar that a disciplinary matter there, resulting in a reprimand, did not involve a showing of dishonesty, the judge said.
Klayman Friday told the Las Vegas Review-Journal that he will seek en banc review, and if necessary, review by the U.S. Supreme Court.
Judge Jay Bybee, writing for the Ninth Circuit, said that Navarro had "more than ample cause" to reject Klayman's application. It chided Klayman for showing a "pattern of disregard for local rules, ethics and decorum" and for personally suing Navarro in her own court after she ruled against him.
Klayman recently dropped the lawsuit.
"Bundy is entitled to a fair trial defended by competent, vigorous counsel of his choosing," Bybee said. "But his right to such counsel does not extend to counsel from outside the district who has made it a practice of impeding the ethical and orderly administration of justice."
Judge William Fletcher joined in the opinion.
Judge Ronald Gould dissented, expressing concern that Bundy may not be able to get a fair trial without his chosen counsel.
He noted that the Nevada attorney who has been representing Bundy has said his small firm lacks the resources to defend the complicated case, and more recently was given permission to withdraw from the case for health reasons, subject to Bundy obtaining new counsel. Another lawyer, Bret Whipple, has appeared, Gould explained, but, according to Klayman, Bundy has not decided whether to hire him nor paid a retainer, and he would, in any event, need Klayman's assistance in order to try the case.
"…Because of Bundy's practical and predictable problems finding capable representation in the time remaining before trial, the denial of his chosen counsel risks leaving him without fully qualified counsel," the dissenting jurist wrote.
He argued that "concerns about trial judge irritation pale in comparison to a criminal defendant's need for robust defense."
The case is In re Bundy, 16-72275.
Copyright 2016, Metropolitan News Company