Wednesday, November 23, 2016
Page 1
Judge Soussan Bruguera to Retire Next Month
By a MetNews Staff Writer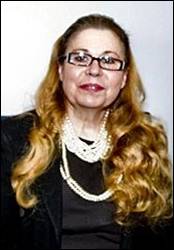 SOUSSAN BRUGUERA
Los Angeles Superior Court Judge
Los Angeles Superior Court Judge Soussan Bruguera said yesterday she intends to retire next month.
The 60-year-old jurist, a judge since 1989, said she will step down Dec. 15. She intends to spend more time with family members, she told the MetNews, and will join ADR Services as a private judge next year.
Her husband, S. Paul Bruguera, is a retired deputy state attorney general. They have two daughters, one of whom has an art degree and is planning to go to graduate school, while the other is a law student at Tulane University. 
Moving to private judging "will be a beginning, not an end," she wrote. "I'm looking forward to settling cases" as part of the private sector, she said, after conducting many settlement conferences as a judge.
"I love the position" of Superior Court judge, she added. "To be a judge in this great country is such an honor."
Bruguera's parents were immigrants from the former Soviet Union who waited 15 years in Iran—the future jurist was born in Tehran—to come to the United States as permanent residents when she was 8. She once told a reporter she "grew up with patriotism on a grand scale."
A graduate of USC, she said decided to become a lawyer after attending a class on constitutional law. She attended Loyola Law School, where she met her future husband, whom she married after she passed the bar examination in 1981.
She initially practiced privately in Torrance as an associate with Voorhees, Knable & Voorhees, but moved to the Los Angeles County District Attorney's Office in 1983. The following year, she joined the Attorney General's Office, where she started out handling Medi-Cal fraud cases before transferring to the Business and Tax Section.
In 1989, then-Gov. George Deukmejian tapped her to join the Los Angeles Municipal Court, and she was elevated to the Superior Court in 2000 upon court unification.
Her retirement comes despite having been reelected without opposition this year. Six years ago, however, she drew a challenge from attorney/realtor Douglas Weitzman.
Bruguera said at the time that she felt she had been targeted because of her unusual name. She hired campaign consultant Fred Huebscher, and heeded his advice that she list herself on the ballot as "Soussan (Suzanne) Bruguera."
She won the election with 73 percent of the vote.
Perhaps the most unusual incident in her career occurred in the early 1990s, when she found herself in the role of crime victim.
A woman with a lifelong history of physical illness and emotional problems was convicted of threatening Bruguera in two phone calls to the office of her court's presiding judge. The woman, a defendant in an eviction case stemming from the discovery of 30 live cats in her residence and several dead ones in her freezer, claimed Brugera had been "mean" in ruling against her on a procedural manner.
The woman was evicted after the case was transferred to another judge. She was convicted of threatening a public official in violation of Penal Code §76, and the case resulted in a published opinion, People v. Gudger (1994) 29 Cal.App.4th 310, rejecting a free speech challenge to the statute.
Bruguera commented after the Court of Appeal ruled:
"That woman really scared me for a couple of days. She was serious….This was not a happy chapter in my judicial career."
Copyright 2016, Metropolitan News Company