Monday, March 28, 2016
Page 3
At Swearing-In of Karin Borzakian
Wesley: Commissionership Applicants Receive Highest Scrutiny
By a MetNews Staff Writer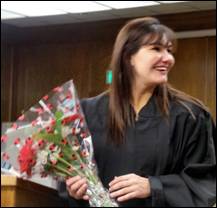 KARIN BORZAKIAN
Los Angeles Superior Court Judge David Wesley said yesterday that while some judges gain office through politically influenced appointments or decisions of uninformed voters, court commissioners win their posts based on "merit."
Delivering remarks prior to administering the oath of office to Karin Borzakian—who served as his research attorney before becoming a deputy district attorney—the former presiding judge said:
"I read an article that said some judges become so impressed with their importance that they forget the practical facts of their judicial birth.
"Most federal judges are appointed through the influence of political officials, and the nod of some state's senator. Many state judges also know politicians or others that have the governor's ear, or are elected by a public that know little or nothing of their qualifications. They forget all that, and become enamored with their title.
"But to become a Los Angeles Superior Court commissioner, to be one of the few deemed to have the knowledge, the demeanor, the character, to be one of the few that after successive interviews, culminating in evaluation by 10 seasoned judges—no politics, just to be selected on merit—now, that is something to be proud of, and that makes you truly special."
He made note that out of 437 applicants for commissionerships, only four, including Borzakian, were chosen, commenting that being selected is "quite an accomplishment." The others who were given posts are Timothy Weiner, Robert Wada, and James Blancarte.
Wesley, who was himself a commissioner for two years prior to his 1997 appointment to a judgeship, reflected that commissioners are "tremendously overworked." He added that most of them are "are confronted with huge caseloads," and notwithstanding that "every decision has a direct impact on people's everyday lives," a commissioner does not have the time to "dwell" on decisions.
"Our commissioners are some of our finest judges," he remarked, "and are indeed viewed and respected as such, bringing public confidence to our court."
He welcomed Borzakian to the "elite corps."
For Borzakian—who with her family, fled from Iran, at the age of 7, as the Iranian Revolution was forming—English is a second language. She received her undergraduate degree from UCLA and her law degree from Pepperdine.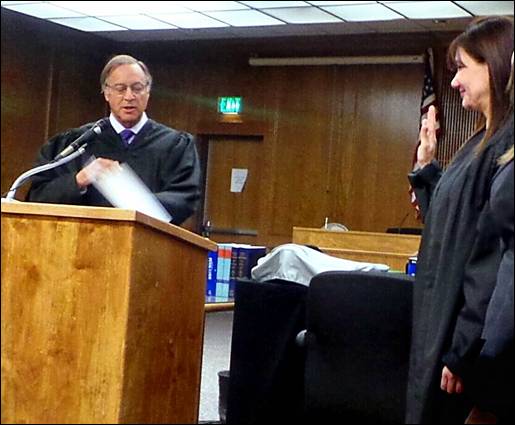 Los Angeles Superior Court Judge David S. Wesley, left, administers oath of office to new commissioner, Karin Borzakian.
Copyright 2016, Metropolitan News Company