Thursday, December 1, 2016
Page 1
Actress Loses in Appeals Court Based on Inadequate Brief
Libel-in-Fiction Case Had Been Viewed as Raising Significant Issues While the Plaintiff, Ronee Sue Blakley, Was Still Under Representation by Three Attorneys
By a MetNews Staff Writer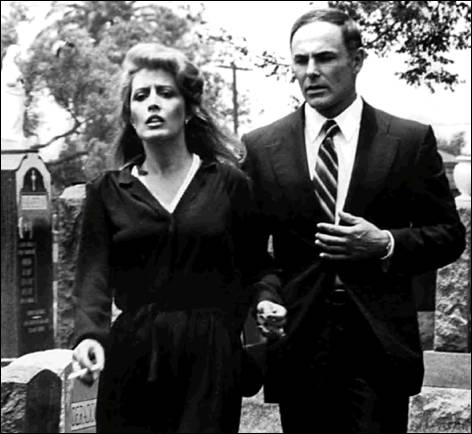 Blakley and actor John Saxon are seen in a scene from the 1984 film, "Nightmare on Elm Street."
Singer/actress Ronee Sue Blakley has lost her bid in the Court of Appeal for reversal of an order granting $209,669 in attorney fees to her one-time inamorato who had prevailed on an anti-SLAPP motion when she sued him for libel.
Div. Eight of this district's intermediate appeals court, in an opinion filed Tuesday, affirmed the attorney fee award in favor of screenwriter Carroll Cartwright, without a discussion of the merits. Blakley, who was representing herself, had failed to provide the required citations to the record or to present reasoned argumentation, Justice Elizabeth Grimes said.
The case, which ended in a whimper, had earlier been seen by legal analysts—back when Blakley was represented by a dream team of attorneys—as one that might lead to a clarification of circumstances under which the portrayal of fictional characters who closely resemble actual persons can result in liability.
In a brief opinion, which was not certified for publication, Grimes wrote:
"At most, plaintiff makes a conclusory statement in the conclusion of her opening brief that '[e]very bill of time spent it [sic] false, statements are lies, and all wrongdoings render any work done unchargeable.' Plaintiff, both in the trial court and in this court, focuses only on attempts to re-argue the merits of the special motion to strike which is not before this court. That separate ruling became final as of the filing of the remittitur on June 2, 2016. Accordingly, we affirm the court's order awarding defendant fees."
Blakley—who received an Academy Award nomination for best supporting actress in 1975 for her portrayal of Barbara Jean in "Nashville"—lived with Cartwright from 1982-87. Their daughter, Sarah Blakley Cartwright, was born March 11, 1988 (and is now a novelist).
Blakley's suit, filed April 18, 2014, stemmed from the 2012 screen adaptation by Cartwright and Nancy Doyne of British writer Henry James' 1897 novel, "What Daily Knew." The movie, which bore that title, was set in contemporary times, in New York City.
Allegations of Complaint
The actress, then represented by counsel, alleged in her complaint, in which she sought "not less than three million dollars" in damages, that Cartwright had developed a "deep hatred" for her in the course of a lengthy child custody battle (which she won).
The complaint asserts:
"If Susanna had been an entirely fictional character, this lawsuit would never have been filed. But that is not the case. Cartwright, who co-wrote the screenplay of the Film, has admitted that it is closely based on his own first hand personal experience of a lengthy and acrimonious battle for the custody of his daughter, Sarah. Susanna is a thinly disguised portrait of his antagonist in that battle: Sarah's mother, the musician and singer, Ronee Sue Blakley. The primary thrust of this lawsuit is therefore very simple: Cartwright wrote the screenplay to further his own feelings of hatred for Blakley by maliciously and falsely portraying her as a selfish and uncaring mother, when in fact she was a devoted and loving parent."
Blakley pointed out that her middle name is Sue and the mother in the movie is "Susanna." In the book, the mother was named Ida.
The complaint set forth that Blakley (now 71) is "a musician, singer, songwriter and producer whose career was on the wane," and the character Susanna is "a musician, singer, songwriter and producer whose career is on the wane."
Ongkeko's Ruling
However, Los Angeles Superior Court Judge Rafael A. Ongkeko held on Jan. 20, 2015, in granting the anti-SLAPP motion, that Blakley "has not shown that a reasonable viewer would understand Susanna to be plaintiff."
He said the various similarities that were cited between Blakley and Susanna were "either tenuous or common, non-unique occurrences."
On June 5, 2015, he granted Cartwright's motion for attorney fees and costs which, under the anti-SLAPP statute, "a prevailing defendant on a special motion to strike" is, with specified exceptions, "entitled to recover." Costs were assessed at $1,840.
Blakley purported to appeal from the judgment of dismissal that followed the granting of the anti-SLAPP motion, but filed her notice of appeal too late, and the appeal was dismissed last Feb. 4. She did timely appeal from the order granting attorney fees.
Earlier in the litigation, Blakley was represented by counsel, including Rodney A. Smolla, author of several books on the First Amendment and then a law professor at the University of Richmond. Ongkeko on Aug. 1, 2014 granted a motion for him to appear pro hac vice.
Even before that status was granted, Smolla's name appeared as counsel on the complaint, with the advisory that he would seek leave to appear.
The complaint quoted from one of Smolla's treatises, which gives advice to authors in drawing from real persons in fictional works. It says:
"[T]there are two relatively 'safe' courses of action from a legal perspective: First, the author may make little or no attempt to disguise the character, but refrain from any defamatory and false embellishments on the character's conduct or personality: second, the author may engage in creative embellishments that reflect negatively on the character's reputation, but make substantial efforts to disguise the character, by changing name, age, geographic setting, personality, occupation, or other factors sufficiently to avoid identification. When an author takes a middle ground, however, neither adhering perfectly to the real person's attributes and behavior nor engaging in elaborate disguise, there is a threat of defamation liability."
Blakley was also represented by two Beverly Hills attorneys: Rufus-Isaacs, Acland & Grantham LLP partner Alexander Rufus-Isaacs, a British barrister and member of the State Bar of California with extensive experience in entertainment industry litigation, and Neville Johnson, partner in Johnson & Johnson, LLP, also a leading attorney in the field of entertainment law.
In granting fees for Cartwright's lawyers in excess of $200,000, Ongkeko said the 476 hours they put in were justified to combat the "firepower" of the lawyers who had earlier represented Blakley.
On Nov. 4, 2014, the three lawyers filed a "Notice of Withdrawal of Attorneys of Record" and Rufus-Isaacs on Nov. 13 filed a notice of a lien against any judgment that might be rendered in favor of Blakley.
Tuesday's decision came in Blakley v. Cartwright, B266415.
Copyright 2016, Metropolitan News Company