Friday, May 27, 2016
Page 1
S.C. Grants Habeas Relief in Bite-Mark Case
Having Previously Denied a Writ, It Yields to a Statute Triggered by That Decision
From staff and wire service reports
The California Supreme Court yesterday granted a writ of habeas corpus to a man found guilty of killing his wife after jurors heard bite-mark testimony that was later recanted.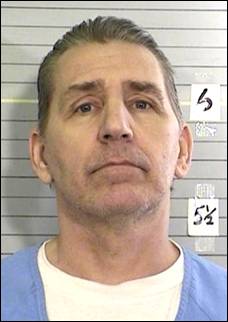 —AP
This April 9, 2013 file photo provided by the California Department of Corrections and Rehabilitation shows William Richards. The California Supreme Court has thrown out the conviction of a man found guilty of killing his wife after jurors heard bite-mark testimony that was later recanted. A unanimous high court cited a new state law inspired by Richards' murder case in its ruling yesterday.
In a 4-3 decision in 2012, the high court denied a petition for a writ, holding that forensic dentist Norman Sperber's repudiation of his expert testimony at the 1997 trial of William Richards did not render that testimony "false evidence," within the meaning of Penal Code §1473, as it then read. That decision sparked a statutory change in 2014.
The section now specifies that " 'false evidence' shall include opinions of experts that have either been repudiated by the expert who originally provided the opinion at a hearing or trial or that have been undermined by later scientific research or technological advances."
Statute's Plain Meaning
Writing for a unanimous court, yesterday, Chief Justice Tani Cantil-Sakauye said:
"The plain meaning of the amendment to section 1473 makes clear that an expert opinion given at trial can later be deemed 'false evidence' under two circumstances: (1) if the expert repudiates his or own opinion given at trial; or (2) if the opinion given at trial is undermined by subsequent 'scientific research or technological advances.'…We conclude that, under this amendment to section 1473, petitioner has met his burden to show that Dr. Sperber's trial testimony constituted false evidence under either circumstance."
Richards was convicted in the strangling of his wife, Pamela Richards, after Sperber testified that a mark on her hand was consistent with the defendant's teeth.
In 2007, San Bernardino Superior Court Judge Brian S. McCarville granted habeas corpus relief partly based on Sperber's testimony that he presently does not "know for sure that...that photograph depicts a bite mark" and that he now believes that Richards' teeth "are not consistent with the lesion on the hand."
Div. Two of the Fourth District Court of Appeal reversed in 2010, and the high court, in a majority opinion by then-Justice Joyce Kennard (since retired), affirmed.
Prosecutors have said they did not perceive Sperber as having recanted his testimony, and that the testimony was not key to Richards' conviction. Other evidence against Richards included a deputy's observation that he knew a great deal about the crime scene and his wife's open affair, prosecutors said.
'Clearly Repudiated'
Cantil-Sakauye declared that Sperber "clearly repudiated his trial testimony."
She wrote:
"[W]ith the exception of the bite mark evidence, the defense had a substantial response to much of the prosecution's evidence against petitioner. Under these unique circumstances, it is reasonably probable that the false evidence...at petitioner's 1997 jury trial affected the outcome of that proceeding."
In a concurring opinion, Justice Goodwin Lui observed:
"[T]he fact that two prior juries hung without the bite mark evidence further suggests that admission of this evidence at the third trial was prejudicial, and I join the court in holding that Richards's conviction must be reversed."
In a separate concurring opinion, Justice Carol Corrigan disagreed with Lui, saying:
"To conclude that the case is weak merely because a jury, or even two, did not return a verdict is often an exercise in speculation."
The case is In re Richards, 16 S.O.S. 2597.
Copyright 2016, Metropolitan News Company