Tuesday, February 9, 2016
Page 1
Retired Superior Court Judge Birney Dies at 84
By a MetNews Staff Writer
Services were pending yesterday for retired Los Angeles Superior Court Judge William Birney Jr., who died Sunday, two months shy of his 85th birthday.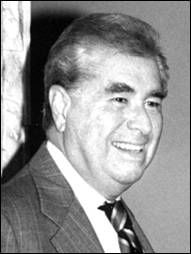 WILLIAM BIRNEY
1931-2016
Birney died at his Pasadena home, son Mark Birney told the MetNews.
Birney retired in 2011 after a 23-year judicial career, all of it spent at the Norwalk courthouse.
Birney was named to the court in 1988 by then-Gov. George Deukmejian, following a 20-year career as vice president and general counsel of Vons Grocery Company, during which he was admitted to the American Board of Trial Advocates.
A native of Connecticut, he graduated from St. Bonaventure University in New York in 1952 and subsequently joined the U.S. Army. He was a newscaster and disc jockey for the Armed Forces Radio Service while stationed in the Marshal Islands, and also taught broadcasting courses at Fort Slocum, N.Y.
He was discharged in 1956 and earned his law degree from Southwestern Law School in 1960. He became a Los Angeles deputy city attorney in 1961, prosecuting misdemeanors downtown, before switching to the County Counsel's Office the following year.
His work for the county was primarily in eminent domain and liability defense, and he remained there until joining Vons in 1968.
One of his more unusual trials occurred in 2007, resulting in a reported $85,000 verdict for a woman whose two children were exposed to pornography on an unblocked television channel in an Artesia motel room. He also presided over litigation involving public officials in South Gate, issuing an injunction in 2002 barring critics of the then-City Council members and city treasurer from harassing the officials.
Mark Birney, a senior deputy district attorney in Orange County, said his father enjoyed reading and "all things Italian" in his post-retirement years, eschewing the opportunity to engage in private judging or similar pursuits. The senior Birney was a tremendous influence on him and his brother, William J. Birney III, a transactional real estate attorney in Los Angeles, he said.
Birney valued the legal profession and "was particularly fond of the Norwalk bench," Mark Birney added.
Survivors, besides his two sons, include his wife of 48 years, Barbara Birney, three grandchildren, and two younger brothers.
The family asked that any memorial donations be made to the Italian American Lawyers Association, P.O. Box 712057, Los Angeles 90071.
Copyright 2016, Metropolitan News Company