Monday, June 27, 2016
Page 1
Former Judicial Candidate Agrees to Disbarment
By a MetNews Staff Writer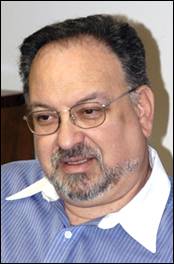 STEPHEN BEECHER
Former Judicial Candidate
A former Los Angeles Superior Court candidate incarcerated for smuggling drugs to a client in jail has agreed to be disbarred.
State Bar records show that Stephen Beecher, 64, entered into a stipulation with the Office of Chief Trial Counsel on June 8. He had been on interim suspension since April of last year, following his conviction on the drug charge.
The former San Fernando Valley sole practitioner was sentenced to two years in custody by Los Angeles Superior Court Judge Craig Veals. Jail records show that he was released in February of this year.
Beecher entered a negotiated plea to the charge of delivering $30,000 worth of heroin inside a greeting card on Dec. 28, 2012 at the North County Correctional Facility. He was originally charged with six offenses, including bringing a firearm into a jail.
In the disbarment stipulation, Beecher admitted that he passed heroin to former client Jesus Antonio Duenas after Duenas' girlfriend at the time, Jessica Paredes, "ironed and flattened" packages of the drug to fit inside a greeting card envelope and then gave Beecher a greeting card 36 grams of heroin.
Paredes pled no contest to conspiracy and was sentenced to the two years she had already served. Duenas was sentenced to state prison last summer.
Beecher, who did bankruptcy and civil litigation work in addition to criminal defense, was admitted to the State Bar in 1988 after graduating from University of West Los Angeles School of Law, which he attended at night.
He previously worked as a credit manager for manufacturing companies. He was licensed as a real estate salesperson, but the license expired in 1987, state records show.
Records also show that he is currently licensed as a firearms instructor and held an armed security guard's license until it was cancelled in March of last year.
He ran for the Superior Court in 2006. He finished last of seven candidates, polling 4.3 percent of the vote for a seat that was eventually won in the general election by David Stuart, who remains on the court.
State Bar records show that Beecher was placed on probation, with 60 days of actual suspension, in 2010 for "commingling, failure to deposit entrusted funds, failure to report sanctions, failure to refund unearned fees and….writing trust account checks against insufficient funds."
Copyright 2016, Metropolitan News Company