Tuesday, February 23, 2016
Page 1
Brown C.A. Choices Win Easy Confirmation
By a MetNews Staff Writer
Two superior court judges tapped by Gov. Jerry Brown for elevation to the Court of Appeal won easy confirmation yesterday, although not before one was criticized by a disgruntled litigant who blamed him for the loss of her family's business.
San Luis Obispo Superior Court Judge Martin Tangeman was confirmed by the Commission on Judicial Appointments as associate justice in this district's Div. Six, filling a seat that has been vacant since Justice Paul Coffee retired four years ago. San Bernardino Superior Court Judge Marsha G. Slough won approval to fill the seat recently vacated by the retirement of Justice Betty Richli from the Fourth District's Div. Two.
Chief Justice Tani Cantil-Sakauye chaired both hearings and voted for both nominees, praising them warmly for their service to the state judiciary, including membership on the Judicial Council. She urged both of them to continue to work on statewide matters, once they had "settled in" at the Court of Appeal.
The senior presiding Court of Appeal justice in this district, Paul A. Turner of Div. Five, provided the second vote needed to confirm Tangeman, while Manuel Ramirez, who presides over the division Slough is joining, did the same for her nomination.
Attorney General Kamala Harris, the third member of the commission, did not attend. She explained in statements read by the chief justice that she was in Tulare County to speak at the funeral of a deputy sheriff killed last week in the line of duty.
Harris said in her statements that she would have voted for both nominees if present, saying that each of them had a reputation for fairness, legal intellect, and commitment to public service making them worthy of the appellate bench.
Div. Six Presiding Justice Arthur Gilbert testified for Tangeman, noting the length of the vacancy and describing the nominee as "the colleague we in Div. Six have prayed for." He has known Tangeman over the years, he noted, based on his work as a lawyer, a local bar association president, and then an active member of the judiciary, serving on numerous committees.
He also noted Tangeman's yearlong sabbatical, teaching at the University of Trento in Italy. Tangeman, who was described in the attorney general's background report as having a "deep love for Italian life and culture," emerged as the "Jack Kerouac of Italy" by writing an ongoing travelogue for the San Luis Obispo County Bar Association's newsletter that year, Gilbert explained.
Also testifying for Tangeman was Justice Elizabeth Grimes of this district's Div. Eight, who served with him on the committee that advises the Judicial Council on standard jury instructions in civil cases.
She praised him for taking over the chair of the committee after his longtime predecessor, Justice Walter Croskey, died in 2013. He has presided "with dignity and respect for all," she said.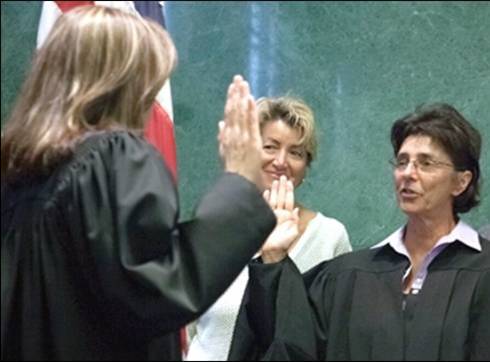 —Pool Photo by Alex Drecun
Chief Justice Tani Cantil-Sakauye swears in Marsha G. Slough as the newest justice to the Fourth District Court of Appeal, Div. Six.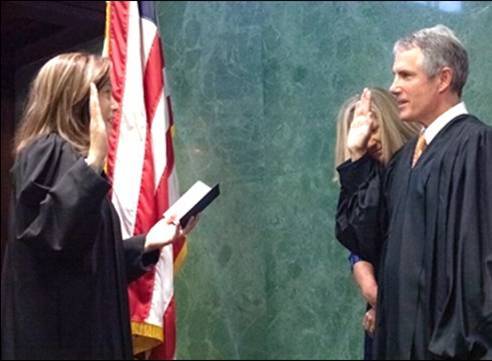 —Pool Photo by Alex Drecun
The chief justice administers the oath of office to Martin Tangeman, who fills a longstanding vacancy in Div. Six of this district's Court of Appeal.
Opposing the nominee was Adele Schneidereit, who said she felt "small and violated" as a result of ruling by Tangeman that resulted in the loss of the architecture firm that she and her husband built. She blamed the judge for the issuance of court orders that enabled a bank to levy on the firm's assets to collect a judgment for more than $100,000.
Schneidereit said the couple had been deprived of "our property and our civil liberties."
In his own testimony, Tangeman alluded to Schneidereit's testimony, discussing the importance of judges not only reaching correct rulings but also "do[ing] our best to explain how and why we have reached those results."
In a letter to the commission, which was released to reporters after the hearing, the judge explained that of all the orders Schneidereit was complaining about, he had only signed three—orders for her and her husband to appear at a judgment debtor examination, and an order denying an ex parte motion to vacate all of the prior orders and stay the judgment pending appeal.
He said he doesn't remember the case, but that he likely denied the motion because there was no demonstration of a need for emergency relief. He noted the defendant could have brought a subsequent noticed motion, but failed to do so.
The Commission on Judicial Nominees Evaluation rated Tangeman "exceptionally well qualified."
Testifying for Slough were Claremont attorney Michael Bidart and Los Angeles lawyer Donna Melby, both of whom praised her skills as a lawyer, having first done litigation on the defense side but later for plaintiffs, and as a judge. Melby said she "understands the rigors of trial practice from both sides of the well."
Her brother, Kansas City, Mo. trial lawyer Fred Slough, said she had always been a high achiever, with great accomplishments in high school sports before going on to college and law school. The dean of the University of LaVerne College of Law, Gilbert Holmes, said she had done valuable work to bring the school and the bench together for the benefit of the school and the bar.
Slough was rated "qualified" by the JNE Commission.
Copyright 2016, Metropolitan News Company