Monday, April 25, 2016
Page 1
C.A. Affirms Conviction of Police Officer/Rapist
Panel Says Woman Were Transported for 'Prurient' Purposes, Rejects 'Lawful Arrest' Defense
By KENNETH OFGANG, Staff Writer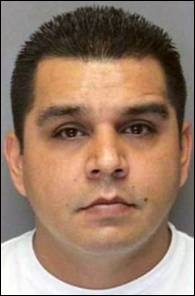 —AP
Former Sacramento police officer Sergio Alvarez.
The Third District Court of Appeal Friday affirmed a former West Sacramento's conviction on felony charges involving five different women whom prosecutors said he arrested or purported to arrest and then forced to have sex with him.
Sergio Alvarez is presently serving 205 years to life in prison as a result of his 2014 conviction on 18 counts, including five counts of aggravated kidnapping, four counts of obtaining oral sex by abuse of public authority, eight counts of obtaining oral sex by means of duress, and one count of rape.
The appellate panel Friday affirmed the bulk of the convictions and sentences. It reversed on five counts, but with little practical effect on the aggregate sentence.
Prosecutor's Charges
The charges involved five different women, including one whom Alvarez was convicted of forcing into sex on four different occasions. Prosecutors said Alvarez took advantage of being assigned to patrol late at night, alone, in an area rife with drug use and prostitution, and preyed upon women who seemed unlikely to resist or complain.
Alvarez was, according to an Associated Press feature, "a poster child of a predator cop — and of the flaws in policies, technological glitches, and culture of policing that can allow such behavior to go unnoticed or unpunished until it's too late." His actions resulted not only in prosecution, but also in civil suits against the city, which were settled for a total of $4.1 million.
One of the women, identified only as Karen N. in the opinion, testified that Alvarez had oral sex with her on four different occasions in late 2011 or in 2012, the first time after she left a friend's apartment in an intoxicated state, twice in her motel room, and once in an alley to which he had driven her under the guise of driving her home from a motel she had just left.
She also said he had brief intercourse with her on one occasion.
Testifying about the first occasion, she told the jury:
"I remember when I was done, I stood up and I glanced straight at his name tag, and he said, 'Now everything Mr. Alvarez does is a secret.'"
Alvarez admitted having oral sex with Karen N. on three occasions, but said it was consensual. As to the other four women, he admitted having oral sex with three of them, but claimed it was consensual in each instance.
Defense's Appeal
On appeal, the defense argued that the aggravated kidnapping convictions should be thrown out because the evidence was insufficient to prove that the victims were not under lawful arrest when they were each allegedly transported to an alley or isolated area where the sexual activity took place.
In one instance, Justice M. Kathleen Butz acknowledged in her opinion for the court, Alvarez had a facially valid warrant for the victim's arrest. But the woman's testimony established that Alvarez had told her she could avoid going to jail, despite the warrant, and that she "knew what to do and to lay down," before he drove her to an alley and told her to perform oral sex.
"At the point at which defendant began to offer an alternative to jail while driving the patrol car, he was not 'acting under' a lawful arrest but to pursue his own prurient interests," the justice wrote. "Accordingly, there is substantial evidence to support a finding that the lawful arrest defense did not apply to absolve defendant of criminal liability."
As to three of the other women, Butz went on to say, it was likewise clear that Alvarez was pursuing "prurient interests" when he transported them, and was not pursuing a legitimate law enforcement aim, even if he had probable cause for an arrest.
In the unpublished portions of the opinion, the court reversed Alvarez's conviction of kidnapping Karen N., three of his convictions of obtaining oral sex from her under duress, and one conviction of obtaining oral sex under duress from another victim, all on sufficiency-of-the-evidence grounds.
The case is People v. Alvarez, 16 S.O.S. 2047.
Copyright 2016, Metropolitan News Company