Thursday, January 21, 2016
Page 1
C.A. Tosses Alarcons' Convictions for Lying About Their Residency
From Staff and Wire Service Reports
The Court of Appeal for this district yesterday threw out the convictions of former state lawmaker and Los Angeles City Council member Richard Alarcon and his wife on charges they listed a phony address on documents they signed under oath.
Los Angeles Superior Court Judge George Lomeli erred by telling jurors that there was a mandatory presumption that defendants were not legally domiciled in any residence in which they had not physically resided during the preceding year, Justice Victoria Chavez wrote for Div. Two.
That instruction, Chavez wrote in an unpublished opinion, "deprived [the defendants] of their due process rights because it relieved the prosecution of its burden of proving all of the elements of the crimes beyond a reasonable doubt."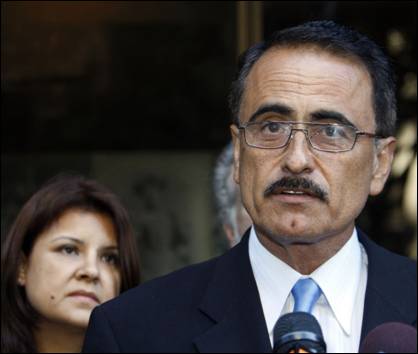 —AP
In this file photo, former councilman Richard Alarcon, right, and his wife, Flora Montes De Oca Alarcon, speak to media outside court.
Prosecutors could seek rehearing, or Supreme Court review, or retry the case. "We are in the process of reviewing the opinion and deciding on our options," Los Angeles County District Attorney Jackie Lacey said in a statement.
Richard Alarcon served two terms on the City Council in the 1990s, and later served two terms in the state Senate before being elected to the Assembly. While he was in the Assembly, voters approved a charter amendment allowing him to run for a third council term, and he entered a special election for the council in 2007.
The lawmaker and Flora Montes de Oca Alarcon had recently married, and Flora Alarcon owned two residences, one on Nordhoff St. in Panorama City and one on Sheldon St. in Sun Valley. On Nov. 9, 2006—the last day that he could do so in order to be eligible to run in the special election for the District Seven council seat—he filed a new voter registration form listing the Nordhoff St. address.
Perjury by Declaration
In charging the couple with multiple counts of perjury by declaration and fraudulent voting, prosecutors offered evidence that they actually lived on Sheldon St., outside the district. The Nordhoff St. address, they said, was unfit for occupancy during that time, as it was being renovated amidst an effort by Flora Alarcon to convert the property to condominiums.
Prosecutors also offered evidence that the property was occupied, during parts of 2009 and 2010, by an apparent squatter who had changed all of the locks, was found in possession of property belonging to Richard Alarcon, and was twice arrested for burglarizing the premises.
Jurors found Richard Alarcon guilty of falsely swearing that the Nordhoff St. address was his residence on a November 2008 declaration of candidacy for reelection to the council, and of fraudulently voting in three elections held in 2008 and 2009. Flora Alarcon was convicted of false swearing in connection with a provisional ballot cast in the November 2008 election and of fraudulently voting in two elections in 2009.
Both Alarcons were acquitted on a multiplicity of counts related to alleged false swearing and fraudulent voting in 2006 and 2007.
Lomeli sentenced Richard Alarcon to five years' probation, with conditions including 120 days in jail and 600 hours of community service, and Flora Alarcon to five years' probation with 400 hours of community service, but no jail time. Both were barred from running for public office.
Chavez Opinion
Chavez, however, said the defendants are entitled to a new trial because the judge told jurors that "if a person has more than one residence and that person has not physically resided at any one of the residences within the preceding year, there shall be a rebuttable presumption that those residences in which he or she has not so resided within the immediate preceding year are merely residences . . . and not his or her domicile."
The instruction was based on Elections Code §2032, and Chavez said that while jurors could have been instructed that a lack of occupancy at a particular location for one year raises a permissible inference that the person is not domiciled there, but that they were free to disregard the presumption, the instruction as given violated the defendants' constitutional rights by allowing them to be convicted without proof beyond a doubt of all elements of the crimes.
"That the jury was required to find the additional elements of guilty knowledge and intent to defraud before convicting defendants of fraudulent voting does not alter the fact that the mandatory presumption of instruction No. EC 2032 shifted the burden of proof regarding an element of the crime," she elaborated. "The jury could not convict defendants of fraudulent voting without also finding that defendants were not entitled to vote in the election — a finding that in turn hinged on the separate finding that the Nordhoff home was not defendants' legal domicile."
Alarcon, 62, told KNX-AM that there were "some very bad things" said about he and his wife and that there is a "sense of relief that people will ... look at you differently."
He told the Los Angeles Times:
"We never felt we did anything wrong. It doesn't diminish the damage that was done, but we'll take the victory at this point."
Alarcon told the Times that the case had been costly in terms of legal bills and hurt his political career. Publicity from the case led to his defeat in a state Assembly race in 2012, he said.
Attorneys on appeal were Richard P. Lasting and Amy E. Jacks for the defendants and Deputy Attorneys General Scott A. Taryle and Michael Katz for the prosecution.
The case is People v. Alarcon, B260234.
Copyright 2016, Metropolitan News Company