Monday, February 1, 2016
Page 1
Justice Jeffrey King Retires From C.A.
By a MetNews Staff Writer
Justice Jeffrey King was set to retire from Fourth District Court of Appeal yesterday and will become a private judge, the Judicial Council said Friday in a release.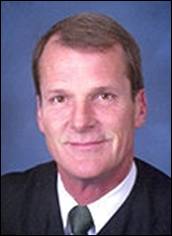 JEFFREY KING
Court of Appeal Justice
King, 65, had served on Riverside-based Div. Two since 2003, when he was appointed by then-Gov. Gray Davis. He previously served on the San Bernardino Superior Court, to which then-Gov. Pete Wilson appointed him in 1995.
The jurist's talents will be missed, Presiding Justice Manuel A. Ramirez said.
"In his years on this court, Jeff demonstrated keen analytical ability, good judgment, a wry sense of humor, and a passion for justice," Ramirez said. "Jeff was a knowledgeable, articulate, hardworking and dedicated colleague, who was always here from early to late in the day. The court will especially miss Jeff's mediation skills—he was a mainstay of our appellate court settlement program."
King's published opinions "largely deal with the areas of tort, real property, and employment law," the council said.
Justice Douglas Miller said the court was "losing a brilliant and dedicated justice," but that "the private mediation and arbitration community [was] gaining a talented, intelligent and distinguished jurist."
Before becoming a judge, he practiced law for 18 years. He worked for personal injury firms in Los Angeles and San Bernardino counties before spending six years as a partner with Markman, Arczynski, Hanson & King, primarily representing public entities in tort and employment litigation.
He had a civil trial court assignment at the time of his elevation, but heard felony and misdemeanor cases previously. He also served in the Appellate Department for two years.
A graduate of the University of Redlands and McGeorge School of Law, he was elected to a four-year term on the Rancho Cucamonga City Council in 1984 and served a year as mayor. He was a city planning commissioner before his election to the council.
In 1994, he became a member of the American Board of Trial Advocates. He was honored as the 2015 Kauffman-Campbell Jurist of the Year, and received the 2014 Roger J. Traynor Memorial Award as Appellate Justice of the Year.
He has also been honored as Western San Bernar­dino County Judge of the year, and the Inland Empire American Board of Trial Advocates Judge of the Year.
He is married to San Bernardino Superior Court Judge Pamela King, and his three sons are lawyers.
King's retirement will create a second vacancy on Div. Two, but the first one is expected to be filled Feb. 22, when San Bernardino Superior Court Judge Marsha G. Slough faces a confirmation hearing before the Commission on Judicial Appointments.
Copyright 2016, Metropolitan News Company