Wednesday, March 25, 2015
Page 1
Justice Fred Woods to Retire From C.A. at End of Month
By a MetNews Staff Writer
Court of Appeal Justice Fred Woods of this districtís Div. Seven will retire at the end of the month, the MetNews has learned.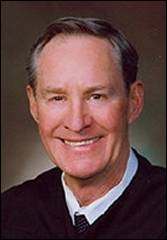 FRED WOODS
Court of Appeal Justice
Woods was not available yesterday for comment, but a staff member confirmed that the jurist plans to end his 30-year-plus judicial career on March 31, his 80th birthday.
He has served on the Court of Appeal since 1988, when he was elevated from the Los Angeles Superior Court, to which he was appointed in 1984.
The jurist is a native of Corpus Christi, Texas and grew up in that stateís eastern Panhandle. He was a key member of Pampa High Schoolís undefeated 1953 state championship basketball team, which defeated larger schools from Houston and Austin in the final rounds of the state tournament.
Woods was named to the All-State team that year and went on to play basketball at Rice University before attending Loyola Law School. He was inducted into Pampa High Schoolís Hall of Fame in 2009.
He also served in the Naval Reserve from 1958 to 1975, rising to the rank of lieutenant commander and serving as operations officer aboard the minesweeper USS Guide.
Woods earned his law degree in 1963 and was admitted to the State Bar the following year. He spent 20 years in law practice in Long Beach, becoming senior litigator at the firm that eventually became Riedman, Dalessi, Woods and Dybens. He chaired the Trial Section of the Long Beach Bar Association and served on the associationís board in 1976, and taught in the associationís Trial Clinic.
He was appointed to the Los Angeles Superior Court in 1984 by then-Gov. George Deukmejian, who had practiced with the same firm before becoming state attorney general in 1979. He presided over criminal and civil trials and in the law and motion department, and also served in the Appellate Department, before being elevated to the Court of Appeal in 1988.
His opinions have included Fisher v. San Pedro Peninsula Hospital (1989) 214 Cal.App.3d 590, a leading case on hostile-environment sexual harassment; Roberts v. Los Angeles County Bar Assn. (2003) 105 Cal. App. 4th 604, rejecting a challenge to the County Barís judicial evaluations process; Jevne v. Superior Court (2005) 35 Cal.4th 935, holding that the State Barís contractual arbitration rules were preempted to the extent they conflicted with rules of the National Association of Securities Dealers governing disputes between brokers and investors; and Kalpoe v. Superior Court (2013) 222 Cal. App. 4th 206, holding that a state law barring recovery of non-economic damages in a defamation suit against a newspaper or broadcaster if the plaintiff fails to make a timely retraction demand is not limited to defendants engaged in the immediate dissemination of news.
Copyright 2015, Metropolitan News Company