Friday, October 2, 2015
Page 1
Court of Appeal Says New York Knicks Liable for Cumulative Injury Benefits to Ex-Player
Short Stint With Clippers Sufficient to Establish State Workers' Compensation Jurisdiction—Panel
By KENNETH OFGANG, Staff Writer
A professional athlete who suffered cumulative work-related injury while playing for multiple teams, including a California team, is entitled to collect California workers' compensation benefits, the Court of Appeal for this district ruled yesterday.
Div. Five affirmed a Workers' Compensation Appeals Board ruling in favor of Durand "Rudy" Macklin. The New York Knickerbockers, for whom Macklin played eight games before being waived, petitioned for review on the ground that Macklin's limited contact with the state precluded exercise of workers' compensation jurisdiction as a matter of due process.
Professional teams and their insurers have complained for years that athletes from other states have benefitted unfairly from the state's liberal approach to workers' compensation for cumulative sports injuries. The Los Angeles Times reported in 2013 that an estimated $747 million in benefits had been awarded to about 4,500 athletes since the early 1980s.
New Law
Legislation barring cumulative injury claims by athletes who did not play in two years for a California team, or who played seven or more years for non-California teams, and tightening the limitations period, became operative Sept. 15, 2013. In a footnote to yesterday's opinion, Justice Richard Mosk said the court was expressing no opinion as to the effect of that legislation on claims like Macklin's, which was filed in 2011.
Macklin, who is regarded as one of the all-time great players at Louisiana State University and became a banker in that state after he retired, played professionally from 1981 to 1984, going from the Atlanta Hawks to the Knicks to the minor league Albany Patroons to the Los Angeles Clippers.
Released by the Clippers without ever having played in a regular season game for them, Macklin suffered from chronic muscle cramping. He claimed benefits for cumulative trauma during the period from August 1981 to November 1985, saying he had only just learned of his right to apply for compensation.
According to evidence presented in the workers' compensation proceedings, Macklin's contacts with California, besides his brief stint with the Clippers, included having played three games here as a member of the Hawks, and having played in one game and participated in warmups for two games in which he did not play, as a member of the Knicks.
Jurisdiction Found
The workers' compensation judge found subject matter based on a portion of the cumulative injury having been suffered in California, and found personal jurisdiction over the three NBA teams based on each having engaged in professional activities in the state. The WCJ found the application timely based on the applicant's delayed discovery of the relationship between his injury and his employment and of his right to apply for benefits.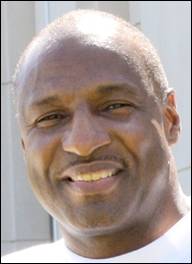 —AP
In this file photo, former New York Knicks player Rudy Macklin.
The WCJ found that Macklin was 76 percent permanently disabled, and that there were no nonindustrial causes of his disability. The appeals board affirmed, saying that "the effect of applicant's work in this state while employed by his California employer, [the] Los Angeles [Clippers], along with the effect of his work within the state while employed by his other employers, establishes more than a de minimis connection between the injury and this state."
Rejecting the Knicks' due process argument, it held that California had a legitimate interest in allocating liability among Macklin's employers during the period of injury exposure.
Mosk agreed, distinguishing Federal Ins. Co. v. Workers' Comp. Appeals Bd. (Johnson) (2013) 221 Cal.App.4th 1116. The court held in that case that the board lacked jurisdiction to award benefits to Adrienne Johnson, who sought compensation for cumulative injuries sustained while playing in the Women's National Basketball Association.
The court held that Johnson—who played for the Cleveland Rockers, Orlando Miracle, and Connecticut Sun during her eight-year pro career—had insufficient contacts with California. She had only played in one game here and could not trace her injuries to that game, she did not play for a California team, and she was not a California resident, the justices pointed out.
Mosk, however, said that Macklin's brief tenure with the Clippers was enough to satisfy the due process concerns expressed by the Johnson court. It was therefore unnecessary, he said, to determine whether his participation in several games and practices as a member of visiting teams was de minimis, as Johnson's playing in one game in California was.
"Employment by a California team during the period of the cumulative injury, so long as the requirements of Labor Code section 5500.5 are met, is sufficient in this case to make reasonable the application of the California workers' compensation law," Mosk wrote. Section 5500.5 provides that an employer will be is subject to liability for cumulative injury if it employed the applicant either during the one year preceding date of injury or the one year preceding the last date on which the employee worked at the occupation in which he was injured.
Macklin was represented by San Diego attorney Ron Mix. The 77-year-old member of the Pro Football Hall of Fame now specializes in representation of former athletes seeking workers' compensation benefits.
Michael J. McKernan represented the Knicks.
The case is New York Knickerbockers v. Workers' Compensation Appeals Board, B262759.
Copyright 2015, Metropolitan News Company