Monday, August 17, 2015
Page 1
Retired Superior Court Judge Marcus Tucker Dies at 80
By a MetNews Staff Writer
Retired Los Angeles Superior Court Judge Marcus O. Tucker Jr., a onetime presiding juvenile court judge, has died.
Presiding Judge Carolyn Kuhl informed judicial officers and staff Friday that Tucker died Aug. 8 from heart complications at age 80. "Judge Tucker was a friend and mentor to many and he will be sorely missed by those of us who knew him and valued his friendship," the presiding judge wrote.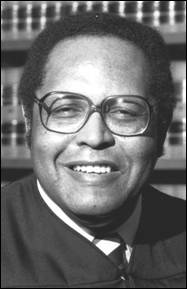 MARCUS O. TUCKER Jr.
1934-2015
Tucker was born in Santa Monica, and was the son of the city's first African-American physician. His mother was a teacher and realtor.
The younger Tucker attended local public schools before entering Fisk University in Nashville, Tenn. He transferred to USC, earned his bachelor's degree, and graduated from Howard University School of Law before returning to his native city.
His inspiration for becoming a lawyer, he said, was his uncle, James McClendon, a Chicago attorney and Illinois state senator. 
Admitted to the State Bar in 1962, he was in private practice in Santa Monica before becoming a deputy city attorney there from 1963 to 1965, an assistant U.S. attorney for the Central District of California from 1965 to 1967, and a criminal defense lawyer with his own practice in Santa Monica from 1967 until 1974, when he was appointed a Los Angeles Superior Court commissioner.
He also served as president of the John M. Langston Bar Association and the Legal Aid Foundation of Los Angeles, and is a member of the National Bar Association Hall of Fame.
Gov. Jerry Brown appointed him to the Long Beach Municipal Court in 1976. The first African-American judge of that court, he retained his seat after a contested 1978 election—one of his opponents made race an issue, he later told a reporter—and twice served as the court's presiding judge.
Brown's successor, George Deukmejian, elevated him to Superior Court judge in 1985.
He spent most of his Superior Court career in juvenile court, beginning with service as an "as-needed" referee during his time in private practice. He sat in both delinquency and dependency courts, and was the dependency courts supervising judge in 1991-92 and the presiding juvenile court judge in 1993-94.
He earned a master's degree in criminal justice from Chapman University in 1997.
His honors included the 1997 Jurist of the Year Award from the Juvenile Courts Bar Association and being named one of 21 trailblazers as part of the NAACP Long Beach Chapter's Shoulders We Stand On event in 2013.
Tucker declined to run for reelection in 2004 and retired to his Long Beach home. 
His wife of nearly 47 years, historian and educator Indira Hale Tucker, died in 2012. Their daughter and only child, Angelique Chamberlain, told the Press-Telegram last week that she and her father had travelled the world, many times on trips for justice system conferences. He often talked about his career, and his experiences with racial segregation, she said.
"My dad's quite a bit older than I am," Chamberlain said. "He had a lot of perspective and wisdom, and he was older-fashioned than I am, but we had a mutual respect for our own pasts. He was funny. He loved to talk sports and talk about the lessons he learned."
She added:
"He was always there, a great person and a role model for my friends, as well as people in the community."
Copyright 2015, Metropolitan News Company