Wednesday, November 25, 2015
Page 3
Services Sunday for Retired Superior Court Judge David Thomas
By a MetNews Staff Writer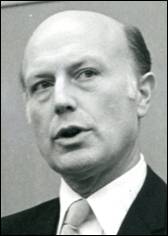 DAVID A. THOMAS
1922-2015
Services are scheduled Sunday for retired Los Angeles Superior Court Judge David A. Thomas, who died Nov. 19 at the age of 93.
Thomas, a native of Hawthorne whose father emigrated from Wales, served on the court from 1970 until 1988, when he retired and became a private judge. He was assigned to Pomona Courthouse from 1970 to 1971, and Central Civil from 1972 until his retirement.
His assignments included the Appellate Department, class actions, writs and receivers, law and motion, criminal law, and civil trials. Among his Appellate Department cases was the appeal from convictions resulting from the 54-week trial of Lockheed Shipbuilding and Construction and others for misdemeanor manslaughter as the result of 17 deaths in a Sylmar tunnel explosion.
The panel affirmed some convictions and reversed others.
Thomas attended Occidental College, where he played baseball and freshman football before graduating in 1943.
He later taught business law at the school for five years, and also served on its alumni board. His three children all attended the school.
He also taught at the University of La Verne School of Law.
He served four years in the Navy during World War II before attending Harvard Law School, from which he graduated in 1948. He went into private practice, eventually joining Hanna & Morton, where he worked from 1953 until then-Gov. Ronald Reagan appointed him to the court.
His practice primarily focused on oil and gas and business litigation.
Although he was a Republican, he once explained, he was somewhat surprised to be appointed a judge because he was not active in politics or in bar association activities. He was active in civic activities, however, serving as chairman of the Huntington Library's Board of Overseers, on the board of the Museum of Contemporary Art, as vice-chair of Methodist Hospital's Board of Directors, on the Board of Directors of the W.M. Keck Foundation, and as chairman of the board of Children's Hospital.
His memorial service will be held on Sunday at 1 p.m. at St. George's, 23802 Avenida de la Carlota, Laguna Hills, CA 92653; (949) 837-4530.
Copyright 2015, Metropolitan News Company