Friday, March 6, 2015
Page 1
Atheist Leader Under Consideration for Judgeship
By a MetNews Staff Writer
A Beverly Hills attorney who is a national leader in the promotion of atheism is under consideration for appointment to the Los Angeles Superior Court by Gov. Jerry Brown, the MetNews has learned.
Edward Tabash said he might be the first openly atheistic judge on the court. But it should be no bar to his appointment, he said because "atheism is one more viewpoint on matters of religion" and all who espouse religious viewpoints are "equal before the law," including someone "who concludes the universal is natural, not supernatural."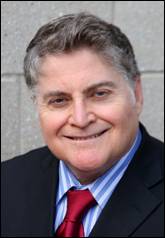 EDWARD TABASH
Beverly Hills attorney
Tabash, 64, is a Democrat who has twice run for the state Assembly, finishing second of four candidates on one occasion and second of six on another. He briefly considered challenging then-Alhambra Municipal Court Judge Michael Kanner in 2000, after Kanner was publicly admonished by the Commission on Judicial Performance, making a trip to the Registrar-Recorder's Office right before the end of filing but deciding not to run.
He chairs the boards of the Center for Inquiry, the Council for Secular Humanism, and the Committee for Skeptical Inquiry. He has debated a number of prominent religious scholars, and is a scheduled speaker at the June national conference of the American Humanist Association in Denver, on the topic "The True Meaning of the Separation of Church and State."
He has been an advocate for the view that laws that favor religious viewpoints over those grounded in secularism violate the religion clauses of the U.S. Constitution. He maintains that the Religious Land Use and Institutionalized Persons Act, and the Religious Freedom Restoration Act—federal statutes that require the government to meet a higher burden to justify restrictions on religious practice than would otherwise be required to justify a law of general application—are unconstitutional.
He chairs the national legal committee of Americans United for Separation of Church and State, and has filed amicus briefs with both the U.S. Supreme Court and the California Supreme Court. In one of the state briefs, he argued that the state's ban on same-sex marriage violates the Establishment Clause because it writes one religious viewpoint into law, and that by doing so to the exclusion of contrary beliefs, it violates the Free Exercise Clause as well.
Tabash's father was an Orthodox rabbi and his mother a Holocaust survivor. He once told an interviewer that as a child, listening to his father's tales of the miracle of Passover, when God forced Pharaoh to allow the Jews to leave Egypt, and his mother's tales of Auschwitz, he could not understand why God would perform miracles to save the Jews from Pharaoh, but not from Hitler.
Being an atheist has made him sensitive to the plight of others who are "on the receiving end of society's prejudice," he told the MetNews. As a judge, he said, ":I'd be scrupulous that anyone who came before me would be treated with absolute fairness. I would not want to do to religious believers what some religious believers have done to me."
His activities involve an "enormous" amount of work, he said, acknowledging that if appointed to the bench, he would no longer have time to spend "running around the country...doing speeches and debates."
Still, he explained, "what really makes me want to do this now is a desire to be not a partisan, but a neutral adjudicator...to be supremely courteous to everyone who comes before me and to correctly apply California law."
Copyright 2015, Metropolitan News Company