Tuesday, November 17, 2015
Page 1
Panel Rejects Donald Sterling's Bid To Regain Los Angeles Clippers
By KENNETH OFGANG, Staff Writer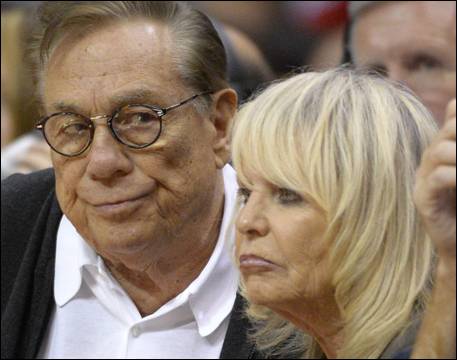 —AP
Shelby Sterling sits with her husband, Donald, during a 2010 Los Angeles Clippers game against the Detroit Pistons.
Former Los Angeles Clippers co-owner Rochelle "Shelly" Sterling acted in the best interests of the Sterling Family Trust by removing her estranged husband as trustee and selling the NBA team to former Microsoft CEO Steve Ballmer, the Court of Appeal for this district ruled yesterday.
"The credited evidence overwhelmingly supported the probate court's conclusion that exigent circumstances warranted the sale of the Clippers to prevent extraordinary loss to the trust," Justice Madeleine Flier wrote for Div. Eight. "The probate court's sanctioning the sale was correct even though Donald [Sterling], who initially agreed to the sale, purportedly revoked the trust in an effort to block the sale."
The Clippers were sold for a record $2 billion after Donald Sterling was banned by NBA Commissioner Adam Silver for making derogatory remarks about African Americans. The remarks became public after a recording surfaced of Donald Sterling making offensive comments to a young girlfriend about blacks and other minorities.
Donald Sterling, 81, has been a member of the State Bar since 1961 and became a billionaire buying and selling apartment buildings in the Los Angeles area. Silver fined him $2.5 million, ousted him from the league for life, and threatened to seize and auction the team before Shelly Sterling acted.
She was able to take control of the trust after two doctors found her husband of nearly six decades had signs of Alzheimer's disease. Donald Sterling sued to block the sale, but Los Angeles Superior Court Judge Michael Levanas ruled against him and approved the sale in July of last year.
Flier noted that before Sterling refused to sign off on the sale, he had congratulated his wife on the price she negotiated. "Wow, you really did a good job," he exclaimed.
The price was $400 million above the next best offer and far above what anyone thought the team could be sold for, Shelly Sterling's experts testified. Forbes magazine had estimated the team to be worth $575 million.
Trust Provision
When Donald Sterling reversed course, refused to sign the sale agreement, and threatened to sue, Shelly Sterling properly invoked a trust provision that allowed a trustee to be removed if two qualified physicians determined the trustee lacked capacity, the justice said.
Flier cited the testimony of a board-certified neurologist that Donald Sterling suffered "from cognitive impairment secondary to primary dementia Alzheimer's disease" and that he was consequently "at risk of making potentially serious errors of judgment."
The other examining physician was a geriatric psychiatrist who also said Sterling could be at risk of making serious errors in judgment, that his performance on a battery of tests was consisted with Alzheimer's or a similar disease, and that he was unable to manage his finances or serve as a trustee.
The appeal, Flier said, suffered from numerous deficiencies, the most glaring of which was that he failed to cite authority for the argument that the appellate court could "undo" a sale after it was completed with probate court approval under Probate Code §1310(b). The argument, the justice noted, conflicted with Sterling's argument in a prior writ petition, in which he unsuccessfully sought to block the sale and argued that he would be without a remedy if the writ were not granted.
Sufficient Evidence
Flier also concluded that there was sufficient evidence to overcome the statutory presumption of competency, that the doctors appropriately considered the factors enumerated in Probate Code §811 in reaching their conclusions, that the requirement that a sale of trust property under §1310 be ordered only in extraordinary circumstances was met, and that Donald Sterling's revocation of the trust did not preclude his wife, as the remaining trustee, from selling the Clippers under her "wind up" powers set forth in §15407.
Attorneys on appeal were Bobby Samini, Laura M. Baskurt and Matthew M. Hoesly for Donald Sterling and Pierce O'Donnell, Bertram Fields, and Stephen S. Smith of Greenberg Glusker Fields Claman & Machtinger, along with Robert A. Olson of Greines, Martin, Stein & Richland, for Shelly Sterling.
The case is Sterling v. Sterling, B258151.
Copyright 2015, Metropolitan News Company