Tuesday, April 7, 2015
Page 11
SNIPPETS (Column)
Law Library to Provide Free MCLE Classes, Big-Band Concert
The Los Angeles County Law Library will be celebrating Law Day—May 1—with activities stretching from April 23 to May 2, including five hours of free MCLE courses and a performance by Gary S. Greene, Esq. and His Big Band of Barristers.
All events will take place at the Mildred L. Lillie Building at First Street and Broadway in the downtown Los Angeles Civic Center.
The parade of programs will start with a "Music & Arts Celebration" from 6-7:30 p.m. on April 23. It will feature a performance by Greene and his band following the unveiling of a limited edition print of a painting by Norman Rockwell, signed by the artist.
Free MCLE one-hour courses will be:
•April 28: "Efficient Legal Research," 11:30 a.m.-12:30 p.m.;
•April 29: "Handling Ethical Dilemmas Successfully," 12:15 p.m.-1:15 p.m.;
•April 30: "Individual Rights: From the Magna Carta to Corporations As People," 4:15 p.m.-5:15 p.m.; "Around the World in 800 Years: the Magna Carta's Global Influence on the Rule of Law," 5:45 p.m.- 6:45 p.m.
•May 1: "How to Use the Public Records Act," 1:15 p.m.-2:15 p.m.
Attendees at the April 28 session will receive one hour of credit in ethics.
The first of the two April 30 programs will be a discussion by Individual Rights Foundation General Counsel Manuel Klausner, UCLA Law School Professor Adam Winkler, USC-Gould School of Law Professor Dan Klerman, and Loyola Law School Associate Professor Elizabeth Pollman.
Members of the second panel will be Jessica Peake, director of UCLA's International and Comparative Law Program, and attorney Jeff Daar, a principal at the Woodland Hills law firm of Daar & Newman.
Several programs are also scheduled aimed at non-attorneys, including three aimed at landlords and tenants and one geared to teenagers.
Aside from programs held in connection with Law Day, the Law Library is offering a one-hour MCLE program on April 15 titled "MCLE: Special Tax Day Program—Tax Implications of Divorce." It will be held from 12:15 p.m.–1:15 p.m. at the Mildred L. Lillie Building, will feature remarks by attorneys Curt Harrington and Linda S. Gross, and will cost $35 to attend (with the payment being non-refundable.)
Registration is available online at www.lalawlibrary.org/CLASSES or by telephoning (213) 784-7379. Lunch and parking options will be provided in connection with some programs.
•The Senior Lawyers Section of the Los Angeles County Bar Association on April 23 will be present a two-hour MCLE program it labels, "Frozen in Time: The Way We Were—Spring Street to L.A. Law."
The program announcement says:
"From the turn of the century to the 1960s, powerful lawyers and law firms were located on Spring Street, then the financial and political heart of downtown Los Angeles. These "Spring Street lawyers," in their ornate Beaux Arts or Art Deco buildings, counseled business tycoons who built the regional economy and entertainment personalities who became international stars. But it was also an era when the law profession was segregated, and women, minority, and Jewish lawyers were largely excluded.
"Come hear a highly distinguished panel of lawyers recount—from their personal experience—these 'boom days' in Los Angeles, as well as the pioneering steps taken to break down barriers to form a more inclusive bar."
Speakers will be Philip W. Bartenetti of the Law Firm of Clark & Trevithick, APC; former State Bar President Seth M. Hufstedler, senior of counsel to Morrison & Foerster LLP; former County Bar President Patricia Phillips, a principal in Phillips Jessner LLP; and Deputy District Attorney Kathleen J. Tuttle.
The event will be held at the bar association's office on the 27th Floor of the building at 1055 West 7th Street. Of the two hours of MCLE credit, 1.5 hours will be in elimination of bias.
A "meal/reception" begins at 5:30 p.m., with the program from 6:30-8:30 p.m.
The prices are $30 for CLE+ members (with meal) and law students, $95 for members of the section and Barristers, $110 for other members of LACBA Member, and $135 for all others.
Reservations can be made online or by telephoning the Member Services Department at (213) 896-6560.
•The Southern California Chinese Lawyers Association and the law firm of Lee Tran & Liang, LLP (LTL) honored Los Angeles Superior Court Judge Owen Lee Kwong at a recent retirement reception.
He is slated to leave the bench April 30.
Kwong has been a member of the bench since 1989 when he was placed on the Los Angeles Municipal Court by Gov. George Deukmejian. Four years later, Gov. Pete Wilson elevated him to the Superior Court.
He was a practicing pharmacist while in law school at UCLA, and retains his license.
Here's a shot taken at the event: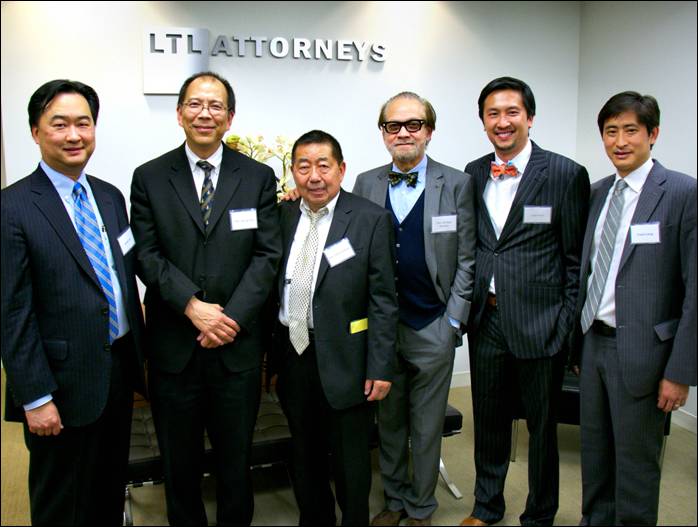 From left: LTL partner James Lee, Los Angeles Superior Court Judges George Wu and Owen Lee Kwong, retired Los Angeles Superior Court Judge Enrique Romero, and LTL partners Luan Tran and Enoch Liang.
Copyright 2015, Metropolitan News Company