Thursday, April 16, 2015
Page 1
Panel Upholds Harassment Conviction Based on Tweets
By KENNETH OFGANG, Staff Writer
A misdemeanor harassment conviction can be based on comments posted online, the Los Angeles Superior Court Appellate Division ruled yesterday.
The court affirmed the conviction of actor/musician Francis "Coyote" Shivers for electronically distributing a harassing message, in violation of Penal Code §653.2(a). The conviction was based on tweets posted by Shivers regarding his ex-wife, "NCIS" actress Pauley Perrette.
The court also upheld Shivers' conviction of violating a restraining order that Perrette obtained against him in 2006, two years after their divorce. The order prohibited Shivers from, among other things, stalking, harassing, or molesting Perrette or coming within 100 feet of her.
That charge was based on a 2012 incident in which Shivers and his wife, Brazilian writer and media personality Mayra Dias Gomes, were having dinner at the same Hollywood restaurant as Perrette and her fiancé, actor and former British Marine Thomas Arklie.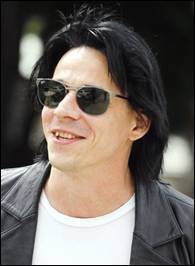 —AP
In this file photo, ex-husband of NCIS star Pauley Perrette, Francis "Coyote" Shivers files a police report with his side of events at the Hollywood Police Station.
Perrette and Arklie testified that Shivers made a scene, coming within a foot of Perrette and smirking and smiling. He then took out his cell phone and started video recording the couple, before Arklie held up his hand in front of his face.
Shivers accused Arklie of threatening him, which he denied, and called for the manager, claiming to have a restraining order "on that other person." Trial evidence showed there was no such restraining order.
Perrette said she was extremely embarrassed and called 911 to report a violation of the restraining order. Shivers left the restaurant before police arrived.
About three months after that incident, according to testimony, Shivers took to Twitter to say that he was headed to his "usual hangout" and advised:
"(If you see my stalker Pauley Perrette follow me there call LAPD!!!" and "Speakin of #Cahuenga i'll be there 2nite as usual. If you see my stalker #NCIS Pauley Perrette follow me there report her to LAPD immediately!"
Perrette testified that Shivers had been tweeting about her for years, falsely accusing her of stalking him and threatening his life and referencing the area of Cahuenga Blvd. and Franklin Ave. in Hollywood, where Perrette was living at the time. About a month after the restaurant incident, she said, Shivers apparently referred to it in a tweet, claiming that he and his wife went to their "favorite restaurant," but that Perrette "was waiting for us so we left."
Jurors found Shivers guilty on both charges.
Los Angeles Superior Court Judge Alex Ricciardulli, writing for the appellate panel, said Shivers was properly convicted of violating §653.2(a), which makes it a crime to electronically distribute a message "which would…likely…incite or produce…unwanted physical contact, injury or harassment" by a third person.
"The plain meaning of the words used reveals no requirement that actual incitement or actual production of the enumerated unlawful effects be caused by a person's electronic distribution of a message," the jurist wrote. "The only requirement is that a defendant's message is likely to incite or produce third party actions."
The circumstantial evidence, the judge went on to say, created the inference that Shivers used Twitter, a widely used website, to disseminate the message among a large segment of the public with the intent to provoke harassment of his ex-wife. By using the hashtags #NCIS and #Cahuenga, the judge noted, he was specifically alerting people who knew Perrette or watched her show or lived in her neighborhood.
"It can be inferred defendant knew that persons who encountered Perrette after reading his tweets could have been motivated to report her to the police for what they believed was her stalking him, or to otherwise harass her," Ricciardulli wrote. "…Given the nature of Twitter and the provocative contents of defendant's tweets, a reasonable trier of fact could conclude defendant posted his tweets with the specific intent to incite or produce unwanted physical contact, injury, or harassment at the hands of a third party."
In an unpublished portion of the opinion, the court rejected Shivers' challenges to his conviction for violating the restraining order.
The case is People v. Shivers, BR 051060.
Copyright 2015, Metropolitan News Company