Wednesday, October 21, 2015
Page 1
C.A. Revives 'Whistleblower' Suit By Nicollette Sheridan
Panel Says Actress's Labor Code Retaliation Claim Does Not Require Exhaustion
By KENNETH OFGANG, Staff Writer
An employee who claims to have been retaliated against for complaining about misconduct in the workplace need not exhaust administrative remedies before suing, the Court of Appeal for this district ruled yesterday.
Div. Four reinstated actress Nicolette Sheridan's whistleblower claim under Labor Code §6310, the last remaining piece of the lawsuit she filed against Touchstone Pictures and Marc Cherry in 2010.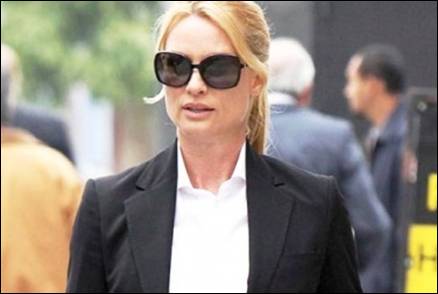 —AP
In this file photo, former 'Desperate Housewives' star Nicollette Sheridan arrives at Mosk Courthouse in downtown Los Angeles.
Sheridan starred in the Touchstone/ABC series Desperate Housewives from 2004 through 2008, but her contract was not renewed for 2009. She then sued for sexual harassment, wrongful termination and battery, claiming that she was fired because she complained to Touchstone executives about having been struck by Cherry, the show's creator and an executive producer, during a 2008 rehearsal.
The sexual harassment claim was thrown out before trial, and the battery claim tossed on a directed verdict. Cherry, according to news accounts, testified that the alleged battery was actually a tap to the head with his fingers, part of a demonstration as to how to play a scene.
The decision to kill off Sheridan's character and not renew her contract, he said, had been made months earlier. The real reasons for that decision, he said, were the studio's desire to reduce the costs of the show, Sheridan's habitual lateness and inability to get along with her co-stars, and the fact that her character had simply "run its course."
The jury deadlocked 8-4 on the wrongful termination claim, one shy of a verdict in Sheridan's favor. Touchstone then sought a writ of mandate directing that the claim be tossed out, arguing that its nonrenewal of a contract could not constitute wrongful termination as a matter of law.
Div. Four agreed, in Touchstone Television Productions v. Superior Court (2012) 208 Cal.App.4th 676, but said Sheridan could amend her complaint on remand to allege a violation of §6310. The statute creates a damages remedy in favor of an employee who is discriminated against for making an "oral or written complaint" to the employer regarding "unsafe working conditions or work practices."
Amended Complaint
Sheridan amended her complaint, and Touchstone demurred on the ground she did not exhaust administration remedies by filing a claim with the Labor Commissioner under §98.7 and §6312.
The former section, which applies to Labor Code violations generally, and the latter, which applies to retaliation claims specifically, both authorize the commissioner to grant a monetary remedy in an administrative proceeding.
Los Angeles Superior Court Judge Michael Stern overruled the demurrer, finding that exhaustion of such remedies is not a prerequisite to filing suit, and Touchstone sought mandamus relief.
While the petition was pending, a Third District panel ruled that exhaustion was a prerequisite. On Touchstone's renewed demurrer, Stern ruled that he was bound by that decision and threw out the claim.
A month later, however, the Supreme Court ordered the Third District opinion depublished. In the meantime, the Legislature amended the statutes, effective Jan. 1 of last year, expressly stating that exhaustion was not required.
Sheridan then filed a motion to set aside Stern's prior ruling and reinstate her claim, which the judge initially denied, but later purported to grant. The Court of Appeal, however, granted an alternative writ of mandate, and Stern then reversed himself again, concluding he lacked jurisdiction to reconsider the dismissal of the claim.
Sheridan timely appealed that dismissal, however, and Justice Thomas Willhite yesterday said that her position was correct—the 2013 amendments were declarative of, and did not change, prior law, the plain language of which did not require exhaustion.
Willhite's Reasoning
The former and current versions of both statutes all say the employee "may" file an administrative claim, the justice noted, whereas cases cited by Touchstone dealt with language stating that an employee "shall file" or must "resort initially" to administrative remedies before seeking judicial relief under other applicable statutes.
Willhite also cited Lloyd v. County of Los Angeles (2009) 172 Cal.App.4th 320 and Satyadi v. West Contra Costa Healthcare Dist. (2014) 232 Cal.App.4th 1022, dealing with claims under §1102.5, a public employee whistleblower statute analogous to §6310. Lloyd held that exhaustion was not required by §98.7, and Satyadi held that Lloyd correctly stated the prior law, so it made no difference whether the 2013 amendments were applied retroactively or not.
Attorneys on appeal were Mark D. Baute of Baute Crochetiere & Gilford, and Robin Meadow of Greines, Martin, Stein & Richland for Sheridan and Mitchell Silberberg & Knupp's Adam Levin, Aaron M. Wais and Jorja A. Cirigliana, along with Mitchell C. Tilner and Frederic D. Cohen of Horvitz & Levy, for Touchstone.
The case is Sheridan v. Touchstone Television Productions, LLC, 15 S.O.S. 4989.
Copyright 2015, Metropolitan News Company