Wednesday, February 11, 2015
Page 1
Decision of Controversial San Diego Judge Denying Name Change Found 'Arbitrary and Capricious'
By a MetNews Staff Writer
San Diego Superior Court Judge Lisa Schall acted in a manner that was "arbitrary and capricious" in denying a petition by a man to change his name without giving a reason, the Court of Appeal ruled yesterday.
The Fourth District's Div. One sent the case back to Schall telling her to either allow the petitioner, Daniel Patrick Shelley, to change his name to "Daniel Hector MacKinnon," or come up with some reasons for the denial.
Justice Terry B. O'Rourke said, in an unpublished opinion: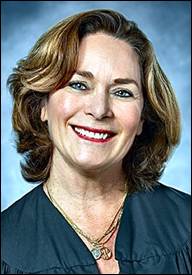 LISA SCHALL
San Diego Superior Court Judge
"The record does not indicate anyone opposed Shelley's petition for a name change. Moreover, the record shows Shelley requested the name change because it was used by a family member and he liked it more than his own. Thus, Shelley appears to have met the statutory requirements under [Code of Civil Procedure] section 1275 et seq. Nothing in the record indicates Shelley's petition implicated fraud, invasion of any legal rights, unfair competition, or violated public policy….In the minute order, the court acknowledged it was declining to provide a reason for denying the petition. On this record, the court's denial is inconsistent with the common law right to change one's name. We conclude the court abused its discretion by denying Shelley's petition without stating any reason for doing so."
The case is Shelly v. Superior Court, D065580.
Century Park attorney John Viola, who represented Shelly on appeal, commented:
"I feel that there may have been some impropriety in the adjudication of this case. It appears that Judge Schall may have relied on evidence not disclosed to the petitioner and/or on undisclosed ex parte communications."
Schall is a somewhat controversial figure. The Commission on Judicial Performance on Sept, 5, 2008, issued a public admonishment of her.
She had pled guilty earlier that year to alcohol related reckless driving. She was arrested after driving on the wrong side of a divided highway and failing a field sobriety test.
Schall had a blood alcohol reading of .09.
The commission commented that her offense "evidences a serious disregard of the principles of personal and official conduct embodied in the California Code of Judicial Ethics."
(The conviction was expunged in 2011.)
Schall received a private admonishment in 1995 for becoming personally embroiled in a juvenile dependency proceeding, and a public one in 1999 for misusing contempt powers.
In the latter instance, Schall found a woman in contempt of court in her absence, without giving her an opportunity to be heard, and had her jailed for five days. The commission remarked:
"Judge Guy-Schall, who had been a judge for ten years at the time of the incident, was obligated to know or research proper contempt procedures."
Schall beat off an election challenge last June.
Copyright 2015, Metropolitan News Company