Friday, June 12, 2015
Page 1
County Counsel Resigns Abruptly After Eight Months
By a MetNews Staff Writer
Los Angeles County Counsel Mark J. Saladino resigned yesterday, less than eight months after taking office.
In an email addressed to the office's employees, he wrote: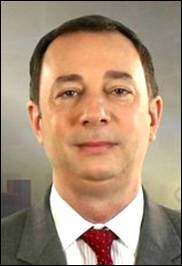 MARK J. SALADINO
Ex-Los Angeles County Counsel
"This is to advise you that I am stepping down as County Counsel effective today. Over the next few days I will be moving to the Department of Treasurer and Tax Collector, where I will serve in a senior management capacity.
"It has been a distinct honor and privilege to have had the opportunity to lead this Department for the last eight months. I wish you all well in your continued service to the County and its employees."
Saladino was appointed county counsel in September of last year, assuming office Oct. 15, on the recommendation of then-Chief Executive Officer William Fujioka. Fujioka, who has since retired, urged the board to appoint Saladino based on his "extensive legal experience."
The vote to appoint him was 4-1, with Supervisor Mark Ridley-Thomas the lone dissenter. Ridley-Thomas complained at the time about the lack of a competitive search process or the setting of a list of minimum qualifications for the post by the board, as well as the limited nature of Saladino's legal experience.
Saladino hadn't practiced law since being appointed county treasurer-tax collector in 1998. State Bar records showed that he took inactive status in 2002 and returned to active status on June 27 of last year, eight days after then-County Counsel John Krattli made public his plans to retire.
Prior to becoming treasurer-tax collector, Saldino was a deputy county counsel, having joined the office in 1990. His prior experience was at large law firms in New York and Los Angeles, in the fields of public finance, corporate finance and securities, bank lending, real estate, taxation and other transactional matters for public and private clients.
A spokesperson for Board of Supervisors Chair Michael Antonovich said the supervisor had no prior notice of Saladino's intent to resign. Requests for comment from the other four supervisors produced no responses, although longtime board employees said it was virtually unprecedented for a department head to resign without prior notice.
Saladino's successor will be the ninth person to occupy the post of county counsel since DeWitt Clinton retired in 1998 after 15 years.
Clinton was succeeded by Lloyd W. "Bill" Pellman, who retired in 2004 and was succeeded by his chief deputy, Raymond G. Fortner Jr.
Fortner stepped down in 2009, and Robert Kalunian, a top deputy in the Public Defender's Office, was brought in on an interim basis. He held the post until Andrea Ordin was hired in January 2010.
Ordin resigned in February 2012, and was succeeded by Krattli, who retired last July. Krattli's chief deputy, Richard Weiss, then filled the post for 10 weeks until Saladino, a 1979 graduate of the University of Illinois with a law degree from New York University, took over.
Copyright 2015, Metropolitan News Company