Wednesday, July 29, 2015
Page 1
Court of Appeal Looks Favorably on Judge Ryan's Rulings
Jurist Is Affirmed Six Times in Two Days
By a MetNews Staff Writer
The justices at Third and Spring Streets are smiling upon Los Angeles Superior Court Judge William C. Ryan, affirming his decisions in four unrelated cases on Monday and two yesterday.
Contacted Monday night by e-mail, the jurist said: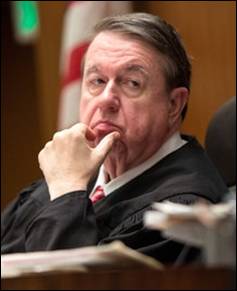 —AP
In this file photo, Los Angeles Superior Court Judge William C. Ryan listens to a witness give testimony in his courtroom.
"I have never been affirmed that many times in a single day."
He later added:
"It is better than getting four reversals in one day."
Ryan responded to the news of more affirmances yesterday by saying:
"Just lucky I guess."
All of the opinions stemmed from denials of petitions to recall a sentence and to impose a lesser sentence, and all were unpublished.
'No Arguable Issues'
In each of the cases decided on Monday and in one determined yesterday, the Court of Appeal for this district had appointed appellate counsel; the lawyer filed a Wende brief (pursuant to People v. Wende (1979) 25 Cal.3d 436) setting forth no issues; the court invited briefing by the appellant; and, after an independent review, found "no arguable issues."
In an opinion filed yesterday addressing an issue, Div. Four held that Ryan correctly found an inmate for ineligible for resentencing under the Three Strikes Reform Act of 2012 because he had used a deadly weapon in the commission of his latest offense.
Three of the opinions on Monday came out of Div. Seven, each with a different author, and one from Div. Eight. Both of yesterday's opinions were by Div. Four's presiding justice, Norman Epstein.
Collodel Comments
A leading appellate practitioner, Douglas J. Collodel of Sedgwick LLP, commented Monday night that "it seems rather remarkable" for a judge to have four decisions acted upon in a single day "and even more remarkable to be upheld in all of them."
The fact that "neither the appellant's counsel nor the Court of appeal found error to raise or discuss," Collodel remarked, "tends to show that Judge Ryan is a solid jurist."
Upon learning of the additional affirmances yesterday, Collodel said it was "quite impressive" particularly because the affirmance was from a different division.
Another prominent appellate lawyer, Douglas Fee, initially remarked:
"If I were playing the ponies at Santa Anita, I'd call this a trifecta plus.
"The odds are about as long, too.
"And affirmed in all four?
"That's a Daily Double!"
After yesterday's affirmances, Fee commented:
"Litigators should be chary about appealing from this judge.
"I'll have to revert to my Santa Anita metaphor and say, 'Don't bet against this horse!' "
In all six cases, the appointed attorney for the appellant was Richard B. Lennon, a staff lawyer with the California Appellate Project, a non-profit law firm which is under contract with the state to administer the appointed counsel program in this district.
Copyright 2015, Metropolitan News Company