Wednesday, March 11, 2015
Page 1
Panel Reverses Itself, Says Elderly Woman Can Seek New Trial in Killing of Husband
By KENNETH OFGANG, Staff Writer
A now-71-year-old woman convicted of killing her millionaire husband did not wait too long before filing a federal habeas corpus petition seeking a new trial on grounds of ineffective assistance of counsel, the Ninth U.S. Circuit Court of Appeals ruled yesterday.
With one of the three judges shifting her position, the panel withdrew its contrary ruling of last September, and held 2-1 that equitable tolling excuses Margaret Rudin's failure to comply with the one-year limitations provision in the Antiterrorism and Effective Death Penalty Act of 1996.
A Nevada state court finding that the failure of Rudin's counsel to file a state-court petition for post-conviction relief constituted "extraordinary circumstances" that would "extend the one year deadline" under AEDPA, "coupled with the state's failure to brief the timeliness question or move to dismiss Rudin's petition, 'affirmatively misled' Rudin into believing that the state court had excused her late filing and that her federal limitations period would be statutorily tolled," Judge Mary Murguia explained.
One-Year 'Clock'
Under Ninth Circuit precedent, being affirmatively misled by a state court stops AEDPA's one-year "clock" until the petitioner is placed on notice that his or her federal petition is subject to a filing deadline, Murguia said.
Murguia, who authored last year's opinion affirming the dismissal of Rudin's petition, was joined by the previous dissenter, visiting Senior U.S. District Judge Lynn Adelman of Wisconsin. Judge Diarmuid O'Scannlain stuck to his previous petition that equitable tolling ended once the state court informed Rudin that no petition had been filed in her behalf.
Rudin's fifth husband, Ron Rudin, who made his fortune in real estate, was found south of Las Vegas in 1994. He had been decapitated, and the body was burned and bullet-ridden, the media reported.
'America's Most Wanted'
His wife of seven years had previously reported him missing. She was an early suspect in the death, was charged in 1999 and declared a fugitive, and was arrested in Massachusetts following a tip from someone who had seen a segment on the case on the television show "America's Most Wanted."
Her 10-week-trial in 2001 was one of the longest in Las Vegas history up to that time, reports said. She acknowledged that her marriage was rocky at times, but denied the killing.
Prosecutors said she feared Rudin would divorce her, costing her millions of dollars in inheritance.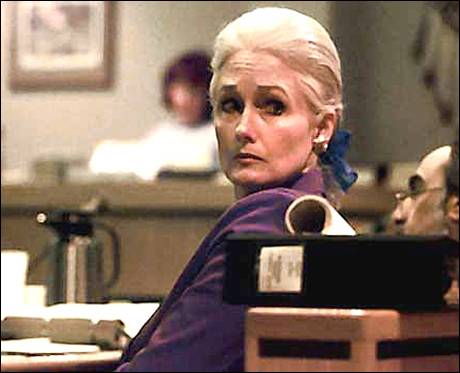 —AP
In this file photo, Margaret Rudin looks to the back of the courtroom.
She is serving a life sentence.
She claimed that her first attorney had been totally unprepared to try the case. A Clark County district judge agreed with her, granting a new trial in 2008, but the state Supreme Court reversed on May 10, 2010.
Her federal petition was filed in April 2011 and denied in March 2012.
Bad Lawyers
Murguia explained that Rudin's first habeas lawyer, appointed in 2004, had been ineffective in failing to file for relief in state court. This extraordinary circumstance, the judge said in her first opinion, tolled the AEDPA statute of limitations, but only until Aug. 22, 2007, at which time the parties and her subsequent appointed counsel first became aware of prior counsel's failing.
But while concluding initially that Rudin offered "no persuasive reason for her failure to act diligently" in failing to seek federal relief between 2007 and 2011, Murguia wrote yesterday that "once the state post-conviction relief court excused Rudin's delay and deemed her petition 'properly filed,' Rudin remained entitled to statutory tolling in federal court."
O'Scannlain, dissenting, expressed "regret" that Murguia had changed her view. The court's observation that nothing had been filed on her behalf, he argued, "did not excuse Rudin from acting, but rather armed her with knowledge that should have spurred her to protect her rights."
The case is Rudin v. Myles, 12-15362.
Copyright 2015, Metropolitan News Company