Monday, November 2, 2015
Page 3
Brown Reappoints Fred Rowley to Legal Commission
By a MetNews Staff Writer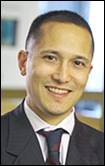 Fred A. Rowley Jr.
Lawyer
Fred A. Rowley Jr., a litigation partner at Munger, Tolles and Olson LLP and an adjunct professor of law at the UCLA Law School, has been reappointed by Gov. Jerry Brown to the California Commission on Uniform State Laws.
Rowley, 45, was first appointed to the commission by Brown last year. He served as an assistant U.S. attorney for the Central District Court of California from 2002 to 2006, and is a former president of the local chapter of the Federal Bar Association.
He is a graduate of Stanford University and Harvard Law School.
The position does not require Senate confirmation. The compensation is $100 per day.
Rowley was a law clerk for Judge David F. Levi of the U.S. District Court for the Eastern District of California from 1998 to 1999 and for Judge James R. Browning of the Ninth U.S. Circuit Court of Appeals from 1997 to 1998.
He was a research assistant for Professor Arthur R. Miller at Harvard Law School from 1995 to 1997. He served as co-chair of the Central District of California Lawyer Representatives to the Ninth Circuit Judicial Conference in 2013.
Rowley is an adviser to the Restatement Fourth of the Foreign Relations Law of the United States and a member of the Center for Asian Americans United for Self Empowerment Board of Directors, Foothill Family Service Board of Directors, California Academy of Appellate Lawyers, Chancery Club of Los Angeles and the American Law Institute.
Copyright 2015, Metropolitan News Company