Wednesday, April 22, 2015
Page 3
Senate Judiciary Committee Passes Bill to Fund New Judgeships
By a MetNews Staff Writer
A bill that would fund 10 new superior court judgeships, including one in Los Angeles County, as well as a Fourth District Court of Appeal post, was unanimously approved yesterday by the state Senate Judiciary Committee.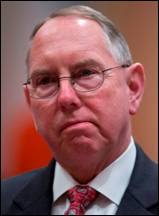 —AP
State Sen. Richard Roth, D-Riverside, sponsored bill to fund new judgeships.
"I thank my colleagues for recognizing the critical nature of fixing the judge shortage by approving SB 229," the bill's sponsor, Sen. Richard Roth, D-Riverside, said in a release. "The delivery of justice in a timely and equitable manner is a critical issue, not only for Inland Southern California, but for the entire state. As California weathered the global economic crisis, it was forced to make drastic cuts to the court system, resulting in costly delays and courtroom closures. Funding these judgeships will begin to reverse the substantial loss incurred by our justice system."
The Legislature previously authorized 50 additional superior court judgeships, but never funded them. "Previous efforts by the Legislature to direct funding towards these positions have been unsuccessful," Roth noted, adding that while the bill "takes a measured approach" by funding only 10 positions, efforts will be made to fund the remaining 40 positions.
The 10 positions to be funded initially, based on the Judicial Council's needs study, which was updated last year, are three each in San Bernardino and Riverside counties, and one each in Fresno, Stanislaus, and Kern counties, in addition to the one in Los Angeles.
The bill would appropriate $14.813 million from the General Fund to the judicial branch for the purpose of funding the cost of 10 of those 50 judgeships and accompanying staff. Adding one justice to the Fourth District's Div. Two, for a total of eight, would add $1.202 million to the cost of the bill.
"This is an access to justice issue," Roth said. "By funding additional judges to meet a critical and growing need, SB 229 is the first step in ensuring justice is delivered in a timely and equitable manner. I am looking forward to a thorough discussion on this issue and to working with my colleagues in the Legislature as SB 229 moves forward."
The bill now goes to the Senate Appropriations Committee.
Copyright 2015, Metropolitan News Company