Tuesday, February 3, 2015
Page 3
Kuhl Hails District Attorney's 'Professionalism,' Sheriff's 'Integrity'
By a MetNews Staff Writer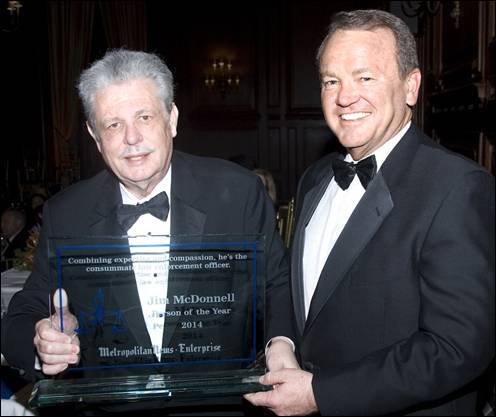 Metropolitan News-Enterprise Editor/Co-Publisher Roger M. Grace hands "Person of the Year" Award to Sheriff Jim McDonnell.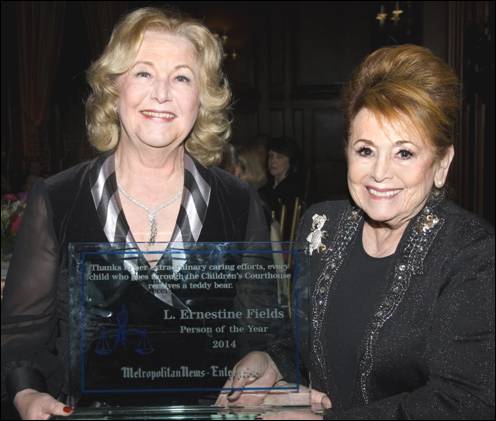 METNEWS Co-Publisher Jo-Ann W. Grace gives award to "teddy bear" attorney L. Ernestine Fields.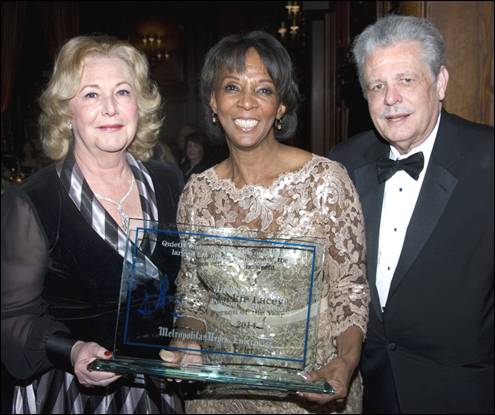 District Attorney Jackie Lacey, center, accepts award from the Graces.
Los Angeles District Attorney Jackie Lacey has been hailed by the presiding judge of the county's Superior Court as "the emblem and embodiment of prosecutorial professionalism."
Carolyn Kuhl's words of praise came Friday night at the 27th annual Metropolitan News-Enterprise "Persons of the Year" dinner at which Lacey was honored along with Sheriff Jim McDonnell and "teddy bear attorney" L. Ernestine Fields.
Noting Lacey's efforts to increase the diversion of mentally ill defendants from the criminal justice system, Kuhl declared:
"She's looking at justice in a new way.
"Many prosecutors have defined themselves by the big case and the big win—and our district attorney has had, and will have, that kind of success. But to recognize that punitive justice may not be most consistent with public safety in all instances—and to seek other solutions in those cases—takes the role and professionalism of the public prosecutor to another level."
Kuhl told McDonnell:
"As a citizen of Los Angeles, I thank you for your integrity and your commitment to constitutional principles and to public safety."
On behalf of the judges, she thanked him for the efforts of his department to provide courthouse security, remarking:
"We literally trust you with our lives."
Teddy Bear Program
Fields was honored at the black-tie event in connection with her work through Comfort for Kids to provide a teddy bear to every child involved in dependency proceedings. Kuhl quoted her colleague, Los Angeles Superior Court Judge Patricia Nieto, as saying in a tribute published by the MetNews:
"Having worked for 25 years in Dependency Court, I witnessed firsthand the effect that these teddy bears had on vulnerable children involved in complex hearings; it was their only comfort in an adult world of disorder, confusion and legal wrangling."
Kuhl alluded to popular disparagement of lawyers, and observed:
"When you study [Fields'] commitment, some of the cynicism about the practice of law starts to wash away."
The presiding judge presented a plaque to each of the honorees. Also making a presentation to all three was Los Angeles County Bar Association President Linda L. Curtis, a partner in Gibson, Dunn & Crutcher.
State Bar President Craig Holden was scheduled to make a presentation but brought no scroll or plaque with him. He did offer brief tributes to the 2014 persons of the year.
McDonnell and Lacey each presented a scroll to the other honorees.
Praise for Lacey
Curtis hailed Lacey as a "true trailblazer and a true example to us all," noting:
"She is the first African American and first female to be district attorney of Los Angeles."
Holden said of the county's district attorney:
"Jackie has been great for the city. She grew up in the city. She's a Dorsey [High School] Don.
"She brings that street cred and that community cred, but she also brings that justice cred. And it's that credibility that we need in the DA's Office."
McDonnell termed Lacey "someone I truly admire."
She is "not looking for fanfare," he said, "just looking to do justice, to do the right thing, to hold people accountable but, when appropriate, to be able to cut a break to people who maybe don't belong in the system that they're in."
In presenting the "Person of the Year" award to Lacey, MetNews Co-Publishers Jo-Ann and Roger Grace engaged in banter, centering on the newspaper having endorsed Lacey's run-off rival for election as district attorney, then-Deputy District Attorney Alan Jackson.
Roger Grace recalled that the editorial endorsing Jackson said that Lacey lacked "fire in the belly," to which Jo-Ann Grace responded: "So we've learned that gastric distress is not a requirement for a DA."
Lacey is "apparently going to become one of the most outstanding district attorneys in the history of Los Angeles County," Roger Grace observed, expressing regret over having failed to foresee that. Jo-Ann Grace reminded him:
"You wrote the damned editorial."
Lacey Responds
After thanking her husband, David Lacey (who was present) for his commitment to her, Lacey commented:
"I am so grateful to God for this incredible journey. I am grateful to all my friends and colleagues, and many of you are here today.
Inserting a playful barb at the MetNews for endorsing her competitor, she added:
"And I just want another opportunity to say 'thank you' for believing in me—even if they didn't."
She went on, however, to praise the MetNews for its "unmatched" coverage of judicial elections and its "thoroughness."
McDonnell Receives Plaudits
In presenting a scroll to McDonnell, Lacey said that McDonnell—who has been second in command of the Los Angeles Police Department and was Long Beach police chief before assuming the role of sheriff in December—"continues to always lead law enforcement with integrity, grace, and style and honesty."
She added that she is "so incredibly proud to have him as a partner in justice."
Roger Grace said of the sheriff:
"Jim is a career law enforcement officer, a deft administrator, a skilled communicator, a team player, a guy with savvy, and there's no pretentiousness about him. For his 28 years of service to the LAPD—including serving as second in command—for four years as head of the Long Beach Police Department, and what we hope will be many decades ahead as sheriff of Los Angeles County, we're very proud to present the award to you."
McDonnell said:
"Never would I have imagined that the son of immigrants who grew up [in] a working-class neighborhood in Boston would be standing here before such a group tonight."
He extended further praise to his co-honorees, saying that Lacey "exemplifies the best of thoughtful, compassionate and tireless work on behalf of all members of our community," and declaring that Fields' "heart, soul and inspired efforts provide an anchor for the most vulnerable children in our community."
The sheriff said that while he and the other honorees "represent different parts of the justice and judicial system, we're all united in our goal to improve it." He explained that each of them is seeking "to reduce the number of young people entering our justice system, and too often trapped in it; to find ways for those within the system with a desire to get out and live productive lives, to do so; and to protect our community, our struggling families and our children from harm."
Fields' Efforts Applauded
Lacey said to Fields:
"Ernestine, you won our hearts. I firmly believe that by showing compassion to a lot of kids, maybe I won't be seeing them in the criminal justice system—so you've done a fantastic job."
McDonnell said that children in dependency proceedings often have endured horrors "that most of us can't even imagine." He suggested because of Fields' efforts, some of them will develop "a little bit different perspective of the justice system than they otherwise would have had."
Jo-Ann Grace, in presenting the "Person of the Year" award to Fields,
"After 32 years of honoring "persons of the year," at our 27th dinner, we come to our 50th award recipient.
"The courthouse, which most of us, I think, view positively as a citadel of justice, has often been, to children involved in judicial proceedings, an absolute house of horrors. Ernestine Fields has sought to change that. Her contribution has been momentous—her commitment, her selflessness, have been extraordinary.
"In terms of attainment, she is a giant in the legal community."
Fields began by addressing the sheriff, saying:
"Chief McDonnell, there would be no teddy bear program without the help of the bailiffs."
On their lunch breaks, she said, they voluntarily distribute 2,700 bears every three weeks.
She thanked recently retired Los Angeles Superior Court Judge Michael Nash, who for many years presided over the Juvenile Court, for encouraging the program, "seeing it grow from providing teddy bears in one courtroom to children in every dependency courtroom in Los Angeles county, and beyond."
Former Honorees
Former "persons of the year" in attendance were Court of Appeal Presiding Justice Norman Epstein of this district's Div. Four, Court of Appeal Presiding Justice Paul Arthur Turner of this district's Div. Five, former District Attorney Robert H. Philibosian (who served as emcee for the 19th time), former District Attorney Steve Cooley, former Los Angeles County Sheriff Lee Baca, former Los Angeles City Attorney and retired Los Angeles Superior Court Judge Burt Pines, former State Bar President Patrick Kelly, former Los Angeles Superior Court Judge Lawrence W. Crispo, attorneys Cynthia and David Pasternak, attorney and civic leader Lee Kanon Alpert, attorney and bar leader Jack Denove, and attorney Gary S. Greene (who led his Big Band of Barristers).
Also in attendance were Los Angeles County Counsel Mark Saladino, former County Counsel Lloyd Pellman, Los Angeles County Public Defender Ron Brown, Los Angeles Fire Chief Daryl Osby, and several judges, bar leaders, and law enforcement officers.
Jimmy Weldon—star of a local children's show in the 1950s with his dummy, duck Webster Webfoot—delivered an ode to the flag.
Copyright 2015, Metropolitan News Company