Monday, November 2, 2015
Page 7
PERSPECTIVES (Column)
Mayors, Governors, 'Special' Deputies Had Cars Equipped With Sirens
By ROGER M. GRACE
Twenty-Second in a Series
At the dawn of "automobiling" in the 1890s, sirens were not restricted to police vehicles. Nowadays, of course, anyone operating a non-emergency vehicle who sounded a siren would be in trouble.
Yet, in some vicinages in the U.S., even in relatively recent times, public officials, and those granted favors by public officials, sounded sirens as they drove, with impunity.
Authorizing someone who was not rushing to an emergency to cause other motorists to move to the side was akin to the granting of an honorary badge or other modes of ensuring favored treatment.

Since July 22, 1919, it's been unlawful in California to equip non-emergency vehicles with sirens. Around that time, statutes and ordinances throughout the nation were being enacted to like effect.
The initial statute here says that "[p]olice and fire department vehicles shall at all times be equipped with a siren and it shall be unlawful for any other vehicle to be equipped with or use such a device."
That statute forbids a vehicle, not the private-citizen motorist, from using a siren…implying, on its face, the comical prospect of a car being jailed for violations. Apparently, the gaffe was spotted. The law was refined, and the 1923 version reads:
"Every police or fire vehicle shall be equipped with a siren of approved type, and it shall be unlawful for any other vehicle to be equipped with such a device."
At present, California Vehicle Code § 27002 provides (rather clumsily):
"No vehicle, except an authorized emergency vehicle, shall be equipped with, nor shall any person use upon a vehicle any siren except that an authorized emergency vehicle shall be equipped with a siren…."

The law didn't stop San Diego Mayor John L. Bacon from having his city-issued Cadillac equipped with a siren. An Aug. 15, 1925 article in the San Diego Union tells of Bacon, on the previous night, "nabbing and lecturing a man he declares was a reckless driver."
The article quotes the mayor as saying of his encounter with the motorist:
"I ordered him to the curb and gave him a warning."
The newspaper's account recites that the mayor was, under the city charter, a member of the city police department. According to the article:
" 'As a member of the department,' said the mayor, 'I have authority to use such a siren.' "
The article notes:
"The mayor said that he has a large siren on his own car. He said the police put it there."
The proposition that the mayor was a member of the police department, on its face, is suspect. Here's the wording of the city charter:
"In time of public danger or emergency, [the mayor] may, with the consent of the Council, take command of the police, maintain order and enforce the law."

Those tricky rascals in San Diego came up with another ploy to circumvent the ban on sirens on private vehicles. Sheriff James C. Byers gave out honorary badges, denominating recipients his "special deputies." Some of them were additionally authorized by Byers to install sirens on their private vehicles.
This came up at the trial of a doctor for reckless driving. She testified that she was driving a patient to the hospital and had been assured by Byers that she could lawfully turn on a siren because her automobile was serving as an ambulance.
San Diego Police Court Judge Claude L. Chambers dismissed the charges, declaring there had simply been a misunderstanding, but advised the defendant that to use a siren, she would have to have "ambulance" painted on her car.
The June 29, 1927 edition of the Evening Tribune reports:
"Judge Chambers stated today that he could find no law which gave the sheriff the right to allow anyone to use a siren in violation of law, and if any siren-drivers were brought before him he would be governed purely by the motor vehicle act. There are said to be nearly 1000 'special deputy' badges in circulation now, and the judge intimated that if all these 'specials' put sirens on their cars it might lead to complications."

Oakland Mayor John L. Davie wanted a siren on his car, and the City Council allocated $60 to accommodate his wish. But the council was, in effect, vetoed by the city auditor, according to a Feb. 15, 1930 article in the San Francisco Chronicle.
Auditor Harry G. Williams refused to make payment, declaring in a letter to the city legislators:
"The Mayor's automobile is clearly, not an emergency vehicle as defined in the California vehicle act and, therefore, is not lawfully entitled to be equipped with a siren."
It was Williams' second such message to the council. The first time he said "no," the lawmakers protested that the mayor has a right to a siren because he's the city's "emergency chief."
Williams responded, the article says, that if Davie were to take "command of the Police Department in an emergency, the Mayor is entitled to use a police automobile which is equipped with a siren as an emergency vehicle as defined in the State law."
San Francisco Mayor James Rolph (later governor of California) did have a siren in his personal auto, according to an Oct. 31, 1930 column in the Sausalito News.

A one-of-a-kind 1933 Duesenberg was equipped with a siren, it's recited in a May 11, 1980 article in the Los Angeles Times. The article tells of a "replicar" being produced in the image of that 1933 vehicle, noting that the facsimile was without the red lights and siren with which the original was equipped. The owner of that car, the Times advises, was George Whittell, "an honorary fire marshal in California."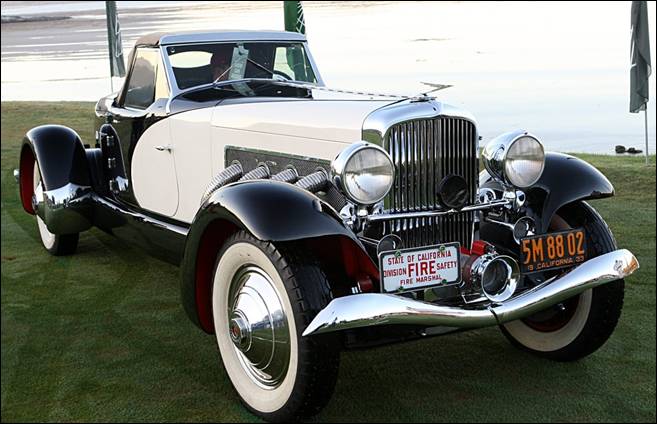 Whittell's 1933 Duesenberg.
A Sept. 13, 1989 article in Palo Alto's The Country Almanac identifies Whittell as the heir "to a Gold Rush fortune" who owned lucrative property in San Francisco and most of the east shore of Lake Tahoe," had wild animals on his premises and a Duesenberg "collection." It notes that in 1932, "[f]ire chiefs and fire marshals from the whole West Coast assembled in honor of Mr. Whittell's great friend the state fire marshal, J. Stevens."
He might also had had friends in the local constabulary who shielded him from consequences that would have befallen most persons whose personal automobile had illegal equipment on it.

California Highway Patrol Captain Paul Perussina is quoted in a San Mateo Times editorial of May 12, 1936, as bemoaning the lack of heed motorists were paying to red lights and sirens, particularly along the Bayshore Highway.
That road, opened in 1923—and now the Bayshore Freeway—starts at San Jose (in Santa Clara County), at the south, goes through Santa Clara County, and winds up in San Francisco.
"Perussina explains," editorial says, "that the privilege of using signals has been abused by honorary officials for mere personal advantage and that as a result many of the motorists have come to disregard the sirens and lights at all times."
The editorial counsels:
"[T]he 'honorary officials' should not be permitted to use the signals in the manner mentioned, and if they persist in so doing they should be removed from honorary office. The patrolman, himself, has no right to sound the siren except in the performance of his duties.
"Let it be understood that in every instance the traffic warning means an emergency, and then motorists may be relied upon to properly respond although they do not like to be fooled by the holders of courtesy badges or cards."
A Sept. 28, 1936 editorial in the same newspapers hails an order by the county executive officer restricting use of red lights and sirens to sheriff's deputies and firemen, observing that "the 'courtesy' authority accorded to various other officials" had been regularly abused.

A Feb. 12, 1940 United Press dispatch from Los Angeles says:
"William G. Bonelli, Los Angeles member of the state board of equalization now on trial on graft conspiracy charges, today was under citation by Beverly Hills police for driving an automobile without a license.
"Police said Bonelli was driving an official car equipped with red lights and siren, and with blue tall lights to indicate the vehicle was on official business.
"Bonelli, whose driver's license expired last August, was said to have told the highway patrol that as an elective official he was not required to have an operator's card and would ignore the citation."
Whether he ever paid the ticket is unknown. He beat the graft charge…on that occasion.
A 1977 Court of Appeal opinion (dealing with the claim of Bonelli's widow to pension benefits) recites:
"In 1954 Bonelli was indicted by the San Diego County Grand Jury for conspiring to commit the crime of soliciting and receiving contributions, in return for favorable treatment, from applicants and persons licensed by the Board of Equalization to sell alcoholic beverages. From 1955, and until his death, Bonelli was a fugitive from justice living in Mexico."

In an oral history project, Thomas J. Mellon recalls Earl Warren's 1950 gubernatorial reelection campaign. Mellon was Northern California chair of that effort. The governor's car had a siren—but Warren was apparently averse to using it. Mellon recounts having to pull Warren from one meeting to get to the next, saying:
"[W]e got in the car and I told the driver to put on the siren, that we had to get there, and boy did that disturb the governor! He hated it. I said, 'Listen, we're in a hurry; we've got to get there.'
"He said, 'These other people are in a hurry too and they have their business to take care of.' "

In other parts of the nation, permission to use red lights and sirens has gone hand in glove with bestowing honorary badges.
A Sept. 10, 2004 article in Newsday reports:
"The long arm of the NYPD has reached out and grabbed Al Fried, Joseph Dippell Jr. and Robert Fagenson.
"More specifically, the Internal Affairs Bureau has told them to ditch the lights and sirens on their cars.
"The three are, respectively, the chairman, president and treasurer of the Centurion Foundation, one of the groups of police buffs that have attached themselves to the department as a barnacle does to a boat.
"….The group has raised $250,000 for the department during the past year."
A New York Daily News of Jan. 30, 2005, says:
"Perhaps the most flagrant abuse of the phony badges occurred at Kennedy Airport last March. Theodore Leb, an honorary deputy named by [Police Commissioner William] Bratton in 1996, was working as a private investigator photographing a married man and his girlfriend; the man became livid and a scuffle followed. When cops arrived, Leb flashed a badge and allegedly claimed to be an FBI special agent. Charged with impersonating an officer, Leb, who heads the little-known New York Cops Foundation, pleaded guilty to improper possession of police identification. His cop ID card was revoked, his lights and sirens removed."

Richard A. Serrano's 2009 book, "My Grandfather's Prison: A Story of Death and Deceit in 1940s Kansas City," says that after J. A. Purdome was elected Jackson County (Missouri) sheriff in 1944, "the "public soon learned" that he was "a product of the Pendergast operation," a corrupt political machine headed by Kansas City alderman Jim Pendergast and his brother, Superintendent of Streets Tom Pendergast. Moreover, the book says, it was learned that the sheriff was "linked closely to Kansas City's underworld," continuing:
"As the top lawman in Jackson County he awarded honorary 'deputy sheriff badges' to hoodlums around town who worked the tavern circuit. The most 'honorable' was Wolf C. Rimann. His jukeboxes and slot machines were found in most of the local bars. He also held a hidden partnership in a good many of those taverns….
"Rimann's car was equipped with a special police siren and red lights, and a red-faced Purdome was forced to publicly admit that the gambling promoter was one of his special honorary deputies."
Copyright 2015, Metropolitan News Company