Tuesday, October 27, 2015
Page 7
PERSPECTIVES (Column)
'Courtesy Cards' Shield Bearer From Traffic Tickets
By ROGER M. GRACE
Twentieth in a Series
Back when honorary law enforcement badges were bestowed, many of them were flashed by motorists in hopes getting out of a traffic ticket—and it sometimes worked. A far more efficacious implement, however, was the "courtesy card."
This was generally the business card of an officer with a hand-written introduction of the bearer and a request to "extend every courtesy" to the person.
My late father ran a retail/wholesale electronics store in Los Angeles in the 1950s-70s. He gave discounts to law enforcement officers, as many merchants did, coveting their presence as a deterrent to robberies. I still have (somewhere around the house) three LAPD officers' business cards asking that "courtesies" be accorded him.
West Los Angeles attorney Sandor "Ted" Boxer says that as he understands it, "there was a time when a friendly peace officer would hand out 'courtesy cards' that were supposed to be good for one ticket." He explains:
"The drill was that if you got pulled over the officer, upon seeing the card, would forego issuing you a ticket but you gave the card to the officer who supposedly mailed it back to the person who gave you the card."

Courtesy cards—the paper ones—go far back. When Los Angeles Police Chief August Vollmer attempted to abolish them in 1923, he acknowledged, in a directive to officers, that the practice of issuing them was "time-honored."
He decreed:
"All law-abiding citizens are entitled to courtesy from members of this department, and they will need no cards to obtain it.
"Persons presenting, offering, or showing courtesy cards will be politely requested to turn them in at the Chief's office, as the issuance of such cards is no longer recognized.
"The original intention in issuing 'courtesy cards' may been a good one, but it has been found that these tokens are abused frequently and that they convey the false idea that we have in our midst a special privileged class."
Vollmer was, by virtue of his integrity, a misfit in Los Angeles City government in those days, and departed from office the following year, voluntarily but under fire. Issuance of courtesy cards continued.

Carl Ingold Jacobson, born in Norway in 1877, was a member of the Los Angeles City Council from 1925-33. The Los Angeles Times' issue of Nov. 2, 1927, says:
"Councilman Jacobson yesterday presented a resolution to the City Council designed to stamp out the practice of police officers and other officials issuing so-called courtesy cards. These cards, the Councilman said, have been issued 'in untold numbers,' making it difficult for officers to enforce the law.
"He said the holders of the cards are often reckless and indifferent toward observing the laws and that therefore the cards are often the direct cause of accidents.
"The Jacobson resolution directs the police and other enforcing officers to disregard the cards and asks, if possible, that further issues be prohibited by city ordinance."
The resolution was sent to committee…not to be heard of again.
In those days, rather than a request for courtesies being scribbled on a business card, there were cards printed for the express purpose of soliciting favored treatment for the bearers. As described by Jacobson, the cards had standard language imprinted on them, beginning with "to whom it may concern" with a blank for the recipient's name, to be filled in by the officer providing the card.

Eugene Biscailuz, best remembered as Los Angeles County sheriff (from 1932-58) served as the first head of the California Highway Patrol (from 1929-31). The Berkeley Daily Gazette's issue Aug. 17, 1929 reports:
"The bureau will continue the policy…forbidding the issuance of…courtesy cards to private citizens, exempting them from arrest, Biscailuz said."
 That policy was to change—markedly—under Biscailuz's successor, Raymond E. Cato.
(Biscailuz held the title of "superintendant," while Cato was "chief." The CHP was then under the Department of Motor Vehicles; when it became an independent state agency in 1947, the head of it became the "commissioner," the title used today.)
Cato gave out courtesy cards. His weren't made of paper; they were gold. (Cards composed of that material are the subject of the next column.)

Courtesy cards—paper ones—continued to be handed out by police officers in Los Angeles, and throughout the nation, for decades to come.
A July 5, 1953 article in the nationally distributed Sunday supplement, "This Week" (included in the Los Angeles Times), asserts:
 "Today in the United States an estimated half million persons are—or think they are—superprivileged citizens. They park in no-parking zones. pass red lights, exceed the speed limits, throw loud, late parties, take part in open gambling and freely violate every type of local ordinance without fear of the law.
"How do they get away with it? In their wallets are little printed cards that are known by various names—police cards, honorary membership cards, drag-tags, VIP cards or, most frequently, courtesy cards."
The article notes:
"In the recent nationwide crime investigations it was revealed that police courtesy cards find their way into the pockets of many hoodlums and thugs. One underworld character while testifying, proudly exhibited his wallet. It contained no less than 12 courtesy cards from four different states!"

In the mid- to late-1950s, use of such cards waned.
Gov. Goodwin J. Knight said at a press conference, according to a Jan. 9, 1956 syndicated column by H. C. MacArthur, "that many people still ask him for a 'courtesy card' to enable them to violate traffic laws on the highways, and appear to be nonplussed when they are refused such a privilege."
A piece in the Pasadena Independent on June 14, 1956, quotes Monrovia Police Chief Grant Petersen as saying:
"Frankly, if I was on duly and somebody tried to scare me with a card like that, I'd be more liable to cite them than if they just kept quiet."
The Long Press Telegram's Nov. 3, 1960 issue includes this:
"Some of the drivers still carry the little white courtesy cards issued by members of the Long Beach Motor Officers Association. The cards inform other motor officers that 'any courtesy' to the bearer will be appreciated.
That's not strictly accurate. The 'courtesy'—failure to issue a traffic ticket —will not be appreciated by Police Chief Bill Mooney. He has banned further issuance of the courtesy cards."

Shenanigans in connection with courtesy cards has been more rampant outside of California than here.
•A Feb. 12, 1929 United Press dispatch from Milwaukee says:
"Gullible proprietors of saloons and roadhouses were heavy subscribers for advertising space in a proposed Sheriffs' and Wardens' Beneficial Association directory,  it was revealed today as business groups delved into the motives of the promoters."
The project was called off after it was "discovered the advertising solicitors were pass[ing] out 'courtesy cards' hinting at Sheriffs' protection for the bearer if  'found In an embarrassing position,' " the report advises.
•The Lemars (Iowa) Globe Post of Dec. 4, 1930, tells of two men each sentenced to 10 years in prison for obtaining money through false pretenses. The article says that one of their schemes was "the sale of 'courtesy cards,' which are supposed to give the bearer a special 'pull' with the police."
•New York's highest court, the Court of Appeals, on Oct. 25, 1938, upheld convictions of two men who conducted telephone solicitations seeking money that was purportedly to go to a relief fund for widows and children of slain police officers. Actually, 60 percent of the take went to the solicitors, and forty percent divided between the village's chief of police and police lieutenant.
The opinion says there was the promise "that a courtesy card entitling the holder thereof to immunity against police action for violation of the traffic laws and other village ordinances would be issued to contributors."
•An April 6, 1976 AP dispatch tells of cards declaring that the bearer is a "personal friend of New Hampshire Gov. Meldrim Thomson," who was seeking a third term. The cards included this message from the governor:
"I shall greatly appreciate any courtesy you may extend."
Rival candidates voiced criticism.
The report says:
"The flap is over wallet-sized cards—signed by the governor and bearing the state seal printed in gold—that Thomson handed out at a recent $100-a-head campaign gathering."
Thomson was reelected.

Courtesy cards have been, and in some places still are, sold by associations of law enforcement officers.
An opinion last year by the Third U.S. Circuit Court of Appeals discloses activities of Lodge No. 5 of the Fraternal Order of Police (FOP), a police union in Philadelphia, and its political action committee, COPPAC:
"FOP solicits funds for COPPAC by mail and hosts regular fundraisers, at which large donors receive so-called 'courtesy cards' from the union that extend 'all courtesies of [the] organization' to the donor."
And from the State of New York….
•The New York Times' edition of Nov. 14, 2006, relates that the city's Civilian Complaint Review Board faulted NYPD officers for confiscating courtesy cards flashed by motorists seeking to avoid citations. The article says:
"The cards should be considered private property, a review board spokesman said, and can be seized only if, for example, an officer has proof that the card is stolen, or if the cardholder is using it to impersonate an officer.
"The cards, some of which include pictures of police badges, are made available to members of the various police unions, who then hand them out to friends and family members.
"Albert O'Leary, a spokesman for the Patrolmen's Benevolent Association, said members buy the cards for $1 each."
•On Feb. 16, 2012, a reporter for the NBC TV station in New York City held up two NYPD courtesy cards, saying they were of the sort officers had handed out "for years" to family and friends—and noting that one was in a wallet imprinted with the words, "family member."
The cards were distributed by members of the Patrolmen's Benevolent Association.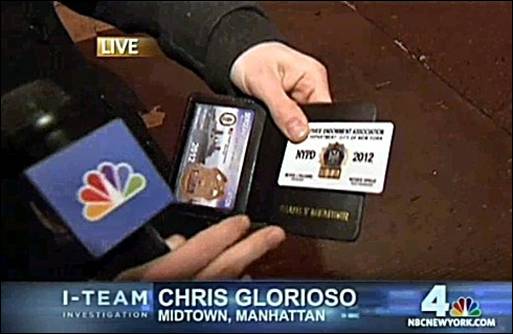 WNBC investigates sales of "courtesy cards."
The reporter, Chris Glorioso, says:
"Here's the thing. I'm not a family member of any police officer. Yet I was able to buy these cards, on the street, for cash."
He remarks:
"It raises questions about who is profiting from the promise of police favoritism."
A surreptitiously recorded videotape tape is shown of Glorioso's conversation with a man who was attempting to sell police courtesy items—for as much as $200.
The $200 item was a Sergeants Benevolent Association card, sold along with a miniature badge and a black case bearing the department logo and the words, "family member."
•If you go online, you'll find PBA "family member" cards for sale on eBay, for $25. The seller advises:
"NEWARK POLICE, SHERIFF'S DEPT., STATE POLICE, INTERNATIONAL POLICE ASSN. DEA AND ALL AGENCIES ALSO AVAILABLE
"IF WE DON'T HAVE YOUR DEPARTMENT, YOU CAN SUPPLY US WITH YOUR PATCH OR ARTWORK. YOU MUST HAVE THE OFFICERS NAME AND BADGE #. WE WILL NOT MAKE BLANK CARDS. WE WILL CHECK OUT ALL ORDERS. NO EXCEPTIONS TO THE RULES."
Copyright 2015, Metropolitan News Company