Tuesday, October 13, 2015
Page 6
PERSPECTIVES (Column)
Alighting From a Car With a Revolving Blue Light Is 'Lawman' Elvis Presley
By ROGER M. GRACE
Seventeenth in a Series
"He had a million badges and a blue police light on his car."
That's the recollection of actress Priscilla Presley, who does exaggerate the number of badges accumulated by the man to whom she was married from 1967–73. Her words appear in "Elvis, By the Presleys," a 2005 book comprised of quotes from her, her daughter, and others who knew Elvis Presley.
Telling of his play-acting the role of a law enforcement officer in Memphis—where Graceland (then their home, now a museum) is located—she says:
"He liked nothing more than putting that light on his car and pulling people over. He'd walk up to the window, show off his official badge and say, 'Son, you were speeding. Just want to warn you to slow down.'
"The driver would see him and remain speechless. He liked seeing himself as a [lawman] and protector of the public. He carried guns, and if he happened to see, for instance, two men fighting at a gas station, he'd drive over and stop the fight. His very presence stopped things escalating."
Bobbie Ann Mason, in her 2007 book, "Elvis Presley: A Life," elaborates on the gas station incident which took place in Madison, Wis.:
"Elvis loved acting out his childhood fantasy of cops and robbers. At home he had a growing arsenal of guns and a wardrobe of Superfly private-eye outfits. Several years after he got his badge, he was passing by a gas station when he saw two men assaulting a station attendant. Elvis stopped, bounded out of his limo, and broke up the fight with some karate moves. The participants were so amazed to see Elvis Presley that they stopped fighting, and Elvis posed for pictures with them."
The Graceland website mentions:
"One night, Elvis came up on a traffic accident and got out to help the cops direct traffic."
In his 2013 book, "The Seeker King: A Spiritual Biography of Elvis Presley," Gary Tillery says that Presley would wield a badge "on several occasions," noting: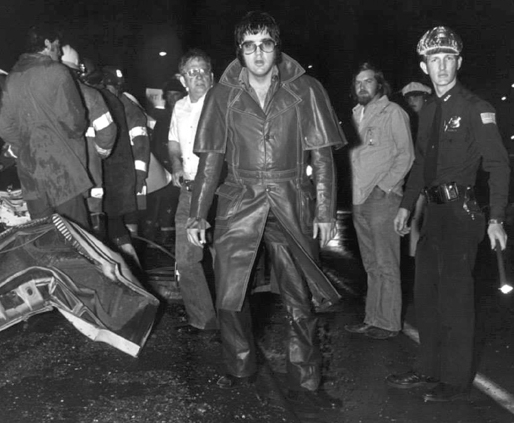 Presley is seen at the sight of an accident on March 26, 1976.
"Elvis…obtained a police radio and a revolving blue light to put on top of his Lincoln Mark IV. He began to patrol the streets of Memphis. Sometimes, listening to the scanner, he would jump on his motorcycle and make it to an accident or the scene of a crime before the police did. He would help out or direct traffic until they arrived."

Over the last decade-or-so of his life, Presley acquired at least five sheriff badges, along with duplicates of them, from the county in which Memphis is located, Shelby.
"When I was sheriff I deputized Elvis," William N. Morris is quoted as recounting in the April 2012 issue of Memphis Magazine. Morris headed the Sheriff's Department from 1964-70, later serving as county mayor.
Roy C. Nixon, Morris's immediate successor as sheriff (and immediate predecessor as mayor), is quoted in the 1994 book "Elvis Up Close" as saying: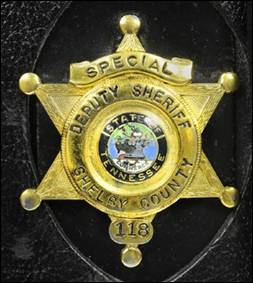 Presley's first Shelby County badge.
"Elvis was deputized under Sheriff Bill Morris. The special deputy commission was basically an honorary thing, but it did have legal authority. Elvis could have made arrests."
A sheriff in Tennessee does have the power to appoint "special deputies." However, the appointments are short-lived; they're for undertaking a specific task, such as serving papers.
"The sheriff may appoint as many special deputies as the sheriff may think proper," a statute spells out, "on urgent occasions, or when required for particular purposes."
That's been the law since 1870.
A 1905 Tennessee Supreme Court decision defines a "special deputy" as one who is "assigned to a special case or transaction." A 1961 decision of the court says a sheriff may appoint a special deputy "for any particular occasion."
So, Presley could not have had an ongoing status as a "special deputy." He would have had that status only while on a specific assignment—and it appears he was not given any.
An 1857 opinion of the Supreme Court of Tennessee says that prior to 1845, only sheriffs could make arrests; that under legislation enacted that year, deputies now had arrest power; and that there was no reason not to recognize such power being vested in special deputies. So, Presley would have possessed a power of arrest on an occasion (if any) when he was performing duties as a special deputy. He otherwise had only the power possessed by any private person of making a citizen's arrest.
The badge at left, bestowed on Presley by Morris, was auctioned at Graceland in January. It fetched $8,750, according to the Graceland website. (The flashing blue police light he placed atop his car went for $2,000.) A letter of authenticity pertaining to the badge is quoted on the website. Presley's personal aide Marty Lacker says that Presley "gave me the badge when I received my Sheriff's Deputy commission either in 1969 or 1970," and notes:
"This is the same badge I am holding in the picture of Elvis and the guys all holding our badges in December, 1970 at Graceland which appears in many Elvis books."
The photograph of Presley with the "Memphis Mafia," as his entourage was dubbed, was snapped on Dec. 28, 1970, at a Graceland reception following a church wedding. The groom was one of his bodyguards, Sonny West. (Reflecting the "King's" despotism, he insisted that the bride and groom accompany him that night to watch movies at a local theater.) Here's what Joel Williamson in his 2014 book, "Elvis Presley: A Southern Life," terms a "semifamous group photograph":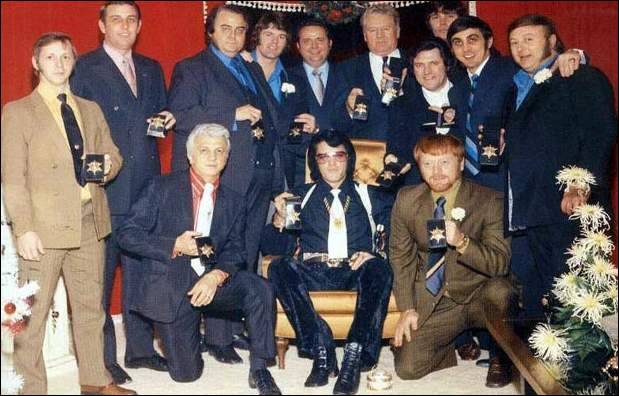 Top row, from left: Presley cousin Billy Smith, former Sheriff Bill Morris, aide Lamar Fike, bodyguard Jerry Schilling, Sheriff Roy Nixon, father Vernon Presley, guitarist Charlie Hodge, bodyguard Sonny West, childhood friend George Klein, personal aide Marty Lacker. Bottom row: physician George C. Nichopolous, Presley, bodyguard Red West.

The badge held by Presley in the photo is a new one, presented to him by Nixon on Oct. 10, 1970. A UPI dispatch from Memphis published in newspapers on Oct. 13 says:
"Elvis Presley is a special Shelby county deputy sheriff, a job that allows the star to carry a pistol.
"Sheriff Roy C. Nixon confirmed Monday the commission ceremony was held privately in his office Saturday. He said Presley had been an 'honorary' deputy for several years.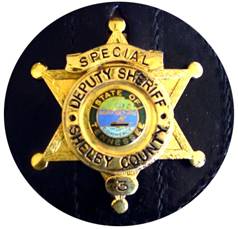 Badge presented by Sheriff Roy Nixon.
"The sheriff said the change in status was requested by Presley's office.
"Nixon said he had no plans to call his new special deputy for any law enforcement duties."
That's puzzling because the badge provided by Morris also denominated Presley a "special deputy," not an honorary one. Too, under Tennessee law, as noted, Presley could only have qualified as a "special deputy" on such occasions as he was given a specific assignment…yet Nixon disclaimed any intention of calling him to duty.
Presley had not been, and still was not, a "special deputy," nor was he to become one.
The badge was a silver one. The Feb. 23, 1989 issue of European Stars And Stripes says that "[p]lain silver was too mundane for the King," and advises:
"He had it inset with diamonds and rubies. Four years later, with the capaciousness of a simple country boy who really didn't care much for the trappings of wealth, he gave it away. Giving things away was a habit he never lost."
According to Heritage Auctions' description of the item:
"Elvis later gave this badge to Charlie Hodges after being issued a Chief Deputy Badge; in October 1976, Hodges returned it to Sheriff Tom Morgan upon being issued a lieutenant's badge."
Well, that's not quite accurate. (I've previously pointed to that auction house's lack of meticulousness.) Morgan was not sheriff; he was administrative assistant to Sheriff Gene Barksdale, who took office Sept. 1, 1976. As Morgan tells it on his website:
"Elvis gave this badge to [Deputy] Charlie Hodges when he was issued a Chief Deputy Badge. In Oct. 1976, I issued Charlie a Lieutenant's Badge in return for his # 3 badge. He left my office happy with his new Lieutenant's Badge and I was happy with Elvis' old # 3 badge given to me later by Sheriff Barksdale."
And Morgan was no doubt exceedingly happy when the badge drew a winning bid of $16,730 on Aug. 14, 2010.

The "Frequently asked questions" page on the Shelby County sheriff's website poses the query: "Was Elvis Presley really a Special Deputy for Shelby County Sheriff's Office?"
The answer offered is: "He sure was!"
There's a link to this document which, on its face, renders Presley a deputy sheriff: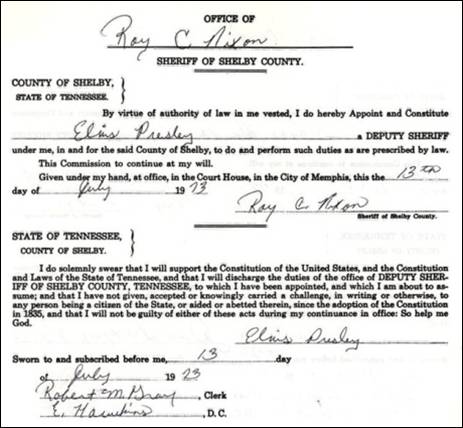 July 13, 1973 document declaring Presley to be a sheriff's deputy.
That certificate purports to render Presley a full-fledged "Deputy Sheriff of Shelby County," not a "special deputy." But Presley was not a deputy; he did earn his living by other means. His demands to Nixon had obviously gone wild, and Nixon's resistance to them was feeble.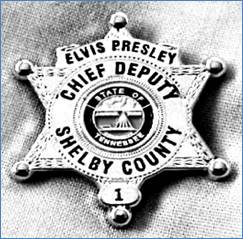 Presley's third Shelby County badge.
And it got even zanier. The sheriff actually designated Presley, a non-member of his department's force, as his "chief deputy," and gave him a badge reflecting the fictional status. That occurred sometime before Nixon left office Dec. 31, 1975 (assuming office the following day as the county's first mayor).
Nixon says, in "Elvis Up Close":
"A chief deputy is the top law enforcement officer that's appointed under the sheriff.…Some of Elvis' friends took that badge that I gave him, and for a birthday present, had it gold plated and had some little diamonds and rubies put in it."
Despite Nixon giving the entertainer a commission and a chief deputy badge, the department apparently continued to regard Presley as an "special deputy." The 1975 department yearbook so lists him.
The yearbook identifies Gerald P. Proctor as chief deputy. A Nov. 20, 2002 obituary on Proctor in Nashville's Commercial Appeal says he served in that capacity until his retirement "at the end of 1976."
The chief deputy badge—Presley's, not Proctor's—was sold at auction, along with the jacket to which it was pinned. A description of the items by the auction house, Christie's, says:
"Both jacket and badge were gifted to Mike McGregor, Elvis' employee from 1967-76, and are accompanied by a letter from him attesting to the provenance of the piece, along with two images of Elvis wearing the jacket and badge."
The estimate placed on the memorabilia was $15,000-$20,000. The final bid was $35,000.
It took extraordinary chutzpah on the part of Presley to ask for the official badges and actual ID card, and spinelessness on the part of Nixon to acquiesce. But the sheriff was not the only man named Nixon to comply with an outrageous request from Presley for a badge he was not legally entitled to have—which will be the topic of the next installment.

But, there's more to tell about Presley's acquiring of badges in the Volunteer State. He actually secured the badge of the only person in the department higher than the chief deputy.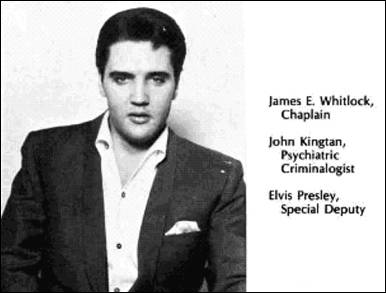 From the Shelby County Sheriff's Office Year Book — 1975.
Bodyguard/aide Jerry Schilling, a member of the Memphis Mafia, tells about it in "Me and a Guy Named Elvis," published in 2006. The author's brother is Billy Ray Schilling, who became sheriff Jan. 26, 1976.
Jerry Schilling recounts that his brother "hadn't been on the job long before Elvis came to see him,"continuing: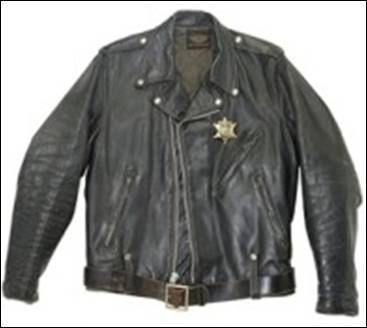 Jacket worn by Presley with 'chief deputy' badge pinned to it.
"Elvis showed Billy Ray the deputy sheriffs badge he'd gotten back in 1970, and said he felt he was ready for a promotion. Billy Ray told Elvis that the only higher badge available was the one he was wearing. Elvis repeated that he wanted the promotion, and said, 'Billy Ray, you don't want me to run against you, do you?'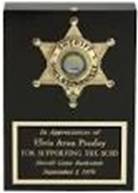 An encased badge from Sheriff Gene Barksdale.
"Billy Ray handled the situation perfectly. He gave Elvis his badge (he eventually found an identical backup that he could carry)."
Jerry Schilling expresses the notion that Presley then surrendered his 1970 chief deputy badge to Sheriff Billy Ray Schilling. But how can that statement be reconciled with Thomas Morgan's declaration that he has possessed the badge since 1976 until its sale at auction?
Morgan advises, in an e-mail:
"Jerry's statement is very true. There are several other instances when Elvis got the same ranking badge because he misplaced or lost a badge or the Sheriff just gave him another badge for whatever the reason. Elvis got what he wanted!"

Presley's final Shelby County badge came from Barksdale on Sept. 1, 1976. It's encased in a Perspex block—perhaps so it could not be flashed by some mischief-maker to whom Presley might give it.
Ironically, the Memphis denizen was never able to get his hands on an honest-to-gosh Memphis police badge. However, on Feb. 10, 1976, the police chief did give him the badge of a captain in the reserve.
Yet, there's a statement on the Graceland website that "Elvis was Captain on Memphis' police force (the one official badge that was not simply honorary)." The notion that he was an actual member of the city's police force—and a captain, no less—is ludicrous.
Presley did, however, manage to finagle receipt of a Memphis police ID card which lacked the word "reserve" on it.
Copyright 2015, Metropolitan News Company