Thursday, July 2, 2015
Page 7
PERSPECTIVES (Column)
Los Angeles County Bar Association Fleeces Attendees at Installation
By ROGER M. GRACE
Those attending the Los Angeles County Bar Association's installation dinner last week were, plainly and simply, gypped.
The cost to attend was $275 per person. The value was closer to $27.50 per person.
Chief Executive Officer Sally Suchil is seeking to make a profit on every lunch or dinner, and the price of tickets is being jacked up…even at the risk of low attendance, and the distinct prospect of less profit being realized than if the event were reasonably priced and well-attended. (I'm well aware of that in light of a Senior Lawyers event I was involved with earlier this year having been sabotaged by LACBA through grossly excessive pricing.)
But the rip off of attendees at the installation dinner a week ago went beyond anything that can possibly be dismissed as a conscientious effort to return LACBA's finances to the black.
The dinner at the Music Center started with an unappetizing bowl of cold risotto with fava beans. Then came the entrée: a steak. Mine was so over-done and dry that it took some time to masticate the single bite I took of it.
Others at the table had steaks that were pink, but that was not enough to compensate for the dish being a cheap cut of a superannuated bovine. Even my wife, Jo-Ann, a beef-aholic, barely touched hers, finding that the meat, itself unflavorful, was made worse; the cook undertook a pathetic effort to add zest by smearing on the small slab of el toro the incompatible flavoring of a wine reduction.
You just can't "beef up" lousy beef.

Given that Jo-Ann and I could not tolerate the meat we had paid for—grossly over-paid for—we would like to have been able to offer it to our German Shepherds, Fridtjof and Elly. However, Patina Catering invoked a "policy" against providing doggy bags.
Frankly, I wanted to wrap the meat in a napkin and take it home to our canine compatriots, but Jo-Ann nixed that.
But she told me later that she did observe one of those at our table carting off the grub in just such a fashion. That person has a dog.
This is only the second time I asked for a doggy bag at any bar event—other than at Italian American Lawyers Association dinners at Casa Italiana (the food is enjoyable, but too plentiful) where Styrofoam cases are freely distributed by the waiters. The other time was at a Mexican American Bar Association installation dinner at the Biltmore a few years ago—priced at $175 per person—when they served pot roast…which our dogs enjoyed far more than I would have.
(We have been to other MABA events—in particular, annual ones at a law firm and at a home—where the food is excellent. That Biltmore dinner was, perhaps, an aberration.)

Oh, but I've neglected to mention that there were hors d'oeuvres served during the cocktail reception at the LACBA installation. Yes, indeed. There were, being passed around, small squares of ham sandwiches with other stuff piled in. There appeared to be few takers.
Near the end of the reception there came the pièce de résistance: strips of portobello mushrooms in soggy breading. No thanks.
The reception was held on the plaza outside the Music Center. The weather was pleasant. The event wasn't.
Pounding rock was blaring on the loud speakers—the exceedingly loud speakers. Perhaps the Barristers enjoyed the raucous noise ; the older folk my wife and I were with resented the aural affront.
Even after entering the dining room, there were, though at a lower volume, the grating, unmelodious sounds nowadays termed "music."
For this, we missed the concert of "Gary Greene, Esq. and His Big Band of Barristers" in Beverly Hills at which actress June Lockhart was honored on the occasion of her 90th birthday. However, we had to be at the LACBA event because Jo-Ann was being sworn in as a LACBA trustee.
Next year, unless the dinner is in a different venue, with cuisine provided that's commensurate with the price, we'll definitely steer clear of the event, as others would be well advised to do.

On the positive side, the honorees that night were worthy ones. Joan Dempsey Klein—who had been a presiding justice of this district's Court of Appeal, and a jurist for 51 years—was given the Outstanding Jurist Award, and Ronald Olson, of Munger Tolles & Olson, received the Shattuck Price Outstanding Attorney Award.
Olson is a highly gifted attorney—which I learned some years ago, much to my regret. We had brought a meritorious action against the Daily Journal Corporation for anticompetitive practices. The first trial ended with the jury hung; Olson was brought in to handle the second trial.
(The firm's founder, Charles T. Munger, is chairman of the board of the Daily Journal Corporation and was a defendant.)
Our own attorney barely spoke to my wife and me during the course of the trial. He was clearly miffed that we had spurned a settlement offer. If we had accepted it, you would not be reading this column now. And, we suspected, he knew he was outclassed by Olson, as indeed he was.
In his argument to the jury, Olson meticulously dissected sweeping representations our blustering plaintiffs' attorney had made in his opening statement. He was snuffing out our chances, but I couldn't help but admire his masterful presentation.
The worthier party did not prevail in that case, but the better lawyer did.

We were at two other LACBA installation dinners in recent years. Neither was enjoyable.
We attended the one in 2000 at the Biltmore Bowl. We were there because Rex Heinke, who had represented us in some matters while at Gibson, Dunn & Crutcher, was being installed as president. Heinke was now with a new firm. The major client he had served at GD&C was the Los Angeles Times, and he obviously wanted the Times to hop over to his new firm.
At that installation, the Times publisher spoke and was feted; the Times was regaled; the event was, unconscionably, one long commercial for the Los Angeles Times.
We were at the 2007 installation because of our high regard for the incoming president, Gretchen Nelson. The program at the Music Center went on and on. The Shattuck Price Award presentation—which previously had been a separate event—was added to the program; so was the conferring of other awards; and the Barristers' installation of officers was now included.
At the outset of last week's dinner, outgoing president Linda Curtis vowed that the program would be completed by 9 p.m. Owing largely to slow service, the program got off to a late start and was still going on at 9:30 when Jo-Ann and I left, with only one stalwart attendee, Anthony de los Reyes, remaining at the table at which we had been seated.
Actually, I have no complaint about my dinner that night. The bratwurst I ate when I got home was just fine.



HERE WE GO AGAIN: Gov. Jerry Brown has sent to the Commission on Judicial Nominees Evaluation the name of yet another young (under 40) District of Columbia government attorney. At least this one—unlike Court of Appeal nominee Lamar W. Baker, 37—is only in contention for a trial court appointment.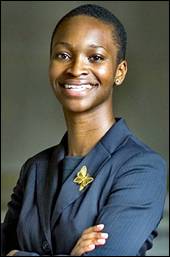 FRIMPONG
She's Maame Ewusi-Mensah Frimpong, a member of the State Bar since 2002. Frimpong, born in California to immigrants from Ghana, is vice president, general counsel and corporate secretary for the Millennium Challenge Corporation, a U.S. government foreign aid agency.
Her conversancy with state law is doubtful. The lawyer did handle intellectual property litigation for Morrison & Foerster LLP from 2002-2007, but such litigation is generally conducted in federal courts.
She was with the U.S. Department of Justice in D.C. from April of 2007 until she went to work at her present post last January.
Frimpong received her law degree from Yale. That's also where the governor studied law. So did Baker, as a matter of fact. And—what a coincidence!—so did all three of Brown's appointees to the California Supreme Court since he returned to the governorship in 2001: Goodwin Liu, Mariano-Florentino Cuéllar, and Leondra Kruger.
Liu, Cuéllar, Kruger, and Baker each clerked for a federal judge. Frimpong was a law clerk to Ninth U.S. Court of Appeals Judge Stephen Reinhardt from 2001-2002.
A July 6, 2014 article in the Times bears the headline, "Gov. Jerry Brown likes to break the mold with his judicial picks." The article says that Brown "has shown a willingness to break from tradition and draw from a wider pool of attorneys than previous governors." Or is it that he has cast a new mold, with some persons previously viewed as naturals for nomination or appointment to judicial posts, based on proven competence and commitment, now excluded?

A Jan. 8, 2014 report on Breitbart.com tells of an incident the previous year apparently involving Frimpong. On Aug. 21, a letter signed by 32 members of Congress went to then-Attorney General Eric Holder asking for a briefing on "Operation Choke Point," a Department of Justice anti-consumer fraud offensive targeting third-party payment processors. Michael Patrick Leahy writes:
"In response to that letter, a Department of Justice official met with Congressional staff members at the Capitol in late September, but refused to answer any questions about the project. Sources with knowledge of the meeting tell Breitbart News that the official also told Congressional staffers that the Department of Justice was under no obligation to tell Congress anything about the program. The official also refused to state her name, which was discovered only after she left her business card on the table as she left the event. Sources tell Breitbart News that the name on the card was Deputy Assistant Attorney General, Consumer Protection Branch Maame Ewusi-Mensah Frimpong.
"On Tuesday, Breitbart News contacted Deputy Assistant Attorney General Frimpong to confirm or deny these reports. She responded promptly by email, stating 'Thank you for your inquiry. I am referring it to Wyn Hornbuckle, in our Office of Public Affairs. Please follow up with him directly.' "

Any day now, Brown is apt to place a classified ad in the Washington Post, advising:
JOBS AVAILABLE
Immediate openings for Obama Administration attorneys to serve as California judges. Must have 10 years membership in the State Bar of California, but experience practicing law in California courts is not required, and is disfavored. Appellate court applicants: you must be confirmed by a three-member commission, but close scruitiny is not to be expected. Trial court experience is neither necessary nor desired. Employer has an "equal opportunities" policy—except that, as a general rule, non-Hispanic white, Christian, heterosexual males need not apply.
If appointed, as in all probability Frimpong will be, it's a foregone conclusion that she will be rapidly elevated by Brown, when an appellate court vacancy occurs…thus being promoted over Superior Court judges with longer tenure and markedly superior qualifications.
That's wrong.
If she's appointed in Los Angeles, it's a sure bet that she will be challenged at the polls in 2018, with political consultant Fred Huebscher orchestrating a rival's campaign in his quest to show that judges with foreign-sounding names can be defeated.
And that's wrong.



NOT HOW IT WORKS: Los Angeles Mayor Eric Garcetti yesterday ascribed the U.S. Supreme Court's decision on gay marriages to public pressure, and urged members of the public to lobby the Fifth U.S. Circuit Court of Appeals to uphold the constitutionality of an executive order rendering millions of illegal aliens legal.
In a mass email, the mayor says:
"If there's one lesson we can draw from last week's historic Supreme Court decisions, it's that the courts listen to public opinion.
"That's why I'm asking you to join me, other mayors, and leaders across the country in urging the Fifth Circuit Court of Appeals in New Orleans to allow millions of families and working people who have immigrated to the United States the opportunity to succeed for themselves and our country."
There's a click-through to an online petition.
Garcetti notes:
"The President issued executive actions that will grant 5 million immigrants—1.5 million of whom are in California and 500,000 in the L.A. region—the chance to come out of the shadows, work lawfully, pay their taxes, and contribute to our nation's economic future."
And, he goes on, in similar vein.
What Garcetti apparently does not grasp is that while politicians, such as he, react to public sentiment, that's not what judges are supposed to do. The thought that members of the Fifth Circuit would pay the slightest attention to a "petition" is balmy.
And so is the notion that the U.S. high court's majority was guided by "public opinion."
Copyright 2015, Metropolitan News Company