Thursday, June 25, 2015
Page 7
PERSPECTIVES (Column)
Lamar W. Baker: 'Sign In, Please'—Like Other White House Visitors
By ROGER M. GRACE
Lamar W. Baker—the 37-year-old District of Columbia lawyer who's been nominated to the Court of Appeal for this district—not only did not have his office in the White House, as he has claimed, but generally could not get into the White House without signing in as a "visitor."
Yet, a spokesperson for the Office of Gov. Edmund G. Brown Jr. seeks to rationalize Baker's deception.
The San Francisco Chronicle's online edition, "SFGATE," recites, in an article by veteran writer Bob Egelko, that my column on Monday "suggests that Baker lied on his resume, which says he served at the White House, when he actually worked at the White House counsel's office down the block."
The article continues:
"Brown's press secretary, Evan Westrup, called the accusation 'outrageous and totally baseless' and said Baker worked in a section of the executive office whose correspondence bears the letterhead 'The White House.' "
It is Westrup's denial that is outrageous and totally baseless—indeed, dishonest.
It is in conformity with a May 22 press release from the Governor's Press Office, announcing the nomination of Baker, which says:
"Baker, 37, of Washington, D.C., served as special assistant to the President and associate counsel to the President at the White House from 2014 to 2015, where he served as associate counsel from 2013 to 2014."
That also coincides with what's posted on the State Bar website, pursuant to information supplied by Baker, as to his office address: "The White House [¶] 1600 Pennsylvania Ave [¶] Washington, DC 20502."
No matter what it said on Baker's letterhead, or still says on the State Bar website, Baker doesn't work at the White House, and never has.

When he was engaged as an Obama Administration lawyer (which he no longer is), Baker was stationed in Room 149 of the Eisenhower Executive Office Building at 1650 Pennsylvania Ave., NW, Washington, D.C. 20501.
The building is near the White House; it is not the White House.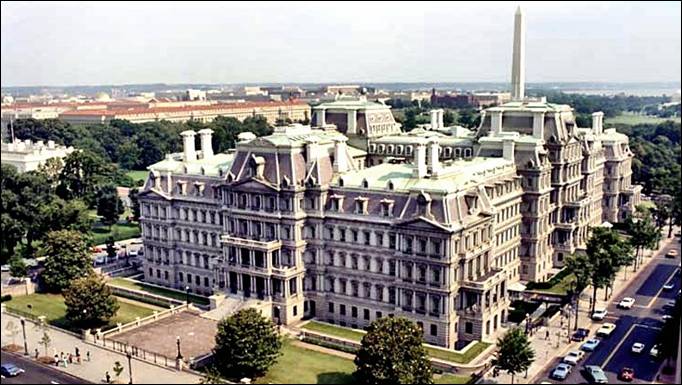 EISENHOWER EXECUTIVE OFFICE BUILDING
From Pennsylvania Avenue, facing the White House, the EEOB is one building over, to the left. From the west side of the White House, it's across the street. (The street is West Executive Avenue, closed to the public for security reasons during World War II, and never reopened. There's now staff parking there.)
Unlike persons who actually do have offices in the White House, Baker had to sign in as a visitor.

He did so four times in 2014, White House records show.
On Feb. 14 of that year, this "special assistant to the president" made his only visit, ever, to the Oval Office, meeting with President Obama and six others.
The other three times in 2014 when Baker signed in to gain access to the White House were July 4, when he again attended the celebration on the White House South Lawn, along with the president and 4,227 others; Sept. 15, when he participated in a picnic on the South Lawn with Obama and 3,258 others; and Dec. 16, when he was present at a 2:30 p.m. event with the chief executive and 842 others in the East Wing of the White House.
Baker did gain access to the White House in 2014 without signing the visitors' register, according to records (on Jan. 14, Sept. 7, Sept. 28, and Nov. 2), in leading tours of the West Wing; on Aug. 4 for a meeting in the White House Navy Mess; and on Nov. 10 when he apparently participated in a Washington Homeland Security Roundtable.

It is not clear just when, in 2013, Baker was hired as an associate counsel to Obama. It would have to have been after Feb. 6, when he had to sign in to gain access to the EEOB, and on or before Nov. 7, when he was listed as a "visitee" in that building.
Between those dates, he twice entered the White House, signing in both times. He met once with Quinn Fitzgerald, a staff assistant in the Office of Public Engagement, on May 9, and attended the Fourth of July celebration along with the president and 3,817 others.
Also in 2013, he met with the president and 790 others on Dec. 18. He signed in as a visitor.
By Feb. 12 of this year, Baker had left his post. He had to wear a visitor's badge to visit a former colleague in the EEOB.
It is to be hoped that two of the three members of the Commission on Judicial Appointments—Chief Justice Tani Cantil-Sakauye and Court of Appeal Presiding Justice Paul Arthur Turner—will care that Baker has sought to create the false impression that he worked in the White House. His youth, coupled with the fact that he not only lacks judicial experience but only practiced California law for less than two years, should matter to the jurists. (It won't to Attorney General Kamala Harris.)



A MERITORIOUS MOTION: While Los Angeles Superior Court Judge Michael P. Linfield mulls whether to order the Financial Industry Regulatory Authority, Inc. ("FINRA") to excise seven customer complaints about wealth advisor Patrick J. Dwyer from its online database, as Dwyer seeks, FINRA has filed a motion to change the name of the case.
It wants John Doe v. Financial Industry Regulatory Authority, Inc. to be relabeled "Patrick J. Dwyer v. Financial Industry Regulatory Authority, Inc."
Ethan D. Dettmer of Gibson, Dunn & Crutcher LLP says in his memorandum of points and authorities in support of the motion:
" '[T]he public has an interest, in all civil cases, in observing and assessing the performance of its public judicial system, and that interest strongly supports a general right of access in ordinary civil cases.' (NBC Subsidiary (KNBC-TV), Inc. v. Super. Ct. (1999) 20 Cal. 4th 1178,1210.) California Code of Civil Procedure § 422.40 states that '[i]n the complaint, the title of the action shall include the names of all the parties.' "
John Doe is no more the actual name of the plaintiff than the Eisenhower Executive Office Building is the White House.
Attached to the memorandum are print-outs of two "Perspectives" columns identifying Dwyer by his actual name, as well as a print-out of an article on the website of "Financial Advisor IQ" titled "Merritt Adviser's Request for Anonymity Backfires." That article tells how Dwyer's effort to gain a writ in the Court of Appeal ordering that his name be redacted in trial court documents led to the columns unmasking him.
"Mr. Dwyer's name is now in the public forum," Dettmer writes, "and media articles have been written about this case identifying Mr. Dwyer."
The motion is slated to be heard by Linfield on Aug. 4.
There is truly no justification for Dwyer to be allowed to litigate anonymously simply because he prefers it. Indeed judges are far too liberal in granting secrecy orders…including Los Angeles Superior Court Judge Elizabeth Allen White's order hiding from public view an entire complaint because of the defendant's sensitivity to a single fact in the complaint (the amount of a settlement) being bared.
With respect to use of aliases in suing, the Judicial Council would do a service to the cause of staving off litigation in secrecy by adopting a standard which would permit pseudonyms only where required by statute or in circumstances where prevailing notions of decency (sex victims, children) call for it. A starting point in formulating a standard might be an examination of the one laid down by the Ninth U.S. Circuit Court of Appeals in Does I thru XXIII v. Advanced Textile Corp. (2000) 214 F.3d 1058, at 1068.
Judge Harry Pregerson wrote:
"We join our sister circuits and hold that a party may preserve his or her anonymity in judicial proceedings in special circumstances when the party's need for anonymity outweighs prejudice to the opposing party and the public's interest in knowing the party's identity. We further hold that in cases where, as here, pseudonyms are used to shield the anonymous party from retaliation, the district court should determine the need for anonymity by evaluating the following factors: (1) the severity of the threatened harm,…; (2) the reasonableness of the anonymous party's fears,…; and (3) the anonymous party's vulnerability to such retaliation…."
Copyright 2015, Metropolitan News Company