Monday, March 16, 2015
Page 7
PERSPECTIVES (Column)
In the 1970s, Heads of Law Enforcement Agencies Continue Awarding Honorary Badges
By ROGER M. GRACE
Tenth in a Series
Today, a further look at controversies in California over honorary law enforcement badges, focusing on ones outside Los Angeles County in the 1970s.
•San Diego County, 1976: Controversy began to bubble over Sheriff John F. Duffy's relationship with the county's Honorary Deputy Sheriffs Association, a group he had caused to be formed three years earlier to support law enforcement and, according to common perception, to back him politically. Badges resembling those worn by actual deputies were accorded members.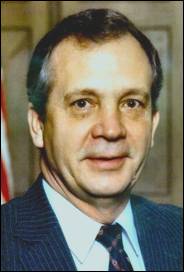 JOHN F. DUFFY
Duffy, sheriff from 1971–1991, did, in fact, draw personal support from the organization and, after he was reelected in 1982, ousted four members who had supported his opponent, refusing to provide an explanation. A Feb. 22, 1984 article in the San Diego Tribune quotes him as saying of the group: "It's my baby."
But backing up to 1976….
A Feb. 12 article in the San Diego Union reports:
"Sheriff John Duffy has violated no state law by issuing badges and identification cards to members of the Honorary Deputy Sheriffs Association, according to the county counsel's office.
"The opinion, requested by Supervisor Jack Walsh, said there must be some 'form of intent' on the sheriff's part to tell the honorary deputies the badges could be used to represent themselves as peace officers before such allegations can be made.
"Duffy, the opinion said, has made it 'totally clear' to the honorary deputies the badges grant no peace officer authority, may not be used to represent a peace officer and members are not to receive any courtesies as a result of their membership in the association."
The sheriff, the article says, declined to reveal the names of members of the organization.

The correctness of the opinion is questionable.
Penal Code § 538d(b), as it read at the time, said, in ¶(b):
"Any person who willfully wears, exhibits, or uses, or who willfully…gives…any badge…, which falsely purports to be authorized for the use of one who by law is given the authority of a peace officer, or which so resembles the authorized badge…as would deceive an ordinary reasonable person into believing that it is authorized for the use of one who by law is given the authority of a peace officer, is guilty of a misdemeanor."
If the honorary badges did not resemble actual deputy sheriff badges—so that "an ordinary reasonable person" wouldn't have been apt to be fooled by them—the discussion could have ended right there.
It does appears that there was a resemblance, so that any holder of such a badge who strode about with the emblem on his or her lapel, or who flashed the star, would have violated the law. (However, there was no prohibition on recipients merely possessing the badges.)
As to bestowing badges, anyone who "gives" such a badge—whether it is used to commit fraud or stuck in a desk drawer—"is guilty of a misdemeanor," under the statute. That seems reasonable, given the potential for abuse.
Contrary to the county counsel's opinion, criminal liability of a donor of such a badge was not predicated on "some form of intent" to induce the recipient to use the badge in such a way as to violate the statute. There's no wording in the section to support such a proposition.
Criminal liability then, as now, attaches to anyone who "gives" a badge that is confusingly similar to an official law enforcement badge. And Duffy gave out just such badges.

The county grand jury in 1976 called for an end to the honorary badges.
The April 9 edition of the Union says the blue-ribbon panel recommended that association "voluntarily recall all badges at an early date"; if it didn't, that the sheriff "exercise his control of the association to cause the badges to be recalled"; and if Duffy refused, that the Board of Supervisors enact an ordinance rendering it a misdemeanor to carry badges that were replicas of real ones or looked real.
The report cited the prospect of the badges being misused and the "appearance" that the members of the association were "a body of citizens above the law."
It also engaged in some rather far-fetched speculation, in saying:
"The existence of a semisecret organization with strong police ties and support, which could at some future date be perverted by extremists into an organization of oppression or control, is not a potential we can ignore."
The board, on April 20, voted to ask members of the association to turn in their badges, according to news reports.
The July 29 issue of the San Diego Union relates that about 120 members of the group met, took a vote, and said "no" to the supervisors' request. The chairman is quoted as recounting:
"It was unanimously carried that we retain our badges, that they weren't paid by city or county funds, and that the board of Supervisors get onto bigger and better things and stop this political bagging between a few supervisors and our sheriff."

The board voted Aug. 24 to ban unauthorized persons from carrying a San Diego police badge. An article the following day in the Union says: "Association officials do not believe the ordinance affects them because they are a private organization and pay for the badges themselves."
A March 14, 1986 piece in the Evening Tribune looks back at the squabble and provides a status report. It recites that the board "passed an ordinance barring the honorary badges and forbidding county officials to confer honorary designations without board approval" and that "Duffy ignored the ordinance, his response being that the board had no right 'to tell a sheriff, a constitutional officer, who he can appoint to anything.' "
The article says that the ordinance "although still in effect" was, according to information it received, "never enforced."
Duffy was probably correct that the board had no power to restrict him in conferring honorary titles…but can its ability to forbid issuance of badges resembling those officially used within the county, given the strong possibility of misuse, be doubted?
(At present, §32.1101 of the County Code provides: "It shall be unlawful for any person, without authorization, to knowingly carry wear, display or use any badge, insignia, emblem or other form of identification which resembles any official badge , insignia, emblem or other form of identification issued to an officer or employee of the County of San Diego.")
The Honorary Deputy Sheriffs Association remains in existence.
•Orange County, 1976: Sheriff Brad Gates had a cadre of 52 "special deputies," invested with limited law enforcement powers. A Sept. 23 report in the Los Angeles Times brought to light that Gates had conferred this status on numerous persons including "actors John Wayne and Andy Devine, the entire Board of Supervisors, a couple of state legislators, a lobbyist and several campaign contributors."
So far, nothing wrong is shown. Penal Code §830.6 expressly authorizes now, as it did then, appointment of a reserve deputy—but with the proviso, in §832 of that code (and elsewhere), that the person undergo training within a year after appointment…at the time, 26 hours.
"Interviews by The Times with more than two dozen of the special deputies indicate that most have performed little or no work for the department and that few have had any training," the article says. "However, they all had identification cards and, in some cases, badges."
The report quotes a political contributor as telling what services he had performed for the Sheriff's Department as a special deputy: "Not a damn thing."

Wayne was contacted by The Associated Press. Its report appears in newspapers on Sept. 24, quoting the actor as saying of his special deputy status: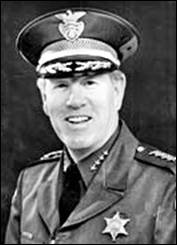 BRAD GATES
"But that's not so special. I bet I've got deputy sheriff badges of 30 counties from Bexar, Texas, to Colorado. They were given to me as a token of appreciation for my attitude toward peace officers."
Wayne apparently did not distinguish between being named elsewhere an "honorary" deputy—which entails neither a commitment to perform actual law enforcement duties, nor an authorization to do so—and being termed a "special" or "reserve" deputy, which does.
The AP dispatch notes:
"Special deputies aren't allowed to carry concealed weapons, but the badge carries the authority to make arrests in Orange County—unless the sheriff specifically says not to."

Gates remained sheriff until 1999. A July 2, 1989 report in the Orange County Register tells of his bestowing badges in another context:
"Gates' business partners and campaign supporter…constitute a majority of the board of directors of Gates' non-profit, fund-raising Sheriff's Advisory Council….
"While generously donating time and money to Sheriff's Department projects, the council directors have received concealed-weapons permits, honorary badges and other benefits from the sheriff."
The article goes on to say:
"Advisory council members receive no pay for their work, but for an additional $100 they receive special council badges that resemble deputy's shields. About 300 have been issued.
"One board member—Willard S. Voit, an ardent Gates supporter and friend—said even he found the honorary badges objectionable.
" 'They're just an invitation for somebody to go out and get tanked, then flash their badge when they get pulled over,' he said. Voit said he suggested that Gates ask for them to be returned, and some have been turned back in."
•Ventura County, 1977: A Jan. 7 UPI dispatch, reporting on an action the previous day, says:
"Charges of willful misconduct in office against Ventura County Marshal John MacIntyre were dismissed Wednesday by Superior Court Judge Robert Shaw who said the accusations were 'without merit.'
"The county grand jury last October accused MacIntyre of trading Ventura County marshal badges for a semi-automatic pistol and for badges of other police jurisdictions. The jury also alleged MacIntyre gave the honorary title of deputy marshal to a man with an arrest record."
An article appearing the following day in the Oxnard Press Courier pegs Shaw's ruling to the failure on the part of then-Assistant District Attorney Michael Bradbury (later a six-term district attorney) to bare exonerating evidence to the grand jury.
•Fullerton, 1977: An Aug. 18 piece in the Orange County Register reveals that Police Chief Wayne Bornhoft had supplied the city's mayor and Council members with laminated cards which bore the words, in large type: "Fullerton Police."
While reciting the person's office title, the card also said the bearer was "a regularly appointed member of the Fullerton Police Department, Fullerton, California"—an untruth.
Police chiefs should be the "good guys," adhering to the highest ethical standards, rather than perpetrating lies, as Bornhoft did…or, in recent times in L.A., skirting state law through issuance of a "general order."
The Register article discloses that Fullerton was the only one of Orange County's 26 cities that issued such cards, but that officials in 18 cities carried badges resembling police badges, though not bearing the words "Police Department."
Bornhoft rationalized:
"I think the badge is 10 times worse than the card because people don't look at it. People can just flash their badges but the card you have to read."
It's unlikely that an officer about to issue a traffic ticket would get beyond the words "Fullerton Police" on the card. But if the officer did bother to read the entire card, what would have been discerned from the clear language was that the offender was a fellow police officer.
The article quotes a member of the City Council as recounting what happened when he was stopped for speeding by a Nevada Highway Patrol officer:
"I handed him a wallet in which I carried my driver's license and the police card. He looked at both and didn't give me a ticket."
The politico is quoted as expressing bewilderment as to why he wasn't cited.
Bornhoft went on to serve on the Fullerton City Council from 1978 to 1982, and was mayor in 1980 and 1981.
FOOTNOTE: I would like to have taken a look, for myself, at the 1976 San Diego county counsel opinion on badges. But the County Counsel's Office refuses to release it, citing the attorney-client privilege…notwithstanding that its advice was made public at the time. But, that's a subject for a future discussion.
Copyright 2015, Metropolitan News Company