Tuesday, September 15, 2015
Page 1
Judge Who Filed False Affidavits Won't Be Prosecuted—D.A.
Humboldt's Chief Prosecutor Says Such Matters Should Be Left to Commission on Judicial Performance
By a MetNews Staff Writer
Humboldt Superior Court judge who was found by the Commission on Judicial Performance to have falsely stated under oath, in seven instances, that he had no cases pending before him for more than 90 days will not be investigated for a possible perjury prosecution, his county's district attorney said yesterday.
The statement by Humboldt District Attorney Maggie Fleming was in response to a MetNews inquiry.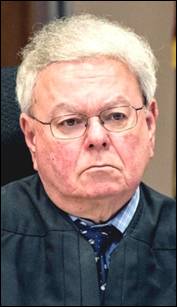 —Photo By Mark McKenna
JUDGE DALE REINHOLTSEN
Humboldt County Superior Court
Judge Dale A. Reinholtsen on Sept. 3 was publicly reprimanded by the commission, which said that he "engaged in improper conduct when he signed and submitted false salary affidavits on seven occasions, received his salary for judicial office in violation of law on 13 occasions, failed to act timely on over 20 matters that had been assigned to him, and failed to prepare a case progression plan in a case he exempted from meeting certain disposition time goals."
The commission noted that Reinholtsen "received an advisory letter in 2002 for conduct that included a nearly one-year delay in processing a complaint about a court commissioner."
Under the state Constitution, a judge may not receive a salary if any cause has been pending before him or her for 90 days or longer. By statute, a judge who is in compliance must say so in an monthly affidavit.
Filing a false affidavit constitutes perjury, under Penal Code §118, if the affiant "willfully states as true any material matter which he or she knows to be false." Under §126 of that code, perjury is "punishable by imprisonment…for two, three or four years."
The commission made no finding as to willfulness, and Fleming said does not intend to look into the matter.
She said in an e-mail that Reinholtsen "is not presently under investigation by this office and I do not intend to open an investigation."
Prosecutor's Rationale
Fleming explained:
"The California Commission on Judicial Performance has a primary role in monitoring the conduct of judges. The Commission is in a strong position to evaluate conduct in the context of a judge's duties and overall performance. The Commission has, and has exercised, the authority to remove judges from the bench for inappropriate conduct. In this case the Commission chose to publicly reprimand Judge Reinholtsen rather than taking the stronger action available to it.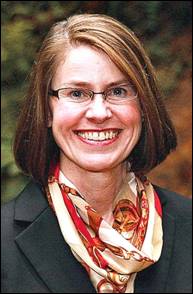 MAGGIE FLEMING
Humboldt County District Attorney
"The decision to bring criminal charges is often not simple. As the National District Attorney's Association states: A prosecutor should put the rights and interests of society in a paramount position in exercising prosecutorial discretion in individual cases. Prosecutors should only file those charges that are consistent with the overall interests of justice. A wide variety of factors may influence specific charging decisions.
"Of paramount importance, to bring charges, prosecutors must have a reasonable belief that the charges can be substantiated by admissible evidence at trial such that a jury would convict the accused. It is not ethical for District Attorneys to bring criminal charges only to 'send a message.' It is my belief based on my review of the Commission's report that, after a trial placing the actions of the judge in context, it would be highly unlikely that a jury would reach a guilty verdict.
"In particular, extreme workloads for judges may create situations in which meeting the 90-day window for matters under submission is not in the overall interest of justice. I have reviewed the Commission's findings and I believe the Commission overstated the opportunity for Judge Reinholtsen to re-assign work to other judges. Humboldt County judges all face persistently extreme workloads. The state has determined that to give Humboldt County judges reasonable workloads two additional judges would be needed.
"In conclusion, I have determined that criminal charges are not appropriate in this matter. A Commission well-positioned to evaluate the situation has concluded that public admonishment was appropriate, rather than actions that would lead to his removal."
Cooley Comments
Former Los Angeles County District Attorney Steve Cooley remarked:
"Public prosecutors often decline criminal prosecution when an administrative process to adjudicate, sanction, and remediate is available. The bigger question is whether or not the extant 'salary affidavit' system is the best way to deal with the issue of judicial workload enforcement. Given the huge budget cutbacks suffered by trial courts throughout California over the last several years along with no apparent workload reductions, I can only guess that Judge Reinholtsen may not be the only violator. I have never heard of those sorts of issues being formally referred to any public prosecutor for investigation or prosecution."
Lee Kanon Alpert, a former president of the San Fernando Valley Bar Association, expressed this view:
"When police officers commit crimes they are not just sent to their board of rights administrative hearing but are prosecuted as well criminally and often rightfully told when convicted and sentenced that their crime is that much worse because of their oath of office and special trust. Their sentences determined by judges are often more harshly imposed because of that public trust.
"Judges are no different in terms of the high esteem in which they are and should be held in and the special public trust they hold or oath they take.
"Professional institutional organizations have no authority above the law. They can hand out their administrative discipline they deem appropriate but that does NOT serve to supersede or replace prosecution under the law when laws are clearly violated."
He said that Fleming's decision not to prosecute "further justifiably taints an already suspicious public view as to fair and equal justice for all."
Fleming Criticized
Charles Calderon, who is a former Senate and Assembly majority leader and chaired the Senate Judiciary Committee, also faulted Fleming, saying:
"I sympathize with the case load and staff shortages in Humboldt County. While in the Legislature I tried to change the law to give trial courts direct control over their budgets instead of filtering all court funding through the California Judicial Council which is far removed from the day to day operations of our courts and unlike our trial court judges are unelected. However, the Humboldt District Attorney's decision against further investigation is confusing at best.
"The D.A. appears to base her decision against further investigation because the Commission on Judicial Performance sought merely to 'reprimand' Judge Reinholtsen instead of pronouncing a more severe punishment like removal from the bench, a jury would have trouble convicting on the facts, and to paraphrase the rest of her reasoning— it's her call. To be sure no one can tell a prosecutor when to prosecute, but on the facts in this case, I think a jury might find it less difficult a task than did the District Attorney."
One Los Angeles Superior Court judge noted that Fleming, who was elected as district attorney last November, had been a deputy in the office for 20 years. The judge remarked:
"In a county of this size, and with her daily contact with the bench for so long, why didn't she recuse herself from the charging decision and let it be made by the AG?"
The Office of Attorney General Kamala Harris did not respond to an inquiry as to whether that office would consider a prosecution of Reinholtsen.
Copyright 2015, Metropolitan News Company