Tuesday, November 17, 2015
Page 1
Services Next Month for Retired Judge James Reese
By a MetNews Staff Writer
Services are scheduled Dec. 12 for retired Los Angeles Superior Court Judge James N. Reese, who died Oct. 31 at the age of 96.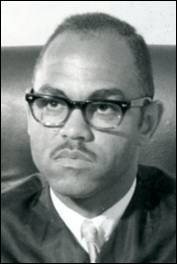 JAMES N. REESE
1919-2015
Presiding Judge Carolyn Kuhl notified the court's staff and judicial officers of Reese's passing Friday by email. The former presiding judge of the court's Appellate Department, now known as the Appellate Division, had an "extraordinary life and career" and "will be sorely missed by those of us who knew him and valued his friendship," Kuhl said.
Reese was a native of New Orleans who taught high school English, and attended Valena C. Jones Teachers Normal College, Xavier University, and Dillard University in that city before World War II. Following military service, he attended USC's law school, graduating and earning admission to the State Bar in 1946.
He practiced civil, criminal and probate law from 1946 to 1965, part of that time in partnership with Xenophon Lang, who went on to become a Los Angeles Municipal Court judge. The two men had known each other since student days in New Orleans, where both were active in the civil rights movement.
Other lawyers he worked with included Tom Bradley, who went on to become mayor of Los Angeles, and Yvonne Braithwaite Burke, who became a state lawmaker and county supervisor.
Reese also belonged to numerous organizations, including the NAACP, the National Urban League, and the New Frontier Democratic Club. He founded the Victors Democratic Club, and was an active supporter of then state-Assemblyman Charles Warren, a local Democrat.
In 1965, he was appointed to a post in the state Office of Economic Opportunity by then-Gov. Pat Brown, and helped establish the state's first legal aid clinics. His job, he said in a 1983 MetNews interview, was to "open the door of the courthouse to poverty-stricken persons, to make legal services accessible to everybody."
By the time he left the OEO, to become executive director of San Fernando Valley Neighborhood Legal Services, there were 230 such organizations in California, he said. He later became general counsel of Ray Charles Enterprises, Inc., a post he left in 1970 to become a Los Angeles Superior Court commissioner.
Gov. Jerry Brown appointed him a Compton Municipal Court judge in 1975, then elevated him to the Superior Court in 1980. He avoided an election contest in 1982 when his opponent failed to return nominating papers by the deadline.
He served as presiding judge of the Appellate Department from 1984 to 1985 and sat by assignment in the Div. Seven of the Court of Appeal from 1987 to 1988.
He retired from the bench in July 1988.
The memorial service will be held Dec. 12 at 11 a.m. at the United University Church, 817 W. 34th Street, Los Angeles, CA 90089. It's in the Hoover and Jefferson area behind the USC gate, and attendees can enter the campus through Gate 5 to a parking structure.
Reception/repast will follow immediately at the church.
Copyright 2015, Metropolitan News Company