Wednesday, June 3, 2015
Page 1
C.A. Upholds Schwarzenegger Commutation for Assembly Speaker Nunez's Son
By KENNETH OFGANG, Staff Writer
The Third District Court of Appeal yesterday said then-Gov. Arnold Schwarzenegger didn't violate any laws when he reduced the prison term imposed on the son of former Assembly Speaker Fabian Nunez just before leaving office.
"We are compelled to conclude that, while Schwarzenegger's conduct could be seen as deserving of censure and grossly unjust, it was not illegal," Justice Harry E. Hull Jr. wrote for the court in an unpublished opinion.
On his last day in office in 2011, Schwarzenegger's office announced that he had commuted the 2010 sentence of Esteban Nunez to seven years from 16 years in the stabbing death of college student Luis Santos in San Diego. The commutation had actually been issued two days earlier, and Hull said it was obvious that there were "[b]ack-room dealings" afoot, since Nunez had signed a notice of withdrawal of his appeal more than three weeks before the sentence was commuted, although his lawyer didn't file the notice until after the commutation was announced.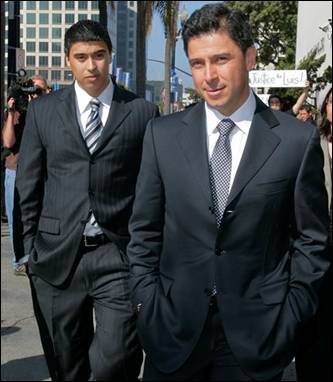 —AP
In this file photo, former California Assembly Speaker Fabian Nunez, right, and his son Esteban Nunez, left, leave a hearing in Superior Court in San Diego.
Santos, then a student at San Diego's Mesa College, was killed in October 2008 during a confrontation with Nunez and his friends, who had been turned away from a party near the San Diego State University campus.
Governor's Explanation
Nunez was one of four defendants in the case, and the governor's order of executive clemency said his sentence was reduced because it was unjust for him to receive the same term as a co-defendant who actually struck the fatal blow. But Nunez admitted his role in the attacks on Santos and three other unarmed victims, Hull noted, and that he seriously injured two of the victims by stabbing them.
Hull added that, although Nunez expressed contrition in a letter to the judge prior to sentencing, "the probation report states Nunez lied when first contacted by police, was 'never cooperative,' and after his arrest and release sent a text message to a codefendant stating, 'Gangster rap made us do it lol.'"
Prison records show that Nunez remains incarcerated at Mule Creek State Prison.
Frederico and Kathy Santos, the deceased victim's parents, as well as San Diego County District Attorney Bonnie Dumanis and the three survivors of the attack, sued to overturn the shortened sentence, arguing that the governor violated Marsy's Law, a voter-approved constitutional amendment that requires victims to be notified before a decision. Five district attorneys filed an amicus brief supporting their position.
Court's Reasoning
But the Court of Appeal agreed with a Sacramento Superior Court judge who ruled that Marsy's Law's provision granting victims the right to participate in "parole or other post-conviction release proceedings" does not extend to executive clemency, which the court said is not a "proceeding" in the legal sense.
"Marsy's Law, despite its obviously expansive protection of victims' rights does not restrict the executive's clemency powers under California Constitution, article V, section 8, subdivision (a) or the clemency statutes, and we must affirm the judgment," Hull wrote. He noted that the initiative, in addition to amending the Constitution, also amended statutes related to parole, but left untouched the laws relating to executive clemency.
The justice also pointed out that the Legislature responded to Schwarzenegger's action by doing what Marsy's Law didn't do, passing a law requiring that prosecutors and victims be given advance notice of the governor's intent to grant clemency and an opportunity to respond.
Presiding Justice Vance W. Raye wrote in a concurring opinion:
"As reprehensible as the Governor's action in this instance might have been, it would be equally reprehensible to ignore the clear language of a constitutional provision. We are constantly urged to do 'justice,' unconstrained by the Constitution or anything beyond our own notions of right and wrong as expressed through our findings of legislative intent. That is not how the law works in a constitutional democracy."
Justice William Murray Jr. added in his own concurrence that the word "proceeding" cannot be reasonably construed to include a process "which the governor conducts in a private setting within the confines of his or her office." The plaintiffs, he said, were asking the court to "write [the] words 'commutation' and 'clemency' into Marsy's Law for the electorate."
A spokesman for Dumanis said she will appeal.
The case is Santos v. Brown, C072785.
Copyright 2015, Metropolitan News Company