Tuesday, January 6, 2015
Page 1
Retired Court of Appeal Justice Richard Neal Dies at 67
By a MetNews Staff Writer
Retired Court of Appeal Justice Richard Neal has died at the age of 67.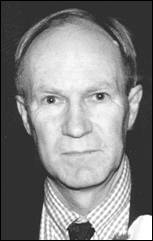 RICHARD NEAL
1947-2015
Los Angeles Superior Court Presiding Judge Carolyn Kuhl informed the court of Neal's passing by email on Friday.
"It is with deep sadness that I inform you of the passing of our former colleague retired Justice Richard C. Neal yesterday surrounded by his family," she wrote. "He will be sorely missed by those of us who knew him and valued his consummate professionalism, devotion to the law and friendship."
Neal was appointed to the Superior Court bench by then-Gov. Pete Wilson on Jan. 15, 1992. He was assigned to Central Criminal and later served in Central Civil.
In 1997, he was elevated to the Court of Appeal by Wilson. He retired in February 2001.
He said at the time that the expenses of raising and educating five sons, from two marriages, were inconsistent with further judicial service.
He joined JAMS as a private judge.
Neal was born in San Francisco, but moved to Chicago as a teenager, after his father was named dean of the University of Chicago's law school.
His brother was prominent attorney Stephen Neal, chairman of Cooley LLP.
He practiced in the Los Angeles offices of two firms that no longer exist, Lawler, Felix & Hall and Pettit and Martin, from 1973 until his appointment to the Superior Court. His practice was focused on business torts and contract and antitrust law.
A self-described "constructive conservative" and member of the Federalist Society, he served on the boards of the Sudden Infant Death Syndrome Alliance and the Foundation for Infant Botulism Research. He once told a reporter that he hoped those efforts might "redeem…in some fashion" the loss of his 3-month-old son, who died of SIDS in 1988.
Survivors include his wife, attorney Barbara Reeves Neal.
Copyright 2015, Metropolitan News Company