Wednesday, December 23, 2015
Page 3
C.A. Denies Model's Bid for Recompense for Use of Her Likeness
Former Reality-TV Star Taekman Says Use of Photos of Her Were to Be for Only One Year
By a MetNews Staff Writer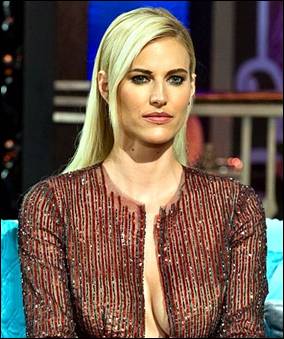 KRISTEN TAEKMAN
Model Kristen Taekman, who recently announced she will not return for the next season of the cable television reality series, "The Real Housewives of New York City," has lost a bid in the Court of Appeal to recoup damages from a manufacturer of intimate apparel that continued using of photos taken of her in 2001-03 which, according to her complaint, she thought would be utilized for only a year.
Taekman testified that when a model is paid for a day's work in posing, the customary period of usage is one year. But a principal of the defendant company swore that it had been agreed, orally, between it and Taekman's modeling agency that the images could be used so long as the company was selling the items that were modeled.
The model did not personally sue the defendant, Bra Smyth of California, Inc. Rather, she assigned her cause of action to an outfit—Timed Out, LLC—that specializes in representing models who contend that photographs of them are commercially exploited beyond the agreed-upon period.
Taekman allegedly discovered in 2011 that the photos were included in Bra Smyth's latest printed catalogue and it was subsequently realized that they also appeared on the company's website. (That website, as of yesterday, was comprised merely of a psge announcing that it was undergoing reconstruction.)
In its unpublished decision Monday, the Sixth District Court of Appeal said it had no problem with Taekman's assignment of her claim, but did find fault with her lynchpin legal argument that a Santa Clara Superior Court judge erred in admitting testimony that indefinite use of the photos was consistent with the alleged oral agreement. An in limine motion barring that testimony should have been granted, Timed Out asserted, because the contract was not one that had to be performed within one year, and therefore, under the statute of frauds, had to be in writing.
Any unenforceable oral contract, it argued, was irrelevant.
Disagreeing, Justice Eugene M. Premo said that the statute of frauds—embodied in Civil Code §1624—is "inapplicable to this case." He explained:
"The statute of frauds dictates that certain contracts, if not reduced in written form, are unenforceable. However, Timed Out did not bring a cause of action seeking to enforce a contract. And, there is no requirement in the statutory or common law causes of action of misappropriation of likeness that a plaintiff's consent must be shown by the existence of a valid, enforceable contract."
Premo also observed that "the oral agreement is not one in which it could not have feasibly been completed within a year."
He noted:
"An agreement to use Taekman's images for an indefinite duration is analogous to a contract for permanent employment that has an indefinite duration. And, courts have consistently construed permanent employment contracts as outside the statute of frauds, because they can be performed in less than a year even if the job extends past a year."
The case is Timed Out, LLC v. Bra Smyth of California, Inc., H039601
Copyright 2015, Metropolitan News Company