Monday, February 9, 2015
Page 1
Court of Appeal Won't Seal Records in Dispute Between NCAA and Ex-Coach Todd McNair
By a MetNews Staff Writer
The Court of Appeal for this district on Friday declined to seal records lodged by the National Collegiate Athletic Association in connection with the defamation action against it by former USC running backs coach Todd McNair.
Los Angeles Superior Court Judge Frederick C. Shaller on Nov. 21, 2012, held that about 400 pages of documents the NCAA wanted withheld from public view do not meet the standards for sealing, but conditionally sealed them to permit appellate review. Likewise, Div. Three on Friday returned to the NCAA the records it had, itself, conditionally sealed, maintaining secrecy so that a petition for rehearing or a bid for review by the California Supreme Court would not be rendered moot.
McNair's action for libel, slander, and other torts, as well as breach of contract, stems from the NCAA's "enforcement" proceeding (to enforce its rules) which led to severe sanctions in 2010 against USC based on improper receipt of cash and other benefits by running back Reggie Bush (now with the Detroit Lions). A month later, USC decided not to renew McNair's contract.
The NCAA argued that the sealing of records was necessary to maintain the integrity of its enforcement proceedings, in which testimony is often received with the promise of confidentiality.
Presumption Not Overcome
"On balance," Justice Richard Aldrich wrote in rejecting that contention, "…the NCAA's interest in ensuring the confidentiality of its investigations is insufficient to overcome presumption of, and the courts' obligation to protect the constitutional interest in, the openness of court records in ordinary court proceedings."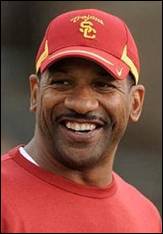 —AP
USC running backs coach Todd McNair.
He also said the NCAA failed to show a probability of prejudice from public disclosure of the materials—which include a report by the NCAA's Committee on Infractions, memoranda, excerpts of interviews, transcripts, McNair's appeal to the NCAA Appeals Committee, his opposition in the Superior Court to the NCAA's anti-SLAPP motion, e-mails between persons who were investigating allegations against Bush, and other materials.
(In connection with those e-mails, Shaller observed that "the conduct that is shown by the persons involved in this investigation is over the top, it's malicious, and I think it was directed for an outcome." In denying an anti-SLAPP motion directed to the defamation claims, Shaller found that McNair had a probability of prevailing on them.)
Aldrich noted that the controlling case is NBC Subsidiary (KNBC–TV), Inc. v. Superior Court (1999) 20 Cal.4th 1178 which laid down the rules for sealing orders. There, the state Supreme Court said, in an opinion by then-Chief Justice Ronald M. George:
"[B]efore substantive courtroom proceedings are closed or transcripts are ordered sealed, a trial court must hold a hearing and expressly find that (i) there exists an overriding interest supporting closure and/or sealing; (ii) there is a substantial probability that the interest will be prejudiced absent closure and/or sealing; (iii) the proposed closure and/or sealing is narrowly tailored to serve the overriding interest; and (iv) there is no less restrictive means of achieving the overriding interest."
Aldrich found that the first two requirements was not met, and said it was therefore not necessary to discuss the other two.
No Overriding Interest
"[T]he NCAA cannot make the showing of an overriding interest to justify sealing merely because its internal bylaws say so by designating certain documents as confidential," he wrote.
Responding to the contention that McNair was contractually bound to respect the confidentiality of the enforcement proceedings, Aldrich said:
"Rules of Court, rule 8.46(d)(1) expressly states that a record 'must not be filed under seal solely by stipulation or agreement of the parties.' Thus, the mere agreement of the parties alone is insufficient to constitute an overriding interest to justify sealing the documents."
The jurist rejected the NCAA's argument that its proceedings are privileged.
"In essence, the NCAA's argument is that its insistence on a confidential investigative process endows it with a privilege which would be akin to an overriding interest," Aldrich wrote. However, the California Legislature has abolished common law privileges and precluded courts from creating new nonstatutory privileges as a matter of judicial policy."
He found inapposite a case dealing with the news media's qualified privilege to refuse, in discovery, to reveal confidential news sources or unpublished information.
"The NCAA, a private, voluntary organization, is not the media and so no such concomitant privilege exists for the organization," Aldrich said.
Prejudice Not Probable
He said that even if the NCAA had succeeded in showing an overriding interest in confidentiality, sealing would be precluded by its failure to show a "substantial probability" that its interest would be impaired if public disclosure of the documents occurred.
Aldrich rebuffed the notions that disclosure would hamper future NCAA investigations. Acknowledging that some witnesses might shy away from telling what they know, if their testimony might become public, he said it is "just as likely that witnesses would be encouraged to give specific examples of their concerns rather than to gossip."
The NCAA asserted that it was in need of privacy in reaching its determinations, just as judges and juries need it in connection with their deliberations.
The argument drew this response:
"[T]hese policies and laws do not apply to the NCAA; the NCAA is neither a part of our judicial system nor of our law enforcement apparatus. It is a private, voluntary organization. Unlike the judiciary, the NCAA is more akin to a private employer who investigates misconduct of its employees. When the adequacy of an employer's investigation into an employee is at issue in a lawsuit, the employer must produce its files and disclose the substance of its non-privileged internal investigation."
The case is McNair v. NCAA, B245475.
Bruce A. Broillet and Scott H. Carr of Greene, Broillet & Wheeler, along with Stuart B. Esner of Esner, Chang & Boyer, represented McNair. Michael L. Mallow, Laura A. Wytsma and Meredith J. Siller of Loeb & Loeb argued the NCAA's position.
Copyright 2015, Metropolitan News Company