Monday, January 12, 2015
Page 4
PERSONALITY PROFILE:
JIM MCDONNELL
Expecting to Be a Policeman-on-the-Beat in Boston, He Becomes Los Angeles County Sheriff
By KENNETH OFGANG, Staff Writer
t's a story that almost writes itself.
A young Irish couple—he from Dublin, she from Galway—seeing nothing in the way of opportunity in their native land, come to America, and settle in Boston, where a relative already lives. A year later, their son is born.
The boy, smart and ambitious, excels at (Catholic) school and in sports, majors in criminal justice, interns at the Boston Police Department, and goes on to become an officer there.
It all happened, except for the last part.
Boston is in his voice, and in his heart, but his desire to become a police officer in Boston gave way to events of others' creation. And so Jim McDonnell, who grew up near what he describes as "a shrine"—Fenway Park—and remains a devoted fan of the Red Sox and other Boston teams, is now the highest-ranking law enforcement officer in Los Angeles County.
("The Dodgers are my National League team," he says, reassuringly.)
The son of a laborer and a homemaker, McDonnell grew up playing baseball, football and hockey, and later took up boxing, lacrosse and rugby.
His high school, Don Bosco, offered a college preparatory program, but it also required every student to learn a trade, in his case drafting. He had "an eye toward becoming an architect," and was offered a partial college scholarship.
And then, he recalls, "sitting at a drafting table, asking myself, at 17 years of age, could I do this eight hours a day, five days a week, for the rest of my life?" The answer, he says, was "I'd go crazy."
The next question he asked himself, he says, was "What could I do where every day I could meet new people, where every day is a new challenge, where at the end of the day I could feel like I did some good, or I helped somebody"?
The answer, he says, is "that if you did it right, police work satisfied that."
Criminal Justice Department
So he turned down the architecture scholarship, and headed off to St. Anselm College near Manchester, N.H. The Catholic liberal arts school had, and has, a well-respected criminal justice department, and the location—60 miles from Boston—enabled McDonnell to come home weekends and pick up odd jobs to help pay expenses, McDonnell says.
He did his Boston P.D. internship his senior year, and was hopeful of being hired after graduation. But then came 1980's Proposition 2½, a tax-cutting measure similar to California's Proposition 13.
The major difference between the two measures was that California had a huge budget surplus, which the governor and Legislature used to "backfill" revenues lost by local governments in the short term.
That didn't happen in Massachusetts, and Boston was forced to lay off 25 percent of its police force. If he wanted to fulfill his plan of becoming a police officer, McDonnell says, he knew he had to "think outside my comfort zone" and look for opportunities beyond New England.
Drawn to LAPD
The Los Angeles Police Department, he says, had a good reputation, and it was hiring.
"I never thought in my life I would get on the police department in Los Angeles" he says, because he knew no one in the city. "But I knew that if I didn't give it my best shot, I'd be regretting it for the rest of my life," so he came out during spring break from school and took a set of tests.
He did well enough to be asked back for a longer set of tests after graduation. So, he explains, he bought a plane ticket, threw some clothes in a gym bag, bought a travel guide, "either Frommer's or Fodor's," flew to LAX, and took a bus to Hollywood.
The place he stayed at was a "dump," but it was near a bus stop, which enabled him to travel to and from downtown for the testing. When it was over, he remembers, he was told he started the police academy in two weeks.
After having come west with only $400 and his clothes, he recollects, he found a temporary job with the city so that he could pay the rent for the two weeks, then spent the next 29 years with the LAPD.
He started on patrol duty in West Los Angeles, then went to San Pedro. Becoming an upper-level manager was the furthest thing from his mind, he says.
"My goal was to someday be a homicide detective," he explains.
He went to West Bureau C.R.A.S.H, a gang unit, then to the Intelligence Division, and ultimately was promoted to detective and assigned to 77th Street Division. The homicide rate at the time, he notes, was "through the roof."
Works Under Gates
He continued to rise through the ranks, becoming a sergeant in the Watts-area Southeast Division, working vice, and then being assigned to the office of Chief Daryl Gates, for whom he spent 2½ years handling internal investigations.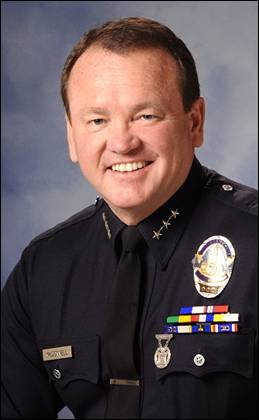 McDonnell as LAPD assistant chief 2009.
Gates, now remembered mainly for a penchant for impolitic remarks over 14 years in the top job, was "a very misunderstood person" who loved the department and had little tolerance for officer misconduct, McDonnell says. After his time with Gates, the then-lieutenant went to Hollenbeck Division, for more than two years, before coming downtown to Parker Center, where he assisted in the citywide implementation of community policing between 1995 and 1998.
Promoted to captain, he went to the Southwest Division, then the Training Division, and then back downtown to work in the Management Services Division as a senior-level captain.
Challenging Times
The years following Gates' 1992 retirement were challenging for the department, McDonnell remembers. The beating of African-American motorist Rodney King, the state and federal trials of the officers involved, and the riots that plagued the city after the state trial ended without a conviction led to the passage of a ballot measure making significant changes in how the department is managed.
While Gates and his predecessors were selected under a civil service process and were virtually immune from removal, subsequent chiefs have been appointed by the mayor, with council approval, for fixed five-year terms. There have been four permanent and three acting chiefs in the 22 years since Gates retired.
"We were in uncharted waters," McDonnell says, during "an unprecedented time in policing." The department was "under the microscope for the rest of the world to look at, both good and bad," and "there was no better place, or more challenging place, to be a police officer."
McDonnell was promoted to commander under Bernard Parks, who became chief in 1997. But like many in the organization, he says, he was frustrated with a new series of crises, including the Rampart scandal and the adoption of a consent decree mandating policy changes and providing for federal monitoring of the department.
Seeks Top Post
Parks, now a Los Angeles City Council member, found himself increasingly at odds with the civilian board that oversees the department, and the board voted not to appoint him to a second term as chief. That led to a new selection process in 2002, and McDonnell threw his hat in the ring.
"I knew I was a longshot," he says now, but applied anyway because "if I was going to complain, I felt I should try to be the agent of change."
A number of high-ranking officers were leaving the department in this period for top-level jobs with other departments, but McDonnell says he was focused on LAPD and wanted to "be in a position to help the men and women who were on the street every day."
He sought the job as an advocate of community-based policing, but lost out to William Bratton, who had previously headed the Boston and New York police departments. It was an unsurprising selection, McDonnell says, because Bratton had "the most recognizable name in policing in the country."
Bratton offered to make McDonnell his first assistant chief, and the younger man accepted. Although they had competed for the chief's post, the two had known each other since their Boston days and "there were no issues" between them.
It was a good partnership, McDonnell says. Bratton "brought a fresh perspective and was not beholden to past practices things that the organization saw as sacred," he remarks.
Bratton's approach was characterized by the implementation of community-based policing, in line with McDonnell's earlier work; an intense focus on gang-related crime; intolerance of corruption within the department; and efforts to strengthen ties between LAPD and the city's residents, with renewed emphasis on minority hiring. It worked, McDonnell says.
"The pride was back," he comments. "People felt like there was direction…and LAPD was recognized again as a leader."
Makes Second Bid
But one effect of having a fixed-term chief, McDonnell acknowledges, is that people within the organization keep an eye on the calendar and try to plan their own futures around the chief's potential departure date. So when Bratton announced in 2009 that he was leaving to head a private security company, McDonnell and others had to move up their own timetables, and he again had to decide whether to throw his hat in the ring for chief.
While he knew there would be other strong candidates, McDonnell says, none would be icons in the field like Bratton. So he again applied for the position.
"I thought my chances were as good as they would ever be," he says. "I felt I had worked hard, and had developed my skills, and would be a successful candidate for chief of police."
But then-Mayor Antonio Villaraigosa picked Deputy Chief Charles Beck, who is six years older than McDonnell and had been with the department slightly longer, over McDonnell and Deputy Chief Michael Moore. The mayor told the Los Angeles Times that Beck would be his "partner in reform," and others said Beck's support in the African-American, Latino, and immigrant communities made him an ideal choice for the post.
Accepts New Post
With Beck choosing a new team of top managers, McDonnell began looking at other options. After commanding LAPD's detective bureau for a few months, McDonnell resigned to accept the post of Long Beach chief of police.
Although he lived in the city, McDonnell notes, he was very much the outside candidate for the job. The department's high command didn't want him, the officers' union didn't want him, and the editorial board of the local newspaper didn't want him either, he says.
He illustrates the point, chuckling, by pointing to a Long Beach Press-Telegram photo array of himself and six "insider" candidates for the position. The others, all of whom were photographed against a light background punctuated by the American flag, are smiling, while McDonnell is pictured against a dark background with his face curled in a frown.
But City Manager Pat West, after a series of interviews, picked McDonnell, whose appointment was confirmed by the City Council.
Despite the controversy over his selection, he "welcomed the opportunity to do the best I could…and deal with the issues that had to be dealt with in an honest and fair way," he says, adding:
"I believe I was able to do that. Morale improved, community relations improved, and we ended up as an organization that others were looking to for best practices."
Crime rates in the city plunged each year he was there.
Scrutinizes Sheriff's Department
A—perhaps the—crucial event in McDonnell's path to the sheriff's job came in 2011 and 2012, when he served on the Citizen's Commission on Jail Violence, created by the Board of Supervisors following a series of media reports and the disclosure that actions by Sheriff's Department personnel at the Men's Central Jail were under investigation by the FBI.
He was, he says "shocked" to learn through his work on the commission that the problems in the jail system were not merely the result of having a few rogue officers running amuck, but were part of "a culture that went to the top of the organization," which "condoned or encouraged" the abusive behavior of deputies down the line.
"This shouldn't have been happening, and no one thought this was happening, in 21st Century Los Angeles," he says.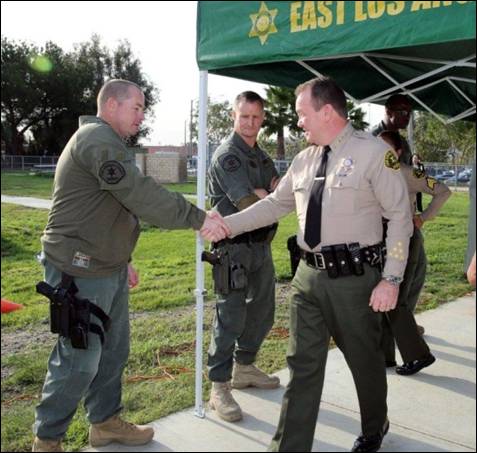 McDonnell greets deputies at the Sheriff's Department annual holiday event benefiting AbilityFirst, a charity for disabled individuals.
At the end of 2012, the commission presented its report to the Board of Supervisors, making 63 recommendations for reform. The report was particularly critical of then-Undersheriff Paul Tanaka, saying he personally encouraged aggressive conduct by deputies, and didn't reflect particularly well on then-Sheriff Lee Baca, who was due up for election in 2014 and gave no hint of stepping down.
McDonnell, up to that point, "never had an inkling of running for sheriff," but began receiving calls urging him to do so, he says.
"I gave it a lot of thought," he says, "but at that time I decided I would not do it."
His primary reason, he says, is that he did not feel he could run a campaign countywide and manage the Long Beach department at the same time. Besides, he says, he was genuinely hopeful that Baca and his command structure would embrace the commission report as "a blueprint for changes to bring the department forward."
That didn't happen, he says, citing the indictments of 20 deputies—seven of whom have already been convicted and sentenced—on civil rights and obstruction-of-justice charges.
It had become clear to career law enforcement officers that "we needed a different path," he declares.
Becomes Candidate
He was seriously reconsidering his earlier non-candidacy decision, he says, when Baca announced his resignation last January. After talking to his family—he's been married for 25 years to a former retail store manager , with two college-age daughters, one of whom is in law school—he decided to take the plunge.
He ultimately decided that "it was the same as when I made the decision to come to Los Angeles," more than three decades earlier, he relates. "I knew I'd regret it for the rest of my life if I didn't try."
The first-time candidate began listening to political advice, and as his first order of business knew that he had to hire a campaign consulting firm. He chose Parke Skelton and Steve Barkan's firm, SG&A Campaigns, he says, because they're "among the best in the business."
The firm was no stranger to sheriff campaigns, having previously worked for Baca. And it did a great job, McDonnell says, showing a neophyte candidate the ropes in terms of slate mail, fundraising, strategy and logistics.
While he had always enjoyed meeting people and sharing his ideas, he says, he was never comfortable asking for money. But the campaign was successful at raising it, particularly after McDonnell came within a whisker of winning outright in the primary.
No Meaningful Competition
That result wasn't a disappointment, he discloses, because he didn't feel he had left anything on the battlefield. He was in a run-off with Tanaka.
The same no-regrets philosophy that got him into the race, he explains, animated his performance as a candidate, saying he spent "every waking moment of the day" out on the campaign trail or raising money, while continuing to run his department in Long Beach.
What he was particularly proud of, he mentions, is that the campaign appealed to, and attracted, support across the board. Endorsed by leading Democrats and Republicans, and by fellow law enforcement professionals around the county, he eventually won over support of the law enforcement unions, which he says he initially doubted he could get behind him.
"I had to run a political campaign, but I didn't want to be political," he says, wanting to run as a police executive, not a politician. It didn't hurt that he wound up in a runoff with Tanaka, who finished a very distant second, with 15 percent of the vote.
Election Appeared Certain
The vast difference in the two candidates' vote totals, and the disdain that the media, officeholders, and a lot of other people had for Tanaka in the wake of the CCJV report, made McDonnell's election seem inevitable.
He was announced as a recipient of the Metropolitan News-Enterprise "Person of the Year" award a month in advance of the election.
But the candidate says he took nothing for granted, even though his opponent's fundraising dried up and his campaign staff was let go right after the primary.
"I couldn't relax," he says. "I didn't know what the voters were going to do."
The conventional wisdom proved correct, as the primary frontrunner took 75 percent of the runoff vote. He was sworn in on Dec. 1, promising to both restore the public's trust in the department and restore the pride that its own personnel may have lost amidst scandal.
"This is a difficult time in American policing," he says, "where, from the….officer's perspective, there's not enough support for the job they do every day, and that's true on the national level, while from the community's perspective, there's a demand for increased accountability and expectations beyond what was ever there previously."
McDonnell says it's "never been tougher" to be a peace officer than it is today.
"I don't think a deputy or an officer today would tell you that their stress level comes from crime at all," he postulates. "It comes from pressure from within the department as to how the job is done, as well as the level of accountability and scrutiny that comes from the community and the media."
He continues:
"And yet they do a job that is as complex as any in the world, where you have so little time to make a decision that will be evaluated and assessed for years to come."
Unlike doctors, lawyers, and other professionals, McDonnell says, police have no time to ask for second opinions or do research. In no other profession, he says, is one called upon to make a life-altering decision in the space of less than a second, sometimes with "very little information, at 3 a.m. in an alley, with very little light."
But McDonnell says the opportunity to guide, and represent, the men and women of the department—it has about 18,000 employees, including 9,000 sworn deputies—"is the greatest job I could ask for."
____________________________________________________
Accolades for McDonnell
Although I have met Sheriff McDonnell a few times, I have had the opportunity to observe from afar his service as the Chief of Police here in Long Beach. He has done a tremendous job and has earned the highest respect from Long Beach Police Officers who have not always treated outsiders warmly.
I am confident that, given time, Sheriff McDonnell will reform the Los Angeles County Sheriff's into one of the more pre-eminent law enforcement agencies in the country.
ROBERT PARKIN
Judge, Los Angeles Superior Court (retired)
Former Presiding Judge
I have had the gift of Jim's friendship for over 25 years now and can attest to his strength of character, humility and great sense of humor—that must come from his Irish roots. Jim is most humble and if you look closely at his bio, you will see a reference to his being awarded the Medal of Valor by LAPD. Nothing more said no citation for what he did, just that he received it. I can tell you the Medal of Valor is not given lightly and is only awarded to those brave souls who put their own life at risk in order to save another or capture and exceptionally dangerous criminal. We are most fortunate to have him as our new LA County Sheriff, a humble, smart and honorable public servant.
BRENT BRAUN
Attorney at Law,
Former Supervisory Special Agent, FBI
For more than 30 years Jim McDonnell has been protecting our community. He has held every rank in the LAPD including the second in command title of First Assistant Chief, providing him a distinct perspective and earned him the respect of those under his command. His commitment to building relationships with communities and collaborating with other leaders has been effective in reducing crime throughout the region. Jim McDonnell's career is an embodiment of the "to protect and to serve" motto, it is most appropriate he continue "a tradition of service" leading the world's largest sheriff's department and is named as one of the Persons of the Year by Metropolitan News-Enterprise.
RICHARD BLOOM
Member of the Assembly
Sheriff Jim McDonnell is the epitome of an inspirational and innovative law enforcement leader. He combines the courage and dedication of a street cop with the sophistication and expertise of a seasoned executive. Above all, the sheriff is a consummate people person, relating to ethnic groups, the community in general, his deputies and civilian employees as well as other law enforcement officers of all ranks and other government officials. With just over 30 days in office he is tackling the toughest issues in the Sheriff's Department and earning praise from the press and residents of Los Angeles County.
ROBERT H. PHILIBOSIAN
Of Counsel, Sheppard Mullin Richter & Hampton LLP,
Former Los Angeles County District Attorney
Copyright 2015, Metropolitan News Company