Tuesday, February 10, 2015
Page 1
Lui Seeks Return to Court of Appeal Post
Now 74, He Seeks Appointment From Governor Who Previously Appointed Him
By a MetNews Staff Writer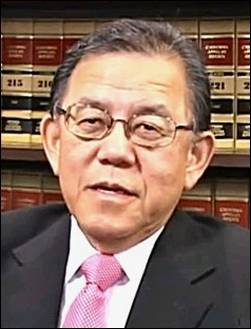 ELWOOD LUI
Attorney, former justice, Court of Appeal
Elwood Lui, who served as a justice of this district's Court of Appeal from 1981-87, is under consideration for reappointment to his old post.
While Marcel Poché returned to the Santa Clara Superior Court in 2002, after having served on the First District Court of Appeal from 1979-2000, the resumption of service on an appellate court after retirement would be unusual, if not unprecedented. (Poché, who explained upon his return to the bench that he "flunked retirement," again recently retired.)
Lui is now of counsel to Jones Day, the firm he joined upon quitting his appellate court post. At that time, he was president of the California Judges Association.
Governor's Good Graces
Although he turned 74 last Wednesday, his application is apt to be acted upon favorably by Gov. Jerry Brown. It was Brown who placed him on the Los Angeles Municipal Court judge in 1975 (when Lui was 34), the Los Angeles Superior Court judge in 1980, and on the appeals court.
The Asian Pacific Bar of California in 1986 urged Gov. George Deukmejian to name him to a vacancy on the California Supreme Court. but its effort was ill-starred. Deukmejian, as attorney general and thus a member of the Commission on Judicial Appointments, voted against the confirmation of Lui on July 17, 1981.
Lui, the son of an immigrant grocer, worked his way through UCLA Law School. He also received his undergraduate degree and MBA from UCLA.
He was admitted to the State Bar in 1970 and became a deputy attorney general, turning to private practice in 1971.
Lui also has a license as certified public accountant, which he was awarded in 1966.
Challenged Seniority System
As a Municipal Court judge, he challenged the seniority system in 1978, running for presiding judge against the court's seniormost member who had not previously served in that post. He lost by two votes.
(The tradition was crushed the following year when a young judge named Norman Epstein—now a Court of Appeal presiding justice in this district—gained election as a presiding judge.)
Lui is presently serving, on a volunteer basis, as "prison compliance officer," appointed by a three federal judges to determine when penal facilities reach their capacity.
In 1990, the Los Angeles County Board of Supervisors appointed him interim director of the Department of Children's Service following the resignation of the director, Robert Chaffee.
Brown last October appointed Lui to the California Medical Board.
The former jurist was president of the UCLA Law School Alumni Association in 1984-85.
Lui, a Republican, was chair of a bi-partisan Judicial Advisory Selection Committee for the Central District of California while George W. Bush was president. When Barack Obama was elected president, U.S. Sen. Diane Feinstein formed a similar committee, with former State Bar President Holly Fujie (now a Los Angeles Superior Court judge) as chair, and Lui as a member.
He has also served as a member of the Los Angeles City Harbor Commission, a special master for the State Bar disciplinary system, and a member of the Judicial Council.
Copyright 2015, Metropolitan News Company