Thursday, August 27, 2015
Page 1
Services Today for Retired Judge John Leahy, Dead at 78
By a MetNews Staff Writer
A funeral mass and interment are to take place in Indiana today for retired Los Angeles Superior Court Judge John Leahy, who died last week at the age of 78.
"It is with deep sadness that I inform you of the passing of our former colleague retired Judge John H. Leahy on Wednesday, August 19, 2015, following a short battle with cancer," Presiding Judge Carolyn Kuhl wrote in an email to judicial officers and staff yesterday. "Judge Leahy will be sorely missed by those of us who knew him and valued his friendship."
Leahy held undergraduate and law degrees from the University of Notre Dame, and was active in alumni affairs. His funeral mass will take place at the Basilica of the Sacred Heart on the university campus.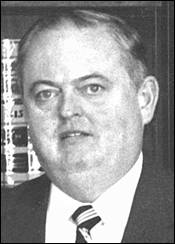 JOHN LEAHY
1937-2015
A native of Evanston, Ill., he first came to California as a member of the U.S. Navy, which he joined following his 1959 graduation with a bachelor's degree in journalism. He once told a reporter that he planned to make the service a career, but he "threw up every time we went outside the outer breakwater."
After two years of active duty that included two collisions off the California coast, he returned to Notre Dame to study law. He remained a member of the Naval Reserve until he retired at the rank of captain in 1990.
He began his law career in Chicago, where he had a solo practice in criminal defense. He left in 1967, however, and returned to California, practicing in Carson and Long Beach from 1968 until 1975, when he was appointed a commissioner in Compton Municipal Court.
He had also become active in local politics, serving one term on the Carson City Council.
Gov. Jerry Brown appointed him a judge of the Compton court in 1978. His hopes of elevation to the Los Angeles Superior Court were initially stymied, as the governor's staff told him on the last day of Brown's first tenure as governor that he was going to be appointed, only to tell him later in the day the governor had changed his mind, Leahy later related.
A Democrat since his Chicago days, he registered as a Republican the day George Deukmejian succeeded Brown in 1983.
"You can see how much good it did," he said in a 1991 interview. "I sat in Municipal Court eight more years."
He finally secured elevation by winning an unopposed election to the Superior Court, having hired political consultant Joe Cerrell with the intention of keeping other potential contenders out of the race.
He retired to Lake Arrowhead in 1998. On his last day on the bench, he told the MetNews that he had no particular regrets about his career, but would prefer not to be remembered for a controversy that erupted near its conclusion.
U.S. District Judge Stephen V. Wilson ruled in November 1997 that Leahy had violated the rights of Karleen George, then the president of the court clerks union, by banning her from his courtroom in retaliation for criticism she leveled at the court in a statement before the county Board of Supervisors. Leahy claimed the ban was initiated by his regular courtroom clerk and had been imposed because George had failed to deliver critical messages, claims that Wilson found unbelievable.
Leahy's family requested that donations be made in his memory to the Congregation of the Resurrection, 3601 N. California Avenue, Chicago, IL 60619; Attention: Brother Bill, the presiding judge said in her email.
Copyright 2015, Metropolitan News Company