Tuesday, January 13, 2015
Page 1
Ninth Circuit Denies En Banc Review in Idaho and Nevada Same-Sex Marriage Cases
By a MetNews Staff Writer
The Ninth U.S. Circuit Court of Appeals, over a dissent by three of its 29 judges, has denied en banc review of panel rulings striking down same-sex marriage bans in Idaho and Nevada.
The court handed down its order late Friday.
Idaho officials, led by Republican Gov. "Butch" Otter, lost in both the district and appellate courts, but argued that en banc rehearing should be ordered because the ruling conflicts with a Sixth Circuit decision upholding similar bans. That circuit—consisting of Ohio, Michigan, Kentucky, and Tennessee—is the only one that has issued such a ruling.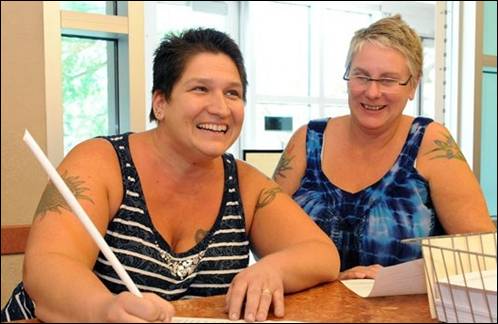 —AP
Tara Traynor and Cathy Grimes of Henderson, Nev. complete their marriage license application at the Clark County Marriage License Bureau in Las Vegas following the Ninth Circuit panel ruling in Sevcik v. Sandoval.
In Nevada, Republican Gov. Brian Sandoval and Democratic Attorney General Catherine Cortez Masto, who just left office, said they could no longer defend that state's ban in light of last year's ruling in SmithKline Beecham Corporation v. Abbott Laboratories, 11-17357. The court held in that case, which dealt with peremptory challenges to prospective jurors that classifications based on sexual orientation are subject to scrutiny, based on United States v. Windsor (2013) 133 S.Ct. 2675, which held the federal government could not refuse to recognize same-sex marriages that were upheld.
An intervenor, the Coalition to Protect Marriage, continued to defend the Nevada ban, which had been upheld by a district judge prior to the governor and attorney general dropping out of the case.
In October, a Ninth Circuit panel struck down the state bans. The U.S. Supreme Court declined to stay those rulings.
In his dissent Friday, Judge Diarmuid O'Scannlain, joined by Judges Carlos Bea and Johnnie Rawlinson, said that by denying en banc review, his colleagues have "utterly ignored another circuit's reasoned contribution to the debate."
He also noted that a 1971 Minnesota Supreme Court decision rejected a challenge to that state's same-sex marriage ban, and that for 42 years thereafter, no court anywhere held to the contrary. States, he said, should be free to decide the issue for themselves.
He cited the ruling of the European Court of Human Rights, which upheld the right of reach individual country to decide for themselves whether same-sex couples may marry. Only 10 of the 31 countries subject to that court's jurisdiction permit same-sex marriage, the court noted.
The cases are Latta v Otter, 14-35420, and Sevcik v. Sandoval, 14-35421.
Copyright 2015, Metropolitan News Company