Monday, November 30, 2015
Page 1
Kuhl Makes Few Changes in Administrative Ranks
Ricardo Ocampo, in Compton, Is Only New Supervising Judge
By KENNETH OFGANG, Staff Writer
Presiding Judge Carolyn Kuhl has unveiled a handful of changes in the Los Angeles Superior Courtís administrative ranks, effective at the beginning of the year, including a single new supervising judge.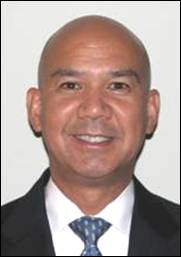 RICARDO OCAMPO
Los Angeles Superior Court Judge
Kuhl Wednesday named Ricardo Ocampo, 50, to replace John Cheroske, 80, as supervising judge of the South Central District. Ocampo, has been a judge since 2008 and was previously a deputy district attorney. He is a graduate of San Francisco State University and Southwestern Law School, and he served for two years as a Los Angeles Superior Court research attorney before becoming a prosecutor.
Cheroske has been a member of the court since 1992. He was previously in private practice in Torrance, Inglewood, and Marina del Rey,
Three districts will get new assistant supervising judges. Joseph Brandolino replaces Martin Herscovitz in the Northwest District, Kelvin Filer replaces Ocampo in the South Central District, and Lori Ann Fournier takes over from Roger Ito in the Southeast District.
Taking over as site judges are Lee W. Tsao for Leland Tipton in Bellflower, Debra A. Cole for James E. Horan in in Downey, Roy Delgado for Steven Sanora in El Monte, and Michael Terrell for Alan Rosenfield in Santa Clarita.
Remaining in place are supervising judges Kevin C. Brazile in Civil; Maren E. Nelson in Family Law; James R. Brandlin in Criminal; Maria E. Stratton in Probate/Mental Health; Steven Blades, East District; Lisa M. Chung, North District; Mary Thornton House, North Central and Northeast districts and Hub Operations; Ann I. Jones, North Valley District; Huey Cotton, Northwest District; Michael P. Viscencia, South District; Margaret Bernal, Southeast District; Steven R. Van Sicklen, Southwest District; and Lisa Hart Cole, West District.
In addition, Michael Levanas remains presiding judge of Juvenile Court, with Donna Groman as supervising judge of Delinquency Court and Victor H. Greenberg overseeing Dependency Court.
Assistant supervising judges are Debre K. Weintraub, Civil; Helen I. Bendix, Civil/Settlement Program; Emilie H. Elias, Complex Litigation (also site judge for Central Civil West); Scott M. Gordon, Criminal; David Herriford, Criminal/Misdemeanor; Michael Garcia, Criminal/Traffic (also site judge Metropolitan Court); Hank Goldberg, Family Law; Salvatore Sirna, East District; Christopher Estes, North District; Darrell Mavis, North Central and Northeast districts; Monica Bachner, North Valley District; Laura Laesecke, South District; Alan B. Honeycutt, Southwest District; and Mitchell L. Beckloff, West District.
Continuing as site judges are Jared Moses in Alhambra, Mark E. Windham in Airport Court, Michael D. Carter in Burbank, Jacqueline Lewis in Central Arraignment Court, Melvin Sandvig in Chatsworth, Debra A. Cole in Downey, Shelly Torrealba in East Los Angeles, Carlos Vasquez in Glendale, James N. Bianco in Mental Health Court, and Victor D. Martinez in West Covina.
James C. Chalfant is managing judge of the Writs and Receivers departments.
Copyright 2015, Metropolitan News Company