Friday, May 22, 2015
Page 1
Justice Kitching to Retire From Court of Appeal
By a MetNews Staff Writer
Justice Patti S. Kitching will retire from Div. Three of this districtís Court of Appeal, the MetNews has learned.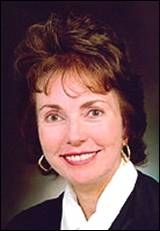 PATTI S. KITCHING
Court of Appeal Justice
Kitching could not be reached for commentóa staff member said she was in conference all dayóbut the courtís clerk/executive officer, Joseph Lane, said he expected her to step down in September.
Kitching, 73, was nominated to the court by then-Gov. Pete Wilson in December 1992 and confirmed the following month. Her departure will make Justice Richard Aldrich the senior member of Div. Three, even though he was the junior member just last summer.
Justice Walter Croskey died last August and has not been replaced. Then-Presiding Justice Joan Dempsey Klein did not seek reelection and was succeeded in January by Lee Smalley Edmon, former presiding judge of the Los Angeles Superior Court.
Kitching has been a judge for more than 26 years, having been appointed to the Los Angeles Municipal Court by then-Gov. George Deukmejian in 1988. Deukmejian elevated her to the Superior Court two years later.
The jurist is a political science graduate of UCLA and did graduate work at USC before entering Loyola Law School. She is a Los Angeles native who graduated law school in 1974 and went to work at the state Attorney Generalís Office, where she primarily handled appeals in tax cases, including two that she argued before the U.S. Supreme Court.
She left the Attorney Generalís Office in 1986 for the private sector, joining Bank of America as senior counsel, the position she held when appointed to the bench.
Earlier this month, Kitching wrote for Div. Three that police donít have to disclose license plate records that advocacy groups sought to gauge how high-tech surveillance was being used. She said the data falls under the California Public Records Act exemption for ď[r]ecords of . . . investigations conducted by . . . any state or local police agency, or any investigatory or security files compiled by any other state or local police agency.Ē
Her earlier majority opinions include last yearís pronouncement that the mediation confidentiality statutes do not apply to mandatory family law financial disclosures, even if the required documents are exchanged during mediation; a 2010 ruling in favor of author Clive Cussler, throwing out a judgment for disparaging the film adaptation of his novel Sahara, a 2009 holding that the City of Los Angeles, may subject newly constructed residential units to rent control laws, and a 2002 opinion for a divided panel holding that the Fair Employment and Housing Act did permit liability for allowing a customer to harass the defendantís employee.
Copyright 2015, Metropolitan News Company